Robotic Automation in the Back Office


Robotic process automation uses software robots that are trained and deployed to automate repetitive, rules-driven tasks in the back office. For organizations, these routine back office
processes are costly, prone to error, and inefficient, so automation can contribute greatly by improving operational performance and optimizing resources.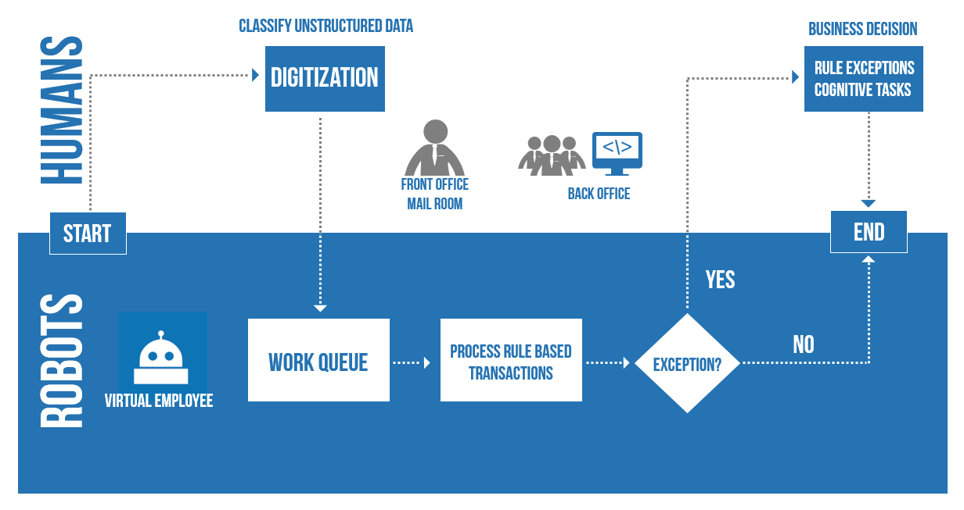 Why Automate the Back Office?
In today's business environment, leading enterprises need up-to-date, innovative ways to optimize workflows in the back office. Moving data between multiple applications and systems, handling complex data entry, and keeping records updated are processes that cost a lot of time and money and are inevitably prone to human error. By automating these repetitive tasks and eliminating redundancies, robotic process automation enables you to gain
operational efficiency and speed and delivers fast ROI. RPA's possibilities are countless, but the best business processes automation candidates are those that require access to multiple systems, are prone to human error due to manual processing, can be broken into unambiguous rules, and need limited human intervention once they are started. Robots are trained to report on exceptions and have them dealt with separately.
Benefits
Extensive Automation
It is easy to program and manage. You can automate routine desktop activities, such as application launch, mouse selection, field entry, copying and pasting data, template auto-fill, and calculations.
Costs and Speed
An automated robot performs the same functions as its human equivalent for only a fraction of the cost and is active 24/7. In addition, cycle time and head-count are both dramatically reduced. Reducing back office workload enables employees to focus on delivering the best service to the customer.
Operational Accuracy
Robots eliminate human error. They are also trained to handle case exceptions when they come across them. This is done either by ruling them out or by transferring them to a cognitive agent for a decision.
Secure Central Monitoring
Monitoring and analytics are provided. You can keep track of processes as they happen, as well as harness actionable insights that the robots can report back on.
Proficient Integration
It can be integrated with third party systems, including CRM, billing, homegrown, or Citrix applications, to automate cross-application desktop activities.
Enterprise Scalable
Robots work with different systems across multiple geographies and are manageable from your desired location.
UiPath – RPA Designed for the Needs of Global Enterprises and BPOs
UiPath RPA is an enterprise computing platform dedicated to automating business processes. It provides process modelling, change management, deployment management,
access control, remote execution and scheduling, execution monitoring, auditing, and analytics in full compliance with the enterprise security and governance best practices.
UiPath Studio is the highly visual productivity environment where business users can model end-to-end business processes into a process diagram with simple drag-and-drop functionality.
Advanced error checking and history visibility ensure flawless execution and detailed project monitoring.
UiPath Orchestrator is a scalable RPA server, fully integrated and equipped with centralized instrumentality for enterprise class management, security, compliance, support, and auditability.
Our Orchestrator records everything the robots do through log files and transforms them into advanced analytics.
UiPath Front Office Robot is the agent-assisted robot that shares the same workstation with human employees and assists them to automatically execute business activities.
UiPath Back Office Robot is the autonomous software robot programmed to run unattended, independent from human interaction.