Editor's note: This article is the first in a three-part series.
When I speak with customers, I am often asked for practical advice on how to quickly and successfully progress through the early stages of leveraging robotic process automation (RPA). Executives looking to operate at scale (where the enterprise-wide benefits are most impactful) typically ask these three questions:
"How do we get started on the right track to scale quickly?"

"What resources will we need to be self-sufficient?"

"How should we organize ourselves to be successful with automation?"
For organizations to achieve the expected benefits from their automation programs, it is important to have a strategy for each of the questions above. These questions, and many more, are ultimately answered through an automation operating model that is unique to each organization.
Put simply, in order to scale automation effectively, you need an automation operating model (don't worry, I'll cover what that means and how to do that in this blog series). 
The automation operating model provides a comprehensive view of the program management decisions to be made, such as roles and responsibilities, governance, and infrastructure management.
We will consider a few of those important decisions as you build your own unique automation operating model in this three-part series. Part one (this article) will introduce four stages that many organizations progress through to reach automation at scale and explore the "where should we start" question. Parts two and three of this series will investigate each stage further to consider the resources, executive sponsorship, and funding justification needed as the automation operating model matures.
Start to scale: The four automation stages
Most organizations will progress through four stages on their way to successfully scaling automation (as shown in the diagram below). As a company's automation program moves through these stages, the executive sponsor, sources of the automation pipeline, and funding justification will all change. As a result, the scope of the automation operating model will mature.
Stage  1 - Prove
In the prove stage, initial processes identified for automation begin to prove out the automation technology and develop a sponsor for the value. This is generally in a single department with less than 10 software robots as the initial processes are meant to ensure that RPA 'works' in their specific environment. Some organizations can take up to three months in this phase while others move through a pilot much faster (sometimes in a matter of weeks).
Stage 2 - Establish
In this automation stage, the focus is on production and delivery of multiple processes – typically within a single business unit. This stage can take three to six months. There can be a risk of stagnation at this point if the automation pipeline is primarily sourced from one business unit and there is limited RPA awareness across the enterprise. Additionally, if the leader of the business unit is not setting and holding the organization accountable to discover and deliver a sizable business outcome with automation, it becomes difficult to demonstrate potential.
Each organization's automation operating model will go through iterations to land on the right approach to key elements, such as organizational structure, intake strategy, governance, risk controls, and change management.
Stage 3 - Expand
At this stage, the automation operating model is fully defined and lays out a standardized approach to onboard additional business units. This stage can last one to three years as the full benefits of RPA are understood at the senior levels and multiple lines of business become engaged to automate at scale. At the expand stage, key performance indicators (KPIs) are well defined and measured.
Given that the developers in the automation center of excellence (CoE) will be focused on high-ROI opportunities, it becomes clear that to address many simple, team-level, and personalized automation opportunities, the organization must upskill their employees. Upskilling staff includes helping some employees become citizen developers to build automations for their respective teams, departments, or for themselves.
Dive deeper: Is Your Organization Ready to Meet Its Growing Need for Automation Skills?
Stage 4 - Scale
At this stage, the CoE is able to produce sophisticated automations using a combination of technologies to serve customer needs across the organization. The idea of 'a robot for every person' has taken hold and business champions are spread across the enterprise to support adoption of RPA. Citizen developers are providing bottom-up, employee-led automation of tasks and simpler processes. At the scale stage, the executive sponsor is a CEO or chief financial officer (CFO) and RPA is now a pillar of overall digital transformation programs.
These early stages—from starting to scaling—are the critical inflection points when the scope of automation moves from departmental to the entire organization in the 'automation first' maturity model (shown below).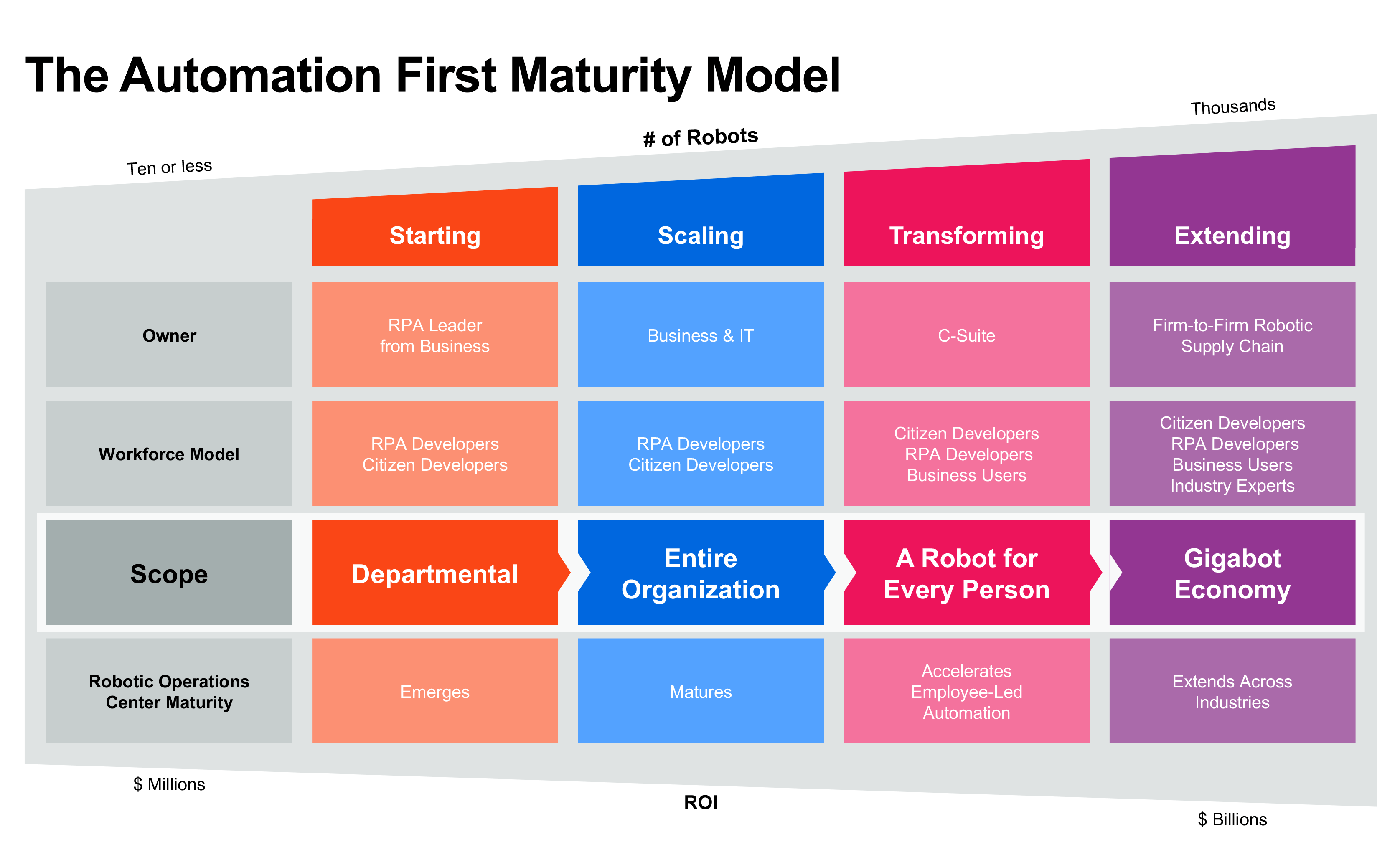 Now, let's turn to the question of "how to start?"
Getting started on the right track (to be able to quickly scale automation)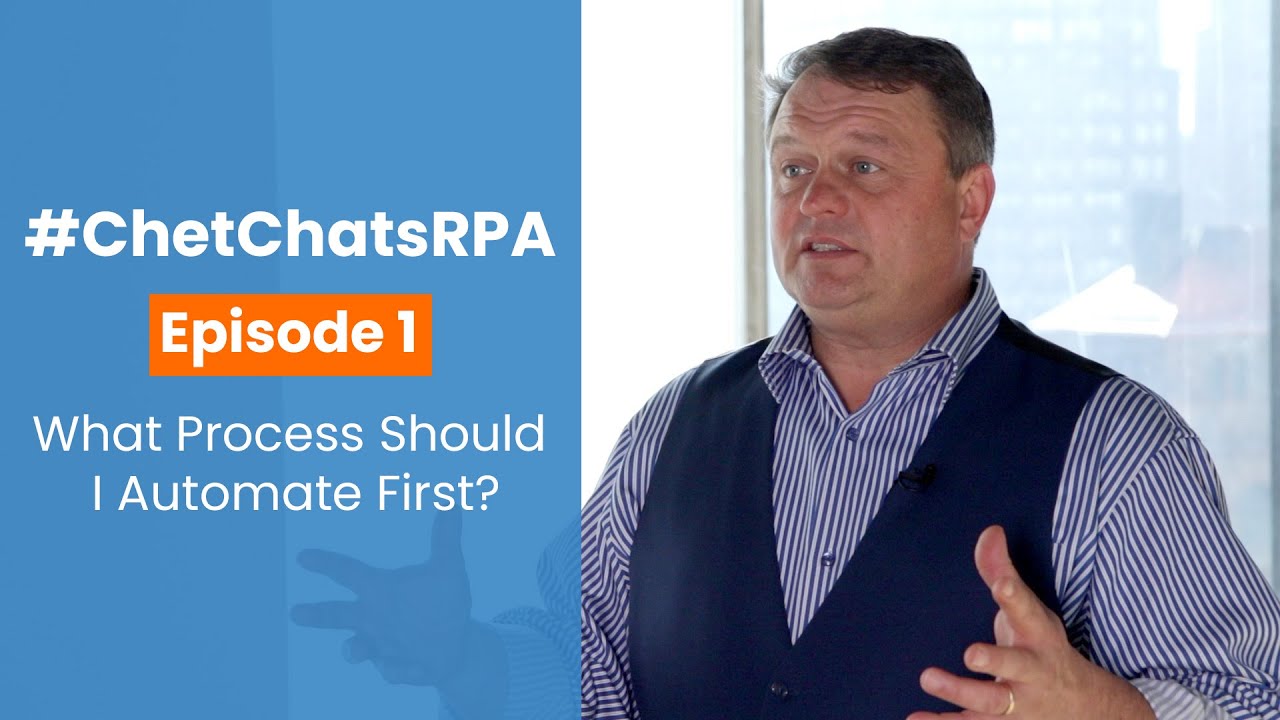 We have previously written about identifying the right processes to automate, so the focus here is on creating a multi-year roadmap by engaging the broadest set of employees with a transparent process to prioritize potential automations. It is important that this 'process intake' element of an automation operating model is custom for your organization to respect your culture and approach to calculating return on investment (ROI).
Automation process intake is the specific approach your organization will take to discover and prioritize automation candidates. For your automation process intake program, you'll want to consider:
Business engagement: How broadly throughout the organization are you able to source automation ideas from?

Prioritization: What ranking system will you use to choose one automation candidate over others? How does each opportunity help achieve the top-down business outcome objectives?

Backlog: How many automation opportunities have been submitted but not assessed?

Throughput: How long does it take for a submitted automation idea to be assessed, developed, and deployed?

Churn: How frequently are automation ideas assessed but ultimately not advanced for development?

CoE-selected vs employee-driven automations: How many opportunities do not rank high enough against objectives to get prioritized for automation by the CoE? How will these business pain points be solved (i.e. citizen development)?
You don't have to figure out how to accomplish the items above on your own. With a tool like UiPath Automation Hub, you can "crowdsource, prioritize, and manage RPA ideas, as well as validate and share citizen-led automations."
The goal is to be able to build multi-year automation roadmaps for most departments in the organization. The approach typically evolves through the four stages described earlier in this article.
Most organizations starting with RPA will successfully go through a proving stage to test the technology with an initial group of people that had a specific set of uses cases within a department and advocate for expansion. However, after there are positive early results and the endless potential of automation may be self-evident, there is still a risk of stagnation or failure (as illustrated in the graph below).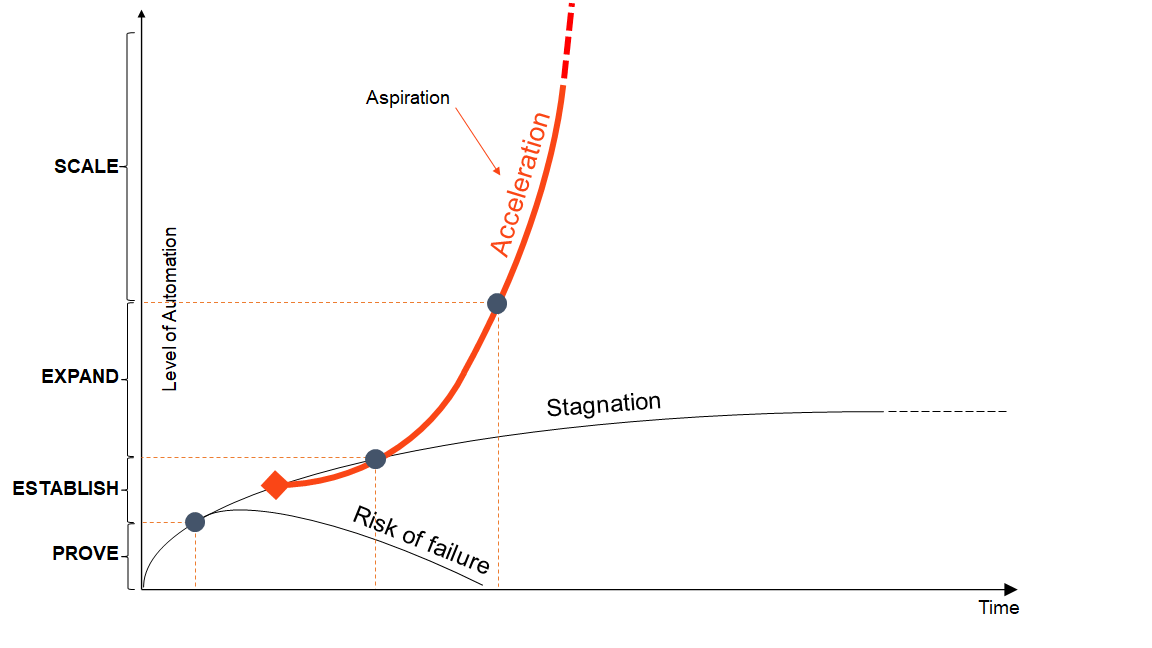 To stay on the aspirational line of automation acceleration in the graph above, organizations typically employ two approaches to building a robust automation pipeline:
1. A top-down approach that guides the priority of the CoE for unattended robots. In this model, executives and business transformation teams typically have major transformation projects that set the priorities for automation intake into the CoE. Top-down automation discovery can also be backed by UiPath Process Mining or process subject matter experts (SMEs) to understand the number of manual steps in a process, workarounds, and number of exceptions to a process.
2. A bottom-up approach that gives employees the power to submit and self-assess automaton ideas to be delivered by the CoE or through their own digital assistant using attended automation. These employee-driven automations are important when top-down automation discovery is not enough to scale RPA because a centralized CoE cannot develop all the required automations alone.
Editor's note: If you're not familiar with attended and unattended robots, this short video explains the difference: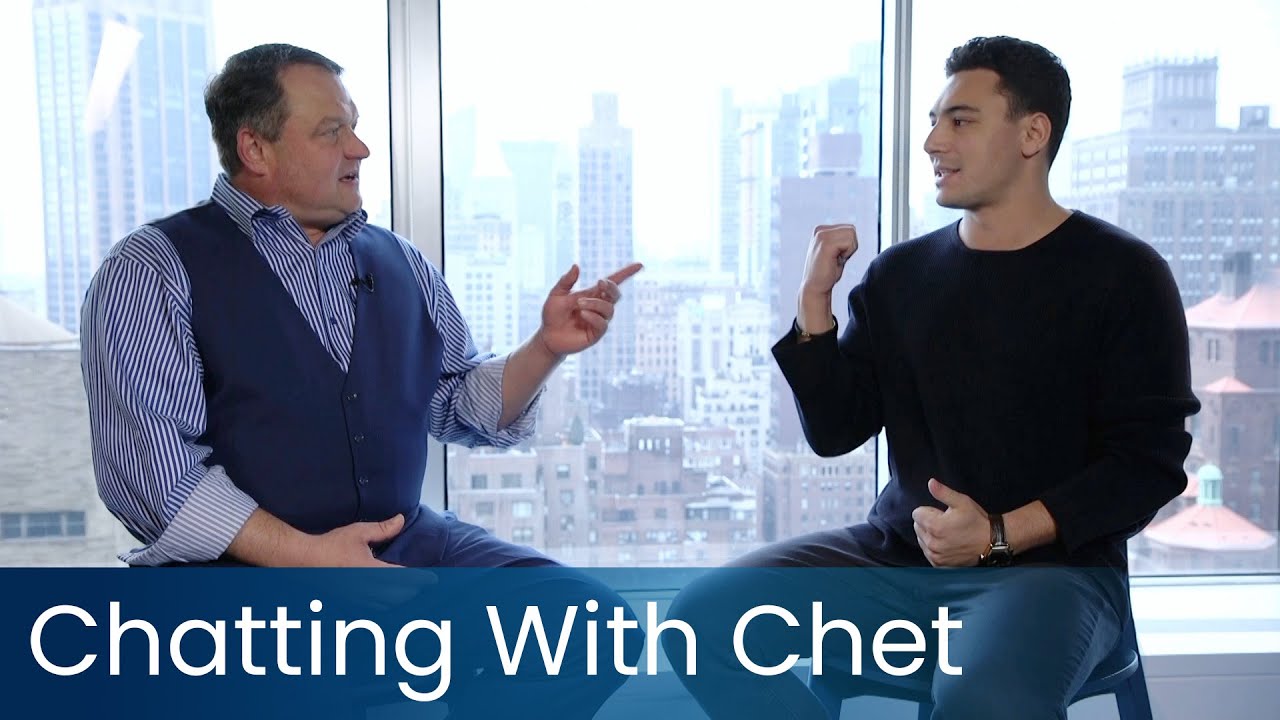 In the bottom-up approach, individual employees document a process using a tool such as UiPath Task Capture and submit their ideas to be developed by RPA developers through tools such as UiPath Automation Hub.
Related article: A Robot for Every Person: The Next Wave of Personal Productivity
A recent customer demonstrates how getting to scale quickly can have a dramatic effect on the business. This high tech manufacturer had limited exposure to RPA but wanted to double revenues while keeping headcount relatively flat. To accomplish the revenue growth aspiration, they looked at RPA as a way to control operating expenses in sales, general, and administrative functions while dramatically increasing investment in research and development.
The customer is using RPA as the foundation for their digital upskilling program to future-proof careers. In just a few months after developing their automation operating model, they are now operating at scale and automating more than 30 new processes every month. They made a sizable investment in process intake by holding over 40 workshops with employees globally that resulted in a vetted pipeline of 200 automations predicted to save over 250,000 hours of manual work.
Moreover, by investing early in an automation operational model the CFO now has the confidence in the rigor of the software bots to take over 70% of the functions that had previously been with a business process outsourcer (BPO). This is giving the finance team more control over improving financial metrics, such as Daily Sales Outstanding, to drive value creation.
In part two of this series, we will focus on the next critical component which is having the right resources and executive sponsorship to scale.
Part three of this series will bring all program elements together under an automation operating model to answer the question "how should we organize ourselves to be successful?". Stay tuned for these upcoming articles!