Businesses around the world are reeling from the extraordinary force that is the 2019 novel coronavirus (COVID-19). In the face of constant uncertainty, leaders have responded swiftly to keep things running: ensuring employee safety, putting infrastructure in place for remote work, and enabling continuity plans.
For many, the toughest leadership challenge is only now emerging. Leaders need to figure out how to make a comeback from the impact of COVID-19, especially when our 'new normal' reflects a very different reality than anyone had planned for.
UiPath recently hosted a conversation between Kevin Kroen, intelligent automation leader and partner at PwC, and Doug Fowler, UiPath vice president (VP) of global partners to hear their market observations, projections for long-term business impact, and recommendations for the road ahead.
PwC's four-part response to protect people and productivity in times of crisis
Kroen started by sharing the PwC perspective on a four-part response to the all-new remote work environment. The immediate first step was triage: leaders needed to prepare and monitor their workforce, from understanding location strategy and local considerations to ensuring operations could run as close to normal as possible. Assessing technology and tools came next, as businesses determined enterprise IT infrastructure readiness and considered end-user experiences, like help desk support and managed device policies.
Leading with purpose became another important focus. Leaders developed connected communication strategies and worked to engage their workforces—calming fears around layoffs, developing flex policies to manage childcare challenges, and maintaining employee connectivity through virtual happy hours.
Now, Kroen said, we've reached the fourth step: executing new ways of working. In our new normal, according to a PwC COVID-19 CFO Pulse Survey, 45% of chief financial officers (CFOs) anticipate that in the next month, their companies would see productivity loss.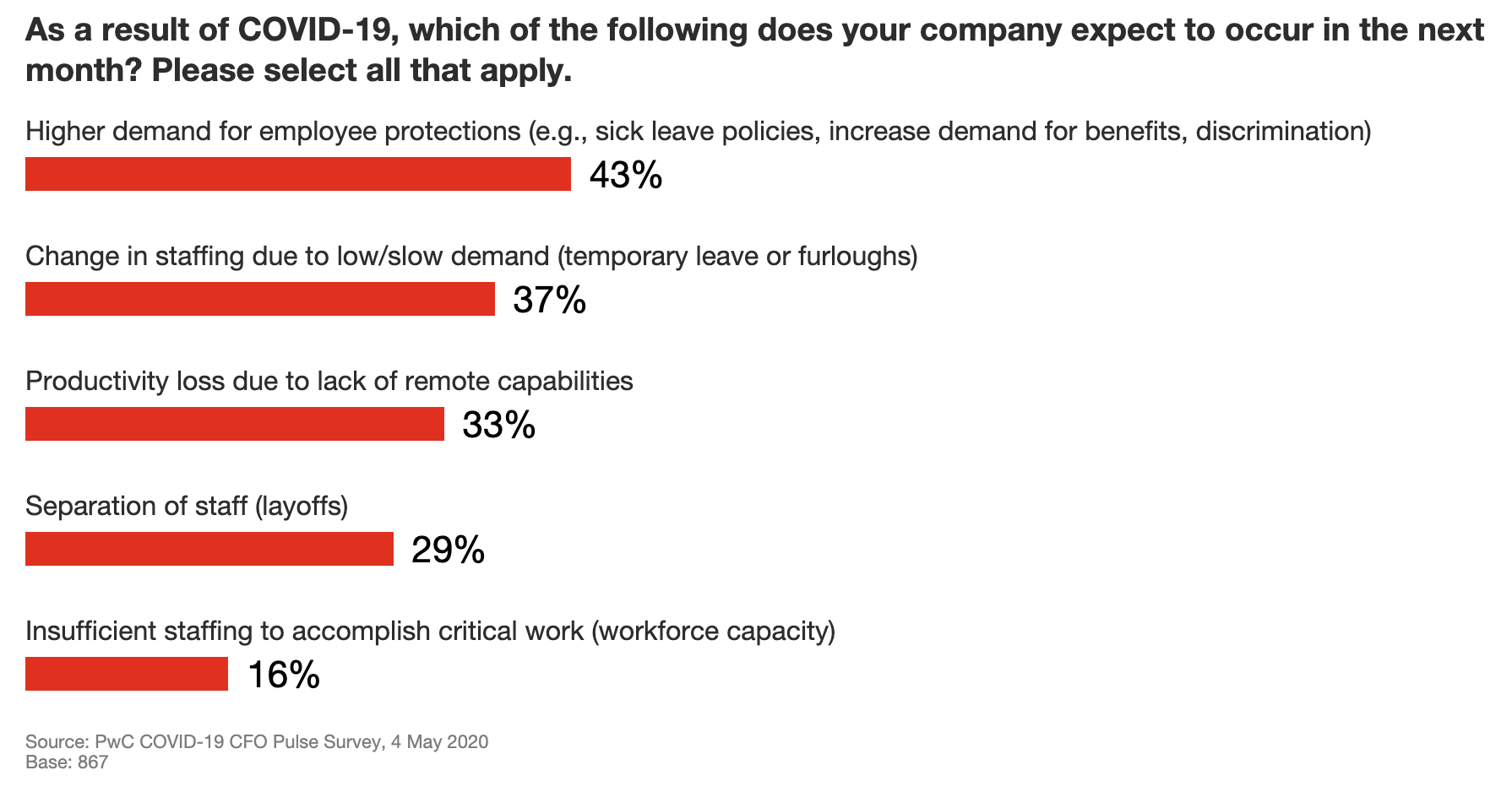 As we define new practices around ways of working, the question becomes: How do you develop and roll out the right training to support increased employee productivity? The answer, suggests Kroen, lies in upskilling your workforce at scale.
Increasing productivity: The case for upskilling
In the PwC 22nd Annual Global CEO Survey, 79% said a lack of skills is threatening the future growth of their organization. On the flip side, a survey of workers indicated that 55% are worried about automation or other innovation taking their jobs away—and 74% are eager to reskill.
Upskilling and automation have long been discussed as C-level imperatives. But the current environment is only accelerating the demand for digital maturity. The need for automation is driven by not only efficiency, but also resiliency.
Kroen said, "Most efforts around transformation and automation have been driven from an enterprise-led perspective. Automation results of the past five years show that a centralized effort alone cannot achieve scale."
Instead, he suggests, enterprises should focus on enabling infrastructure that allows the entire organization to play a role. If a finance or operations professional sees an opportunity to make things more efficient and has knowledge of the digital tools available to help automate it—that's half the battle.
And, when you can help your workforce learn automation technology, this opens the doors for citizen-led innovation—where employees surface the areas that can become more efficient and embrace the opportunity to reinvent their work.
Task-level automations might fall through the cracks during an automation assessment, but they are pain points—and take a lot of time when you add them together. If a citizen developer can build it and potentially even share it with others, you create an opportunity almost as valuable as a huge automation the enterprise is building.

Kevin Kroen, Intelligent Automation Leader and Partner, PwC
Recommendations for jumpstarting citizen-led innovation
To help jumpstart citizen-led innovation (an important aspect of your automation upskilling strategy), Kroen and Fowler recommended leveraging free tools already at your disposal.
PwC has launched Digital Fitness, a mobile app that assesses one's digital acumen and enables an individual to put together a development plan to increase his or her "digital fitness." Now, this app is available for everyone—for free.
Additionally, UiPath offers on-demand automation courses through UiPath Academy, a training platform that has enrolled over 600,000 individuals. Whether individuals are interested in learning basic automation concepts or want to earn a professional certification, UiPath offers free, extensive curriculum to get them up to speed.
Once a group of your employees has started building automation literacy, get them involved in bottoms-up ideation. Fowler suggested leveraging hackathons as a highly effective way to create automations for your team. Run an internal contest for employees to generate ideas around what they would like to see automated, making the ideas visible in a collaborative tool like UiPath Automation Hub. This exposes more people within the organization to the possibilities of automation and how it can help them in their work.
Above all, Fowler and Kroen said: Get started.
"Whether you're an individual looking to learn new skills or a leader looking to develop an upskilling strategy at a personal and at a corporate level—just start today," said Fowler.
"Don't worry about getting it perfect on day one," added Kroen. "PwC started in one area and one line of service. It worked, and we rolled it out to our 50,000-person workforce in the United States. Start [with the Center of Excellence] and then build your groundswell across individual functions—those two will converge over time."
To hear more insights from UiPath and PwC, catch the full webinar recording.