In today's fast-changing world, every company understands the importance of innovation. But the mantra of innovation, "fail fast and fail often," is one that can bring on corporate heartburn. How can companies scale innovation quickly with confidence? How can companies reconcile the need for innovation with governance and risk controls all while aligning to the corporate digital transformation strategy? These competing concerns are just as true of corporate automation efforts.
Companies create automation programs to enhance operational efficiency and boost their customer and employee engagement and experience. But they also need to make sure they have the right governance and controls in place. Balancing automation against risk is something that many companies struggle with. And as they look to automate even faster and at scale, that balance is critical.
This question has never been more relevant than it is today as companies deal with the fallout from the 2019 novel coronavirus (COVID-19) and a global economic downturn.
A recent PwC COVID-19 CFO Pulse survey found that since the start of the COVID-19 crisis, "48% of CFOs [chief financial officers] are looking at accelerating automation and other new ways of working — among Germany CFOs, this jumps to 76%." And 28% of CFOs said they are using automation to improve the speed and accuracy of decision making.
The desire to automate at light speed has never been greater. In today's article, we're discussing how you can quickly implement automation while aligning to your company's digital transformation strategy and governance requirements.
At UiPath, we've seen the recent pandemic-inspired interest in automation play out in a few main phases:
In the first few weeks of the crisis, we responded to a lot of urgent and immediate needs related to the pandemic response. For example, we helped customers create automations to provision remote network access for workers at contact centers.
In the next phase of the crisis, organizations started to normalize their operations. For instance, banking clients automated the processing of loans from the United States (U.S.) government for small businesses.
Before COVID-19, companies focused their automation efforts on gaining operational efficiency. Now, they've changed their focus to automating for operational resiliency.
With the long-term prospects of COVID-19 and the economic downturn, these automation efforts need to have speed and scale. But speed and scale in a way that companies can trust.
That was one of the main topics discussed during a recent webinar, Automating at Lightspeed, with PwC Partner Kevin Kroen and UiPath Global Vice President (VP), Doug Fowler. Kroen shared how PwC and UiPath together are utilizing a bottom-up approach (via citizen-led innovation) to quickly scale automations. This can run in parallel to the more traditional top-down approach led by the IT organization.
Related read: Citizen-Led Innovation: Increasing Automation Skills for a Remote Workforce
But the questions of risk controls and oversight become even more important as companies start to move into this citizen-led space. Part of managing risk is assessing and balancing an organization's risk tolerance. One way to view the risk is to ask, "what is the risk of not being able to execute on an automation agenda?".
Many CEOs may now regret not having automated more of their operations before COVID-19.
There are real challenges to putting an automation program in place in a way that balances risk with innovation.
What is the right target operating model for a new workforce of the future that includes software robots as well as a human workforce?

How to tie an automation strategy into a company's overall investment portfolio?

What are the right oversight and governance models to put into place?
Thankfully, there are proven ways to address these questions. Companies can put the right guard rails in place around things like robot entitlements, code control, and deployment to mitigate risks. Oversight models can address concerns around the quality and security risks of what citizen developers might develop. Policies can control what bots can access, as they do for human users.
With the right controls in place, companies can empower employees to help drive the automation agenda. With training and upskilling opportunities, employees will begin to question, "Why am I doing so much work manually? There must be a better way to do my job." With the right skills and tools in their hands, an engaged workforce can come up with great automation ideas (see below).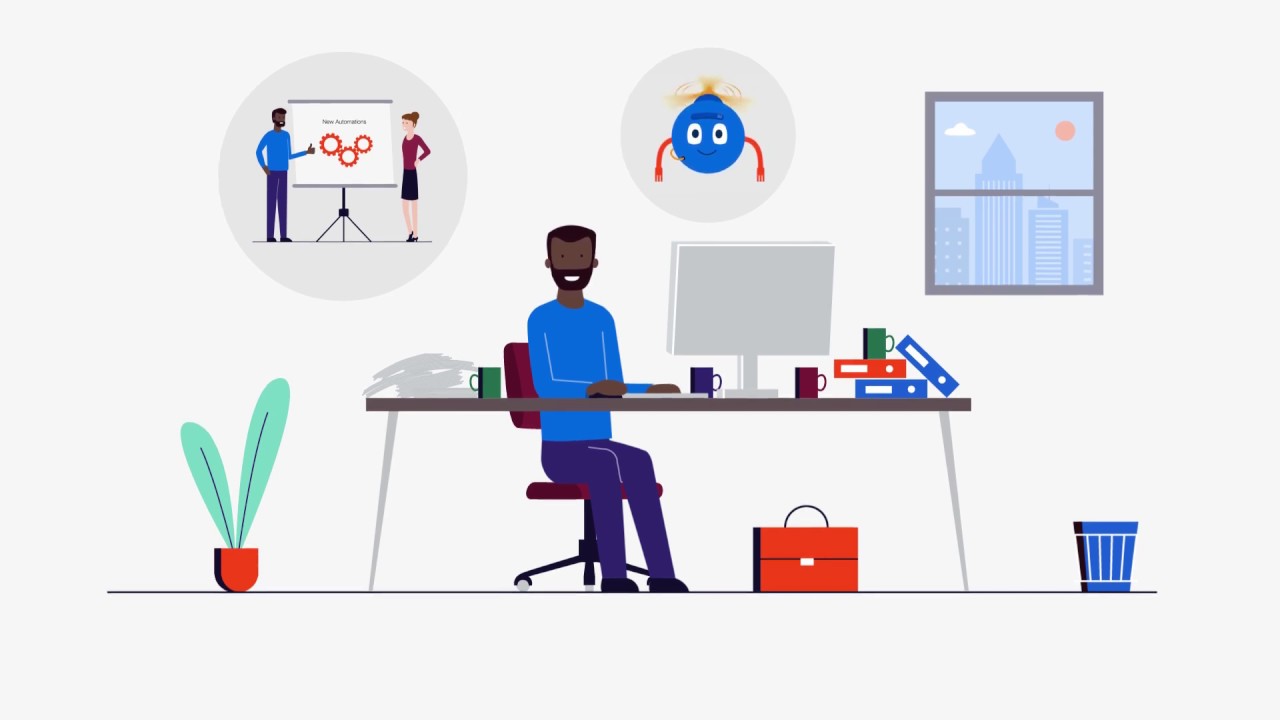 Companies then take these efforts and work with tools such as UiPath Process Mining and UiPath Task Capture. Using these tools, companies can dig into the details behind these ideas and put those robots into production. These enhanced automations are then shared across the enterprise. This is the real power of automation at scale. It is how you help achieve automation at light speed.
If you missed the webinar, you can still access the full recording (along with this great infographic an artist created on topics covered during the webinar).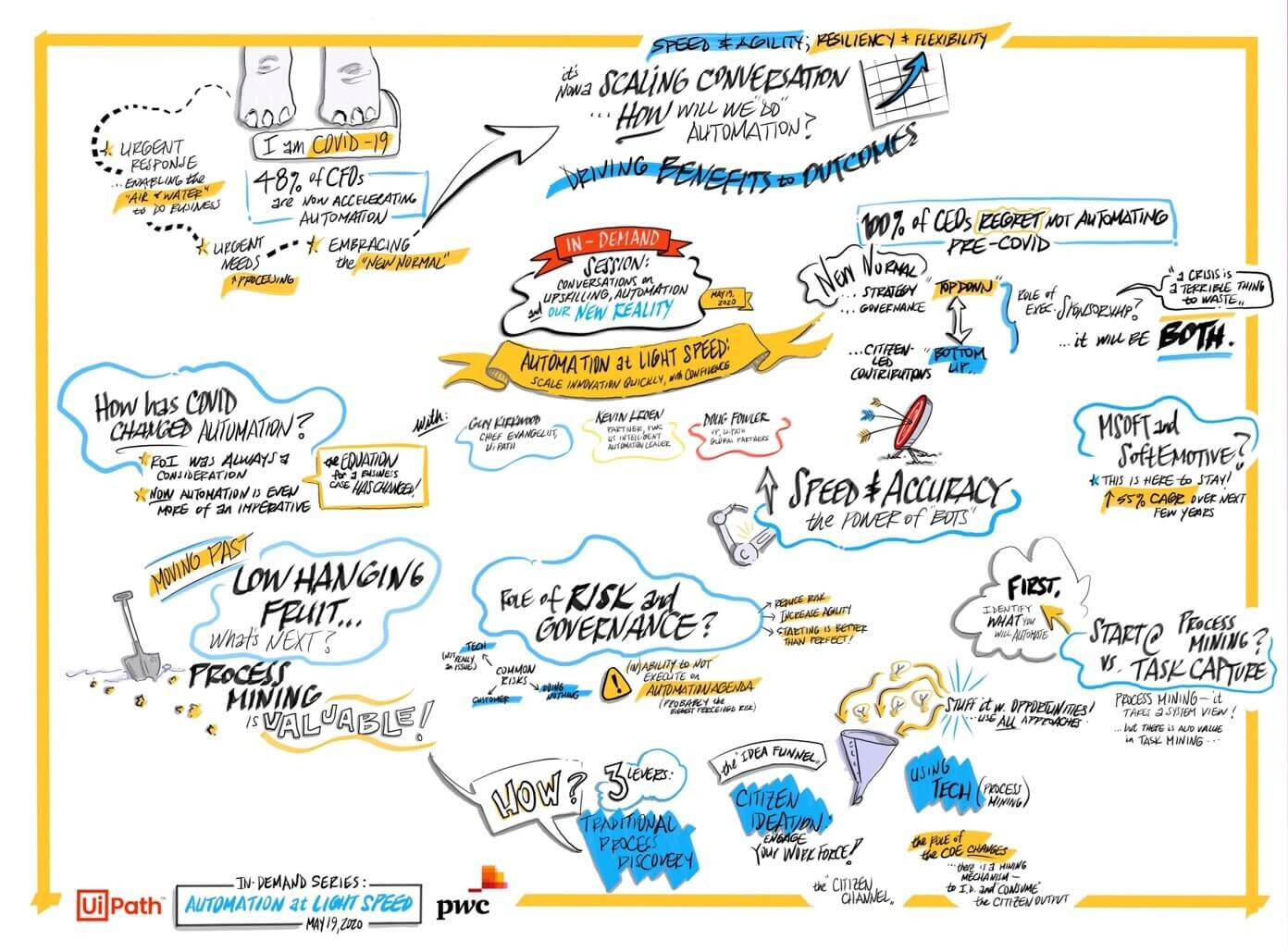 Ready to scale automation further in your organization? Get a behind-the-scenes look at our seven-pillar framework for scaling your automation program.