Today, we announced that UiPath has closed a $568 million Series D funding round. This event is a major milestone in our company history, makes UiPath one of the fastest growing enterprise software companies in the world, and cements Robotic Process Automation (RPA) as the leading technology transforming companies in this 'automation first' era.
Recognition of our unprecedented growth
This funding amount shows how quickly we've grown. For context, just two short years ago, we had attained $8M in annual recurring revenue (ARR) and a total business valuation of $110M. Fast forward to today where we are thrilled to report that we have achieved $200+M in ARR and a $7 billion valuation.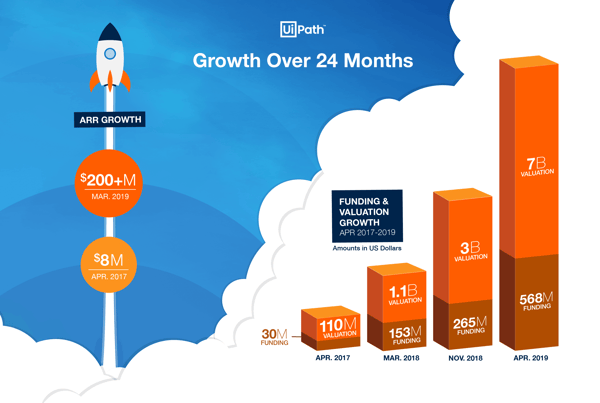 These exponential growth rates are unprecedented in the enterprise software market and would be the envy of virtually any company in any industry. This success recently led to UiPath being named the 26th fastest growing company on the Deloitte Fast 500 list.
Successful growth is a consistent theme throughout UiPath. We've seen impressive increases in all important areas of the business, including product development and releases, new customer acquisition, employee headcount, and global expansion.
Clear consensus that UiPath will continue to lead the way
At the same time, this new funding further demonstrates the investment community's belief in our strategic vision and their complete agreement that RPA will continue to help businesses automate critical processes—and achieve transformative results—in the future.
This vision has always been shaped by our commitment to leading the 'automation first' era and our mission to deliver A Robot for Every Person.
Today, we believe the industry is at a tipping point, where business leaders across the globe are augmenting their workforces with software robots, accelerating the digital transformation, and freeing employees to spend more time on more impactful work.
Clearly, the market agrees. With this Series D funding round, leading investors such as Coatue Management LLC, Dragoneer Investment Group, T. Rowe Price Associates, Inc., and more are proving that they're "all in." They all are making significant investments in the future of the RPA market—and in UiPath as the undisputed market leader.
Confirmation that culture is key
We simply could not have achieved these levels of growth, scalability, and overall success without a very important source: UiPath employees.
CEO Daniel Dines spoke about the difference UiPath employees and the company culture make:
"Culture, culture, culture. I can't say it enough. UiPath's success is tied to our culture and everything our employees do. UiPath has always tried to put 'humanity' first by focusing on our workforce. This investment has paid us back: Our employees have helped us become one of the fastest growing enterprise software companies, and it's only because of their contributions that we have made it so far so fast," says Dines.
Commitment to continue investing heavily in our customers' success
UiPath is committed to investing in the future of RPA and helping our customers succeed. We want to free the mundane, repetitive tasks for every worker, allowing them to focus on higher value, more rewarding work. This additional funding will help us continue to meet these goals.
Specifically, UiPath plans to use the additional funding to:
Sustain our commitment to our customers' success while we continue exponential growth
Deepen our investments towards workforce readiness, including higher education, automation educator training, and the Youth-in-Automation program
Ensure our partners' success through expanded training, joint solution development, and joint market engagement
Accelerate our research and development (R&D) and strategic product roadmap, including investing in strategic mergers and acquisitions (M&A) opportunities
Raise awareness on the incredible outcomes achieved by those organizations deploying RPA technology
A bright future
There's no better person to speak to the exciting future of UiPath and RPA than Dines himself:
"UiPath is leading the workforce revolution, driven by our core determination to democratize RPA and deliver on our vision of A Robot for Every Person. I am humbled by the amazing support our customers, partners, and investors give us every day, inspiring us to work harder to evolve RPA as the platform that not only unlocks the true potential of AI but also other emerging technologies. We are just getting started."
To learn more about this Series D funding, you can read our press release and FAQs.
---