We are proud to announce our presence as exclusive innovation partner at the NASSCOM Business Process Management Strategy Summit, to be held in Bangalore, India, at Hotel Leela, on September 22nd - 23rd.
Our Founder and CEO, Daniel Dines, will be a speaker in the panel on 'Progressing beyond the RPA discussion: BPM and the advent of Cognitive Automation', on Friday, September 23rd, 2016, at 09:30 AM IST. Our Executive Leadership consisting of Marius Tirca, CTO and Raghunath Subramanian, President | CEO India & APAC will also be there to interact with the audience, so you can go meet them!

And there's even more reason for excitement!
We are extremely lucky and honored to welcome Mr. Kulpreet Singh, one of the industry's most experienced business growth leaders, who is joining UiPath as Managing Director EMEA & APAC. Welcome to the team!
We also have our India Legal Entity Incorporated, and since June 2016 a growing team of brilliant RPA developers and business experts are delivering UiPath's world leading automation solution from Bengaluru, India. UiPath will continue to invest in a world class team consisting of Training & Implementation Experts, RPA Solution Architects and deliver a 24/7 Global Support out of India.
Back to the summit, this year's edition is dedicated to the evolvement of BPM into well-rounded strategic maturity. Service providers are nowadays required to master a broadly developed capacity to guide enterprises in their adoption of advanced solutions involving digital, analytics, automation and cognitive technologies.
With a focus on the alignment of BMP Strategy with business outcomes, the event will cover themes like Design Thinking, Intelligent Automation, Accessible and Actionable Data, Writing-off Legacy, Brokering Capability, Achieving Collaborative Engagements, Achieving Holistic Security, and Rolling out Plug and Play Digital Business Services.
From the panel on Intelligent Automation:
"All the incessant RPA hype has done its job - it has literally dominated BPM conversations at every conference, provider strategy deck, advisor "new practice" press release and many buyer conversations. Hear the RPA stakeholders discuss how enterprise BPM buyers can move up the Intelligent Automation Continuum to take advantage of emerging cognitive tools and platforms."
Check out the full event agenda here, and register here.
We hope to see you in Bangalore! And if you'd like to meet with the UiPath team, drop us a quick note.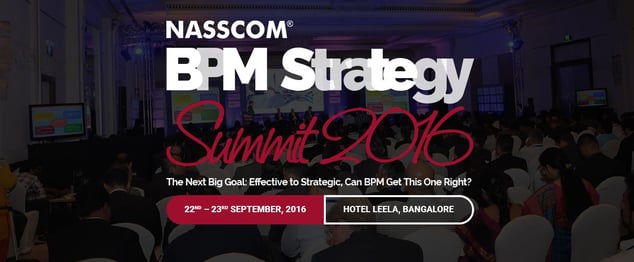 ---