Innovation Labs is a pre-accelerator for young tech founders and startups. The program targets students and graduates from technical universities and from communication, business and creative fields for the 3-month mentoring adventure of teamwork, intensive prototype development and mentorship, exploring Romania's growing startup ecosystem. The participants are empowered to develop proof of concept solutions and products using cutting edge tech with the support of top mentors in the IT and business industry.
We've talked with Alex Caciulescu, DevSecOps Engineer at UiPath, one of the mentors of the program and a close friend of Innovation Labs. Before joining UiPath, Alex had just finished his master's degree in Singapore, working as a research engineer while also being a student. He was back in Romania when he heard from some friends about UiPath, without knowing what the company exactly does. It was early 2019. "When I joined, the official title was senior software engineer, but the team's focus shifted a little since. The main direction is still security, automation, and hardening of our products. That hasn't changed, rather the priorities and the products we work on."
He was always passionate about teaching, and he started working as a teaching assistant in his second year of university. "One of the best things I would recommend to anybody is to try teaching a subject if you are really passionate about it." It was during his time as a student when Alex participated in the second edition of Innovation Labs, which started with the main purpose of promoting entrepreneurial and start-up culture in Bucharest and in Romania. Students can choose to take part in the pre-accelerator, and they're rewarded with points and grades.
The project works like an upgrade to university courses and focuses on some skills that aren't really touched by lectures. "It's where I first found out about an investor presentation, how to interact with customers, how to do a business plan and so on. I know the University is now focusing more on this but learning from actually doing a start-up from scratch is amazing."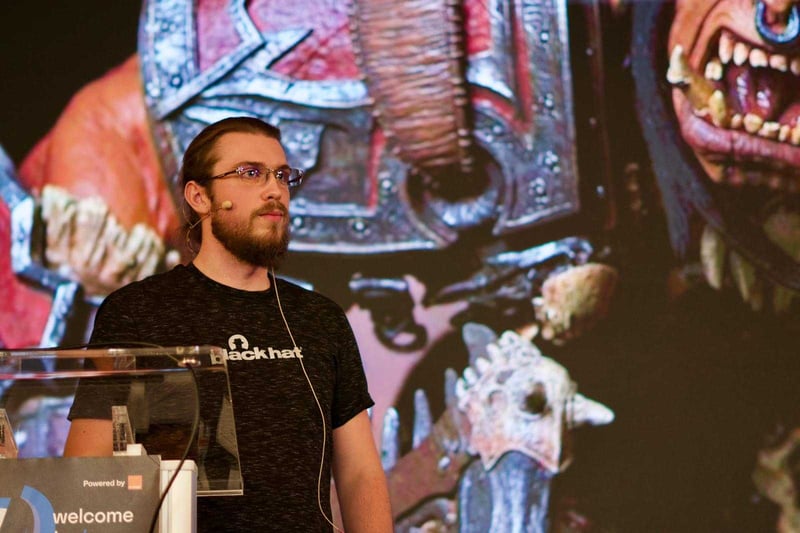 The program has evolved from its early days, but the basic idea remains the same. In the first round you create a team. It's usually around three to six people. They have to come up with an idea, create a solid presentation, do some sort of elevator pitch. Remember that usually there's no prior experience for the people doing the presentation. This is the first screening process.
The second round is a hackathon. For 24 hours, people come together in the halls of the University and code to create a minimum viable product. "I still remember this is one of the most fun parts of the program. You need to work on a feature, a presentation, a website or anything else you can to impress the jury the next day."
The best teams are selected to enter the actual program with workshops and courses that span across the whole year. In the end, the best teams and products get awarded and usually they also get funding from the companies who are partners with Innovations Labs. Some of the ideas become real products and get integrated into other ecosystems from large companies and industries.
"I had opportunity to be on the side of the students of the participants. Now I'm a bit older, I'm part of the industry and I'm thinking of giving back to the community. I really enjoy mentoring the students."
UiPath was a main sponsors of Innovation Labs last year, and Alex was one of many UiPathers for the P&E team who were mentors for the students in the program.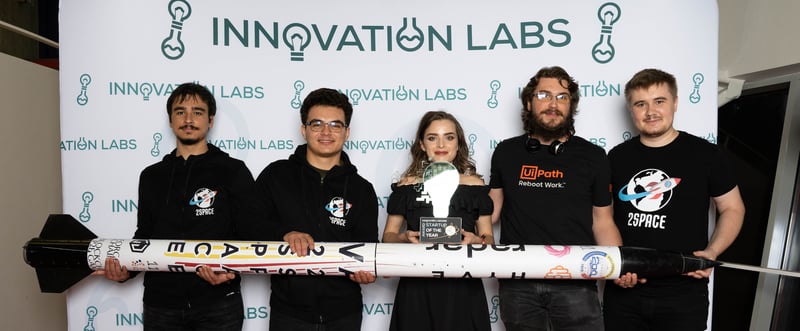 2Space is a team of students and engineers who want to grow our careers in the space industry. Marius, the founder, built a rocket himself, and while learning how to do it, he gathered many partners to join his team. There are about 20 students with different skills and the passion for the space industry is what motivates them. It was 2psace that caught the attention of UiPath mentors. "There were a bunch of different similarities and things that caught our eye to them. For example, their boldness. Literally, their idea is real rocket science."
There are lots of different research institutions or climate institutions that would want to have small sensors or equipment out there in orbit. But the cost of launching and getting them up is enormous compared to what they can afford. 2Space are building a platform specifically targeted for these smaller customers that have the need.
"We're a startup that aims to build a rocket that can plant nanosatellites. Those satellites that weigh 10 kilograms or less. Businesses and governments can wait up to one year to get the satellites into orbit. Our rockets can help shorten this time," says Inesa Schmidt, Business and Communications Officer at 2Space. "Innovation Labs was extremely useful for us. We had a lot of resources from mentors and business-wise it was a thrill. It gave us a whole different perspective on how to look at things. We're really eager to learn more about RPA and how it can help us achieve our goal."
2022 is the second year in a row when UiPath is one of the main sponsors of Innovation Labs.
---