UiPath Studio offers you the possibility to work with Excel using specialized activities. These activities are stored in the UiPath Excel activities package. The Excel package can be downloaded from "Manage Packages" but it's by default installed when you install UiPath Studio.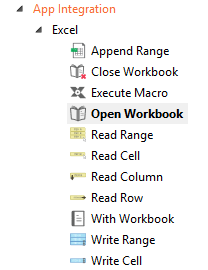 Through this app integration approach you are able to read/write Excel documents. If the document is newer than 2007, with .xlsx extension, you can work directly with the file. Otherwise, if it has .xls extension, Microsoft Office is a must. This is the default behaviour for all Excel activities but you can opt to work with the Excel Application.
Here are some points that you need to take into account when choosing one of the two approaches:
Good points for not using the Excel application:
You don't need to install/buy Microsoft Excel
Excel application will not pop up on your desktop
Suitable for robots that run on a machine that doesn't have a user interface
Good points for using the Excel application:
You are able to see the document and the changes are visible
If the document is already opened, the automation will not crash when the robot will try to access the file because both processes use the Excel application
Let's look upon a simple example for a better understanding of the properties.
In this sample we want to open two workbooks. The first workbook has the data "Sheet1" that we want to read and write into the second workbook. The second workbook will be opened with the Excel application so that we can see how the information from the first workbook appears in the second one.
We will use the two methods in the same workflow.
We open a workbook (activity nr 1) without using the Excel application and the second workbook (activity nr 2) using the Excel application by simply checking the UseExcelApplication option from the properties panel. Each output of these activities will be further used in other Excel activities (activity nr 3 and 4). Close Workbook activities need to be used when we are done working with both documents.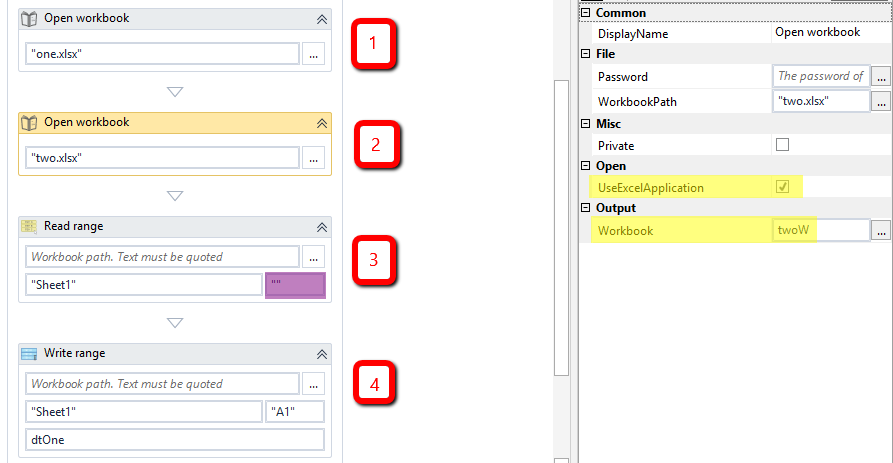 * In the image above, the third activity has a purple section. That is the place where you should write the range. Please note that if you want to read the entire sheet or you don't know exactly what the range is, you can leave it as it is.