UiPath Offline Activation
This tutorial applies to versions 8 and 8.1. We strongly recommend updating to the latest stable version of UiPath Studio.
In order to install UiPath on a machine where your network security software or a firewall prevents the access to our license validation website please follow the steps below.
Offline activation
Offline Activation for Studio Trial
1) When you first open UiPath Studio 8 there is a dialog asking if you want to Enter a key or Continue your trial.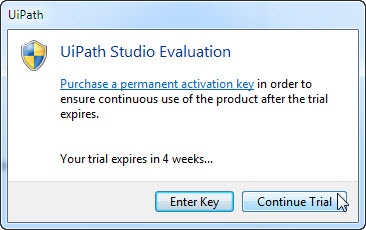 2) If you choose the second option, a registration dialog will open. Fill in your email and check Trial mode.
Note: when activating the trial, no code should be used-the code field must be empty.
3) Click on the Offline button.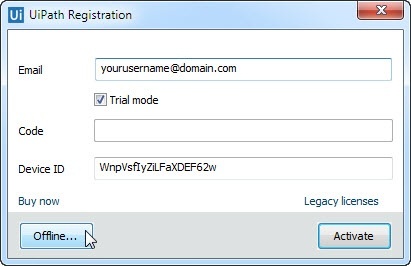 4) In the new dialog, save the generated data (Save to file button) to a txt file.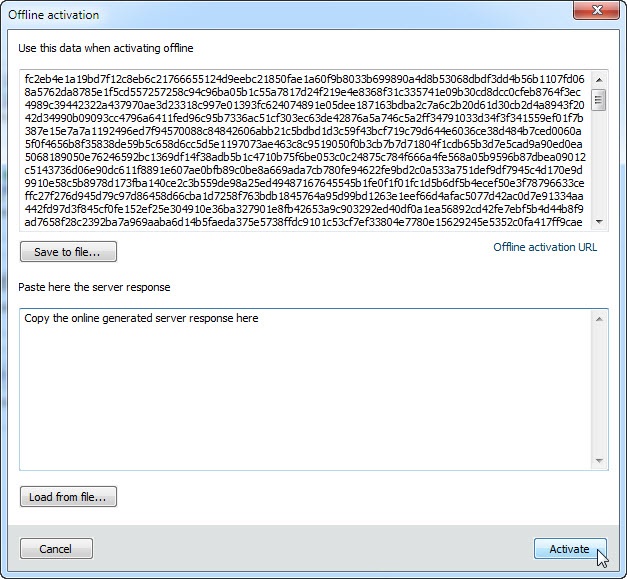 5) Send the file attached to email to another machine with no firewall/system security software that prevents the access to our online validation server. On the same machine, click on this Offline activation URL and copy the generated data from the txt file to the empty field in the page and click on Activate.

New data - the response from server - will be generated. Copy and save the generated response from server to a txt file and copy/send it via email back to the machine with the firewall restriction.
6) In the UiPath offline activation window click on Load from file button (please see the image at point 4 above), locate and open the file with the online generated response from server and click on the Activate button.
Your 60-day trial should now be activated.
Offline Activation - Paid License
1) In the same dialog mentioned at point 1) above click on Enter key.
Alternatively double click on Activate.exe in C:\Program Files (x86)\UiPath Studio\v8\UiPath.
2) In the registration dialog fill in your email and copy the license code.
3) Further click on the Offline button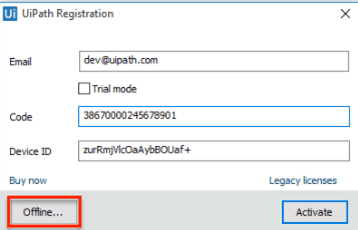 4) Follow the same indications described at steps 4 to 6 above to complete the offline activation process.