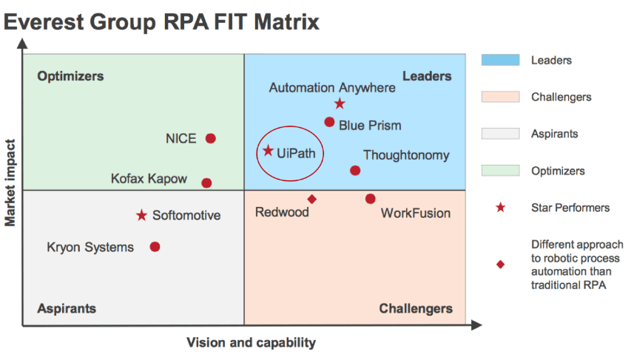 UiPath has been designated as a 'RPA Technology Leader' in the recently released Everest Group FIT Matrix - based upon:
Highly capable and flexible technology

- encompassing features, implementation and commercial models.

Market impact

- in terms of customer value delivered, plus the size & growth of its client portfolio.

Market coverage

- across geographies, client sizes, industry verticals and business processes.

Strong global partnerships
UiPath was further selected by Everest Group as a 2016 'RPA Star Performer', based on the following Everest Group findings from discovery and assessment work:
"UiPath has witnessed remarkable growth in terms of revenue, clients, and headcount in the last 12 months on the back of a combination of competitive pricing and strong services provider partnerships."
"UiPath has made significant augmentations in the core functionalities of its platform and enhanced its Cloud Technology. It has added new features such as process mapping, collaboration tools, configurable analytics based on ElasticSearch & Kibana, and an embedded help tool."
How Everest Evaluated RPA Vendors
Behind the X and Y Axis of the FIT Matrix, Everest Group has analyzed and assessed two major types of vendor information: Market Impact (Y Axis) and Product Vision and Capability (X Axis).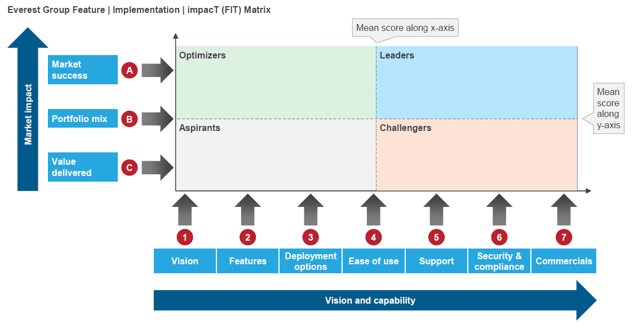 Within these two types of vendor information, Everest sharpened the focus of its discovery and assessment activities to only those specific vendor/product attributes it believes are particularly relevant to RPA buyers and their prospective solutions.
Market Impact
Success

: Company size & growth, performance and market perception.

Buyer Portfolio Mix

: Coverage depth & breadth across customers, geographies, industry verticals & processes.

Buyer Value Received

: Customer satisfaction with the technology and also the support.
Vision and Capability
Product Vision/Strategy:

Vision for both the buyer and the company; product strategy & technology roadmap.

Product Features

: Scope, flexibility, enterprise scale & technical sophistication.

Ease of Use

: Intuitive; flexibly creates automation, integrations and management.

Deployment

: Scope of hosting/tenancy options for buyers.

Support:

Scope of: training; consulting; maintenance and other support for buyers.

Security & Compliance

: Enterprise capabilities ensuring data security & process compliance.

Commercials

: Flexible & progressive pricing model for products & buyer services.

Everest Group is a consulting and research firm focused on strategic IT, business services, and sourcing. https://www.everestgrp.com
Read more from the report:
---