Everest Group assesses process mining technology vendors according to their market impact, vision and capabilities. Among the evaluated factors are value delivered, innovation, software performance, and others.
For the third consecutive year, UiPath is honored to be recognized as a Process Mining Leader in the Technology Provider Landscape, according to Everest Group's PEAK Matrix® for Process Mining Technology Providers. We're also recognized as a Star Performer, demonstrating significant YoY improvement on the PEAK Matrix®.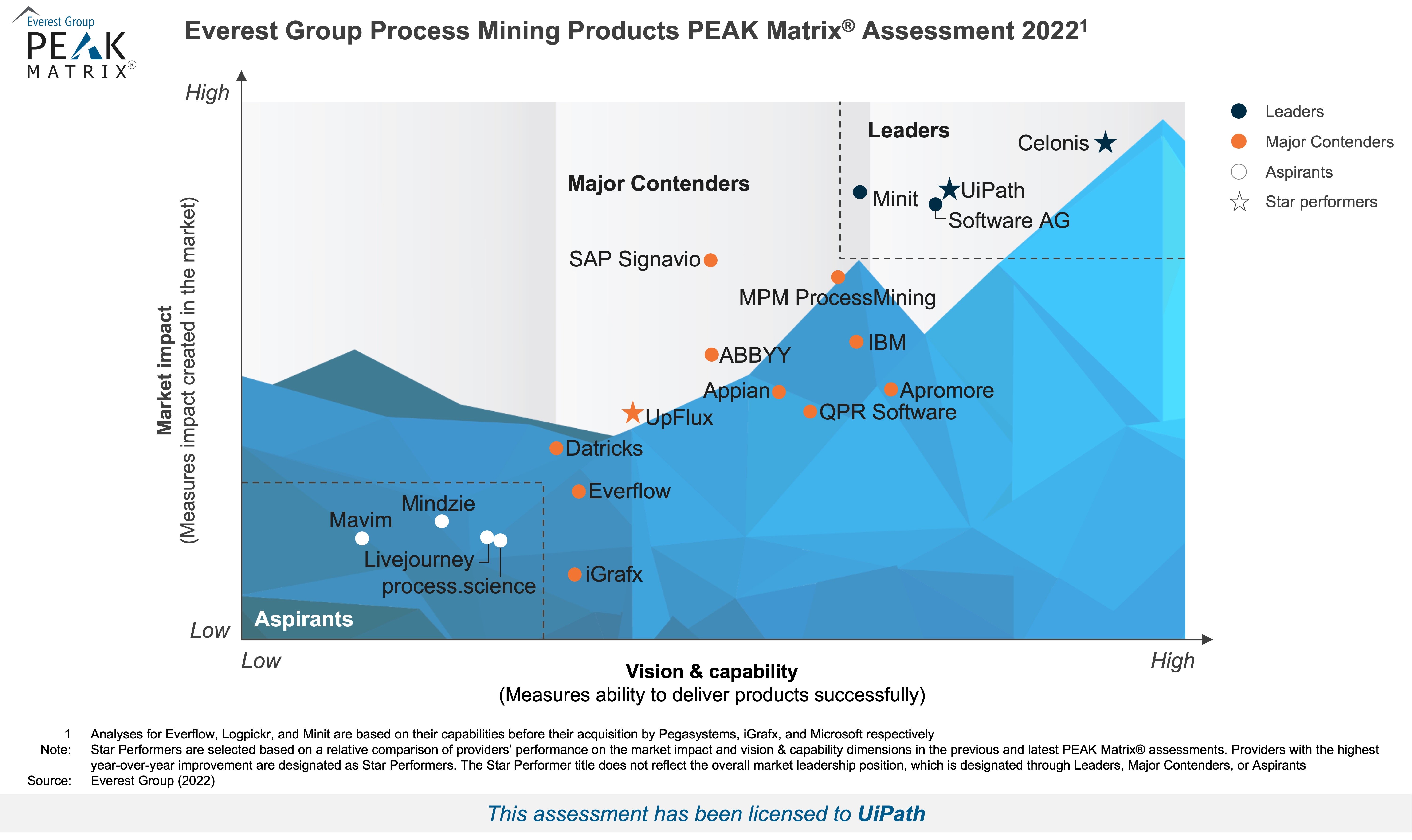 Process mining uses corporate digital footprints to provide leaders with a detailed and precise overview of business processes. With scientific data at hand, your business can increase organizational resilience, make more targeted strategic decisions, and optimize processes for higher value over time.
UiPath allows you to apply process mining as part of the automation program to remove process inefficiencies, spot automation opportunities with most value, and continuously optimize key processes end-to-end.
"UiPath's process mining product strategy is aimed at empowering enterprises with fact-based process visibility and insights to scale and accelerate their automation journeys," said Amardeep Modi, Vice President at Everest Group. "Strong year-over-year growth in its process mining revenue and client base, substantial improvements in value delivered to its clients, enhanced integration with its broader automation platform, addition of a cloud solution, and continuous focus on customer success and thought leadership are some of the key factors that contributed to its position as a Leader and Star Performer on the Everest Group Process Mining Products PEAK Matrix®."
This Everest Group PEAK Matrix® for Process Mining Technology Providers 2022 is the annual industry assessment providing analysis and insights on process mining vendors and products to assist enterprises in their selection processes. Register now to receive an exclusive version of the report on the process mining market landscape and UiPath capabilities.