How to: Scrape Data Using the Screen Scraping Tool
Another method for scraping large amounts of data in the application is to use the Screen Scraping tool.
For ease, let's use the same sample application and scrape the same data - the total expense.
Step 1. Let's start by clicking the Screen Scraping tool in the Design tab.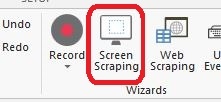 Step 2. The Screen scraper will automatically detect each individual element with unique values. Let's click on the total expense value.
Step 3. Choose the Scraping Method. The screen scraping tool will automatically select the most appropriate scraping method for a particular application. Full Text is currently set as shown on top of the wizard window.
There are 3 different methods we can use for scraping text.
Full Text - allows us to scrape all the visible text on the UI object
Native - aside from scraping the text, it also captures the position of the text and other text properties such as font style and color. Think of it as your clipboard doing the copy-paste for you
OCR - We use OCR when scraping virtual desktops and Citrix Applications
Step 4. After verifying that it outputs the correct results, you can click on the Continue button to save the scraping activity.
5. That's it! The new sequence will be added to your workflow. This sequence includes the scraping activity being used in this sequence. In our example, it uses the Get Full Text Activity.
Check out the complete video Tutorial in this article: http://www.uipath.com/tutorials/screen-scraping-desktop-application