1. Assumptions
The purpose of this tutorial is to demonstrate the automation of Citrix appplications inside Citrix.
Have a Citrix working environment.

UiPath Studio is available in Citrix environment and can be published inside Citrix.

In this tutorial we'll assume that the application we want to automate is Notepad.
2. Resources
Install guides, tutorials for Citrix environment:
Citrix products documentation:
Manage permissions:
3. Publish the applications in Citrix environment (by Citrix admin)
Publish UiPath Studio
Publish Notepad
Example:
How to publish applications:
4. Record using UiPath Studio (by Citrix user)
Start UiPath Studio published in Citrix environment
Start a new workflow by selecting "New Recording sequence"
Click on "Record App"

Browse and select Notepad application executable
"this is a test"2
Automate the application in the desired way (in this example the text "this is a test" is sent to Notepad)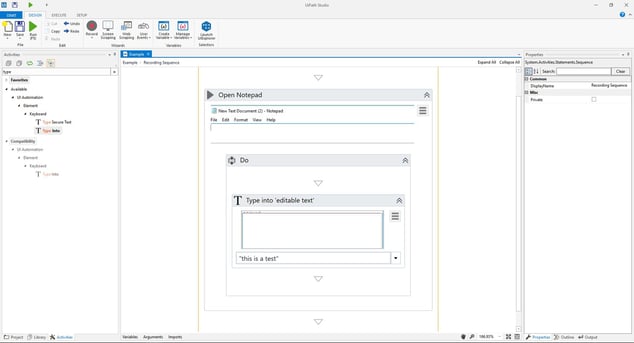 Next, you can run the workflow as on a regular desktop.
Warning: automated application MUST be launched from UiPath workflow in order to ensure it is running in the same environment
5. Publish a workflow (optional, by Citrix user)
In UiPath Studio click on "Create Shortcut"
Check the option "Add shortcut to startup menu" and click "Create"
Publish the shortcut to Citrix (see Publish the applications in Citrix environment)
Now you can run the workflow directly from Citrix