We pack a lot of insights, inspiration, and networking opportunities into the two and a half days at FORWARD VI. At lunch you'll have more than 30 roundtable discussion topics to choose from. Over 300 UiPath partners, product, and automation experts are available in Expertsville to answer your questions. In one afternoon, you have presentations across multiple tracks, product leadership sessions, and industry-specific summits to select from. And that's just the beginning.
This year, we've added TechEd Day, an entire day of content curated for AI and automation pros, center of excellence (CoE) leaders, and the technical users who want to take a deeper dive into UiPath products.
Note: we've included TechEd Day agenda recommendations for specific job roles in our recent blog post What to expect at TechEd Day at FORWARD VI.
FORWARD VI + TechEd Day are the ultimate choose your own adventures. But for readers looking for some tips on how to build your perfect FORWARD VI agenda this blog post is for you.
Don't miss sessions
Later in this post, we'll give agenda recommendations for specific industries and job roles. But first, let's talk about the FORWARD sessions that fall into the "don't miss this" category for everyone.
Save your seat in the Keynote Theater for these sessions:
Tuesday, October 10
Bringing AI to Life with AI at Work (9:00 am PDT)
Join Chief Brand Officer Mary Tetlow and Chief Marketing Officer Bobby Patrick as we kick off FORWARD VI. They'll dive deeper into our conference theme, AI at Work, and give you a quick overview of what you can look forward to over the next two days.
The Case for Change: Transformational Outcomes with AI at Work (9:15 am PDT) 
Utilizing artificial intelligence (AI) has become a Board-room imperative. But how do you put AI to work in a way that drives true value? UiPath customers will join UiPath Co-CEO Rob Enslin onstage, sharing specific ways they're using AI-powered automation to fast-track productivity and profitable growth.   
Curious what Enslin talked about onstage last year? Read "Highlights from Co-CEO Rob Enslin's FORWARD 5 Keynote".
An AI-Powered Automation Platform for Everyone (9:40 am PDT)
Immediately following Enslin's session with customers' transformational outcomes via AI-powered automation, in this session UiPath Chief Product Officer Graham Sheldon will dive into the UiPath Business Automation Platform capabilities that make those outcomes possible. FORWARD VI attendees will get an exclusive look at the UiPath AI strategy, roadmap, and rationale—along with a first look at some new AI-powered capabilities coming soon to the UiPath Platform.
Lessons from the World's Great Innovators (10:20 am PDT)
Anyone familiar with The New York Times Best Seller list is already very familiar with best-selling author Walter Isaacson. Isaacson is globally known for best-selling books Steve Jobs; Leonardo da Vinci; Benjamin Franklin: An American Life; The Code Breaker: Jennifer Doudna, Gene Editing, and the Future of the Human Race; Einstein: His Life and Universe; Elon Musk; and The Innovators (among others). At FORWARD, Isaacson will explain the characteristics shared by many of the greatest innovators in human history. And how we can apply those insights to expand our own capacity for innovation.
Wednesday, October 11 
The UiPath Blueprint for AI at Work (9:05 am PDT) 
With AI at work, how can organizations move beyond aspiration to successfully operationalizing (and monetizing) AI? UiPath AI leaders and David Barber (Director of UCL Centre for Artificial Intelligence and UiPath Distinguished Scientist) will share our own plans and progress building capabilities into the UiPath Platform that empower customers to discover, automate, and operate AI-enriched business processes throughout their operations.
The Power and Economic Impact of AI (9:30 am PDT) 
Erik Brynjolfsson is the Director of the Stanford Digital Economy Lab and senior fellow at the Stanford Institute for Human-Centered AI. Brynjolfsson has co-authored a pair of The New York Times bestsellers on digital transformation. With the growing public profile of generative systems like ChatGPT and Dall-E 2, he shows leaders how human-like AI can be powerfully applied to maximize efficiency in performing specialized jobs. A gifted presenter, Brynjolfsson's expert insight on the economic implications of AI and other emerging technologies is vital for leaders of organizations looking to understand the rapidly evolving impact of digital systems.
Founder's Keynote: The Road Ahead (10:10 am PDT)
UiPath Co-Founder and Co-CEO Daniel Dines' keynotes are always one of the more anticipated sessions at FORWARD conferences. It's your opportunity to hear Dines unplugged and his opinions about the future of work. It's your chance to hear his inspiring take on how empowering people to delegate tedious tasks to robots can help accelerate human achievement.  
Curious what Dines spoke about last year, at FORWARD 5? Read "Highlights from Co-CEO Daniel Dines 'Unplugged' at FORWARD 5".
Creating your perfect agenda is easy with the UiPath FORWARD VI app
This year, we have a new and enhanced app. It's called UiPath FORWARD VI and is different from the app used at previous FORWARD conferences (which was called UiPath Events app). So, make sure you delete the old app and download the new UiPath FORWARD VI app.
Now's a great time to do that:
When you open the app for the first time, you'll enter the email address you used to register for FORWARD VI.
Next, click the 'Full Agenda' icon at the bottom of the screen: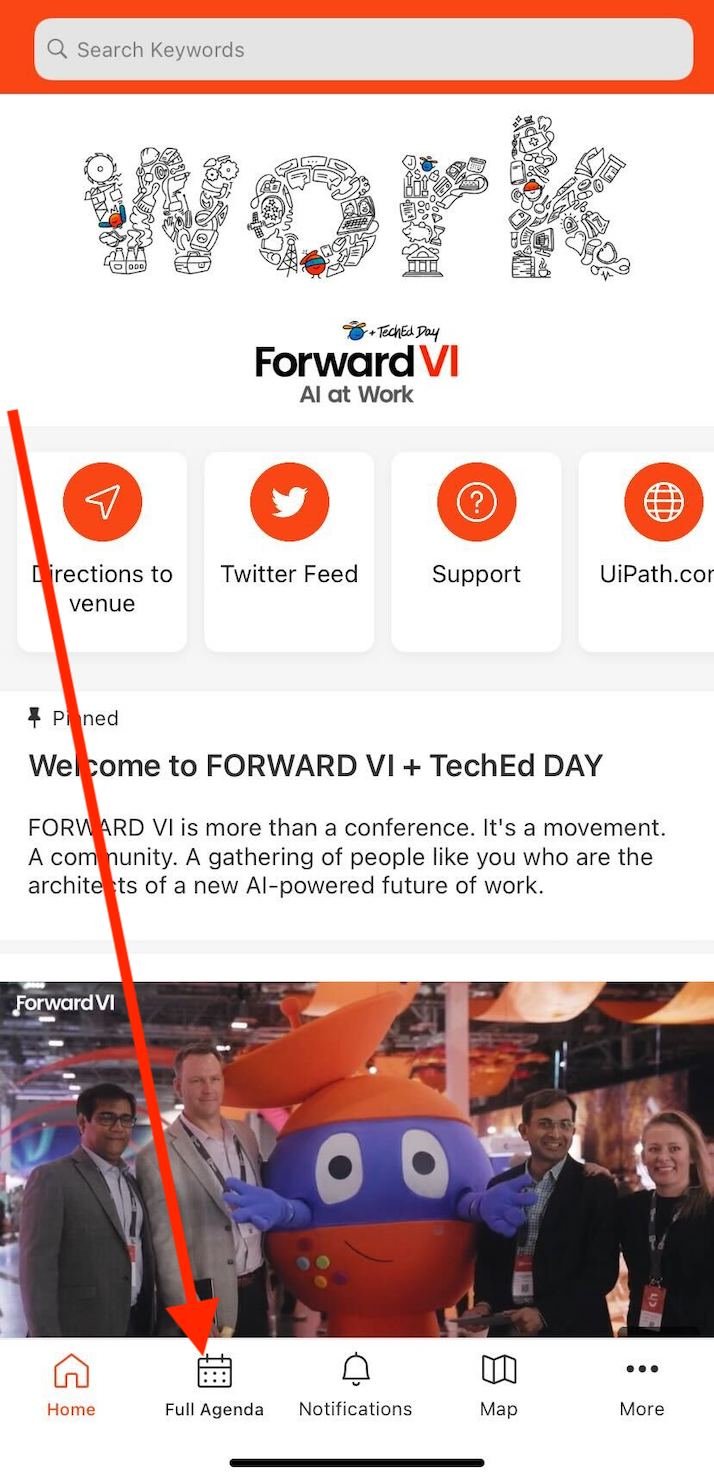 Building your perfect agenda is as easy as clicking Add on the agenda items you want to save: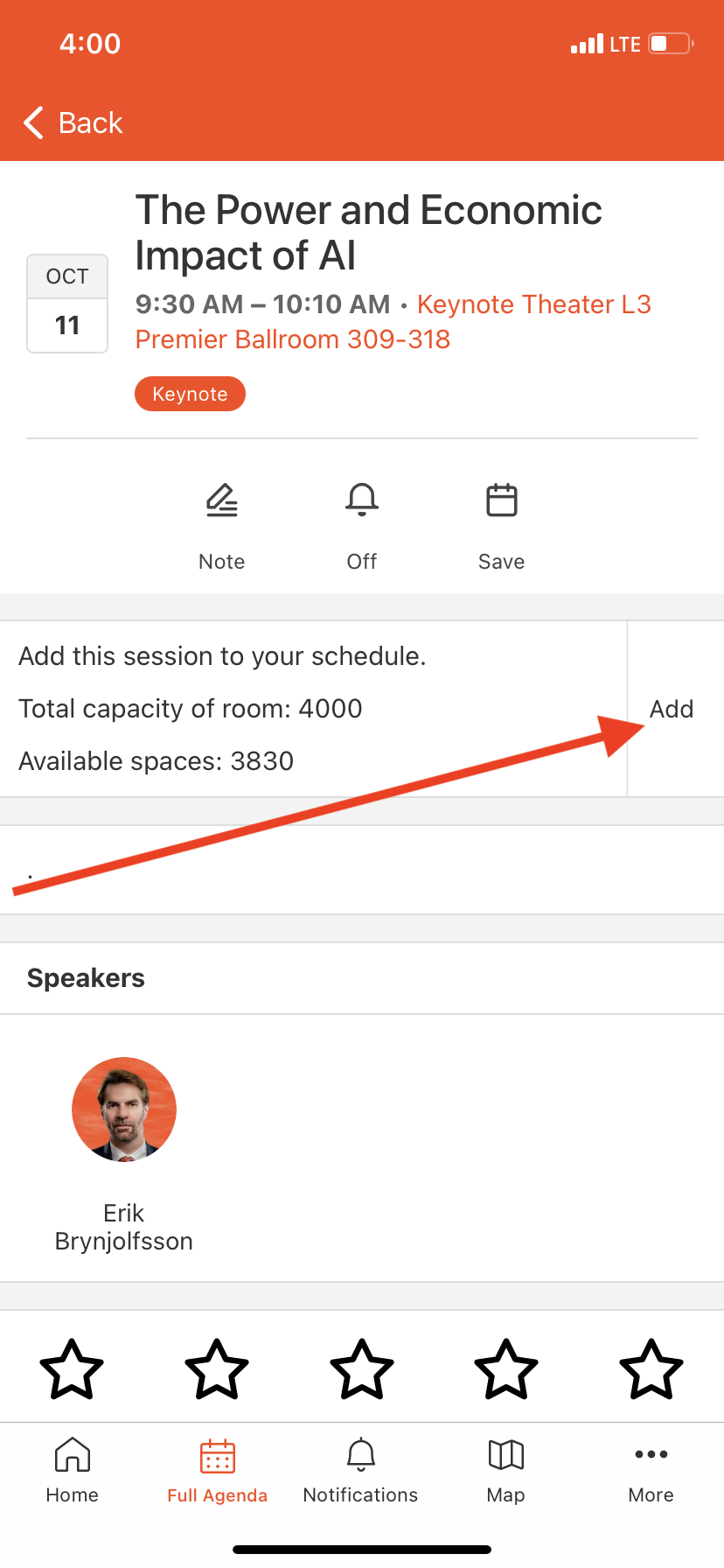 Once you've started adding sessions to create your personalized agenda, you can quickly see all your saved sessions under My Agenda (click the More icon at the bottom of the screen):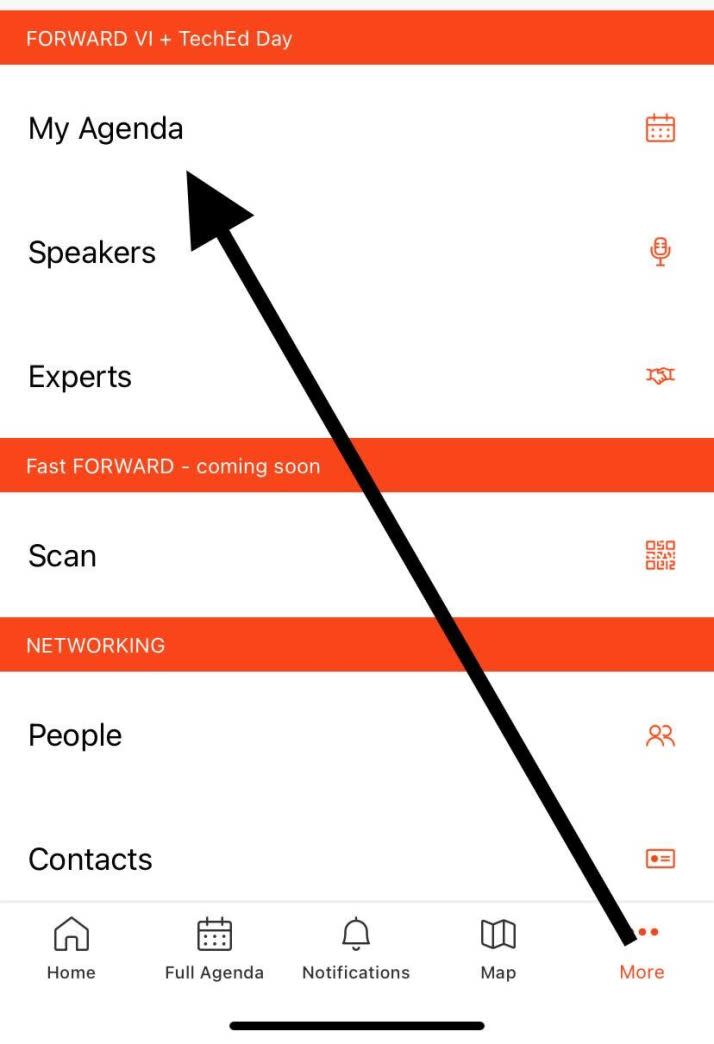 Find AI and automation experts and connect with peers
The new FORWARD VI app makes finding, connecting, and networking with UiPath partners, UiPath product experts, and other AI and automation enthusiasts easier than ever.
Have a favorite speaker and want to make sure you don't miss any of their presentations? Click Speakers (you get to the Speakers tab by selecting the More icon at the bottom of the screen). Click on a specific speaker to see all sessions they're part of at the conference. 
Have questions? Make the most of your time in Expertsville and your opportunity to talk one-on-one with experts. Look up UiPath partners in advance by clicking on Experts (available when you select the More icon at the bottom of the screen). 
Partners have also included resources in their Expert profiles, making it simple to dive deeper on specific topics. Don't have time to dive in at that moment? Bookmark the partner by clicking on the Bookmark star.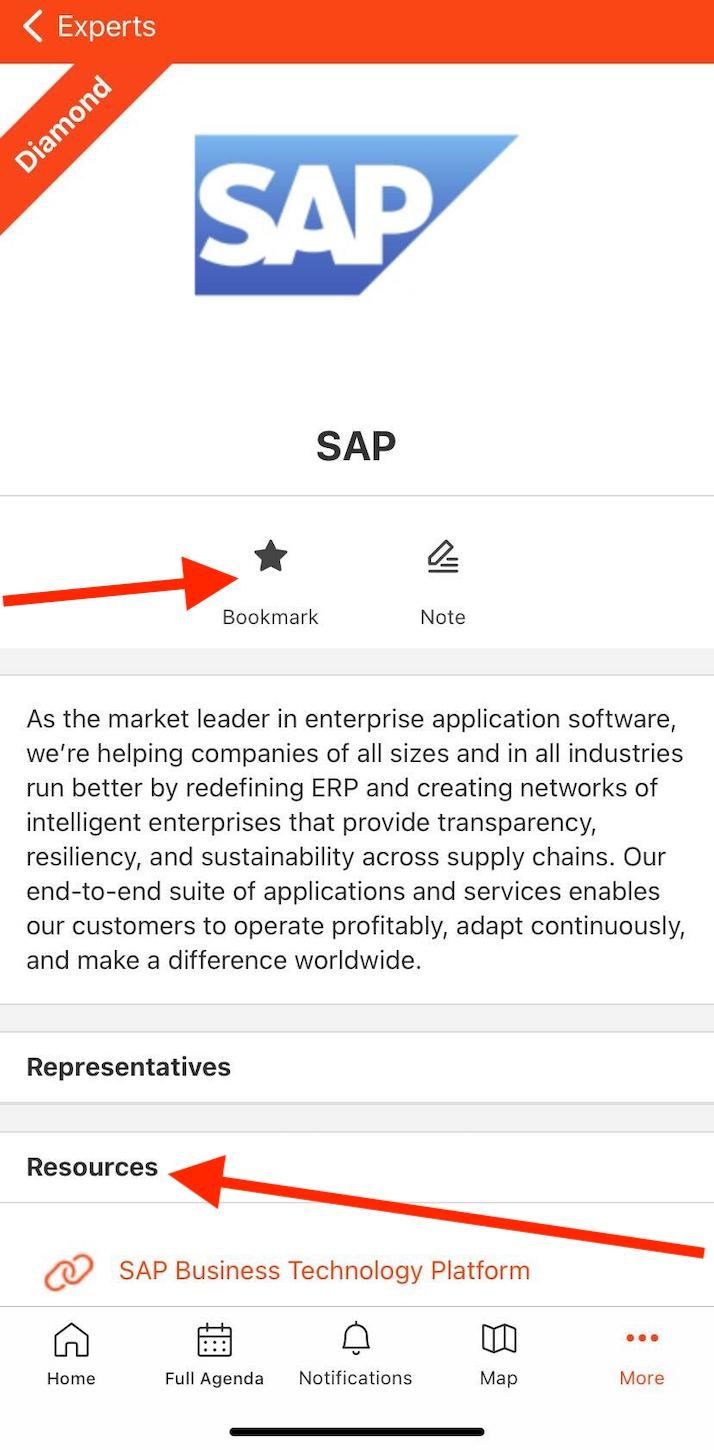 All your bookmarks are conveniently located under Bookmarks in the app (click on the More icon at the bottom of the screen to reach Bookmarks).
Under People, you'll find other attendees available to network with at FORWARD VI + TechEd Day. You can search by name or company.
Use the app to connect with peers before the conference and set up time to meet in person at the Welcome Reception, a Lunch Roundtable, or any of the numerous networking opportunities throughout FORWARD. Connect, send a message, make a note...you don't have to wait until you're in Las Vegas to start networking!
Agenda recommendations
We invite you to take time before the conference to explore the full agenda in the UiPath FORWARD VI app.
This year, there are a number of agenda filter options when you sign in to the FORWARD VI + TechEd Day event site. You can filter by industry, UiPath products, and by job roles (with the 'Target audience' filter). The filtered results show all relevant conference sessions.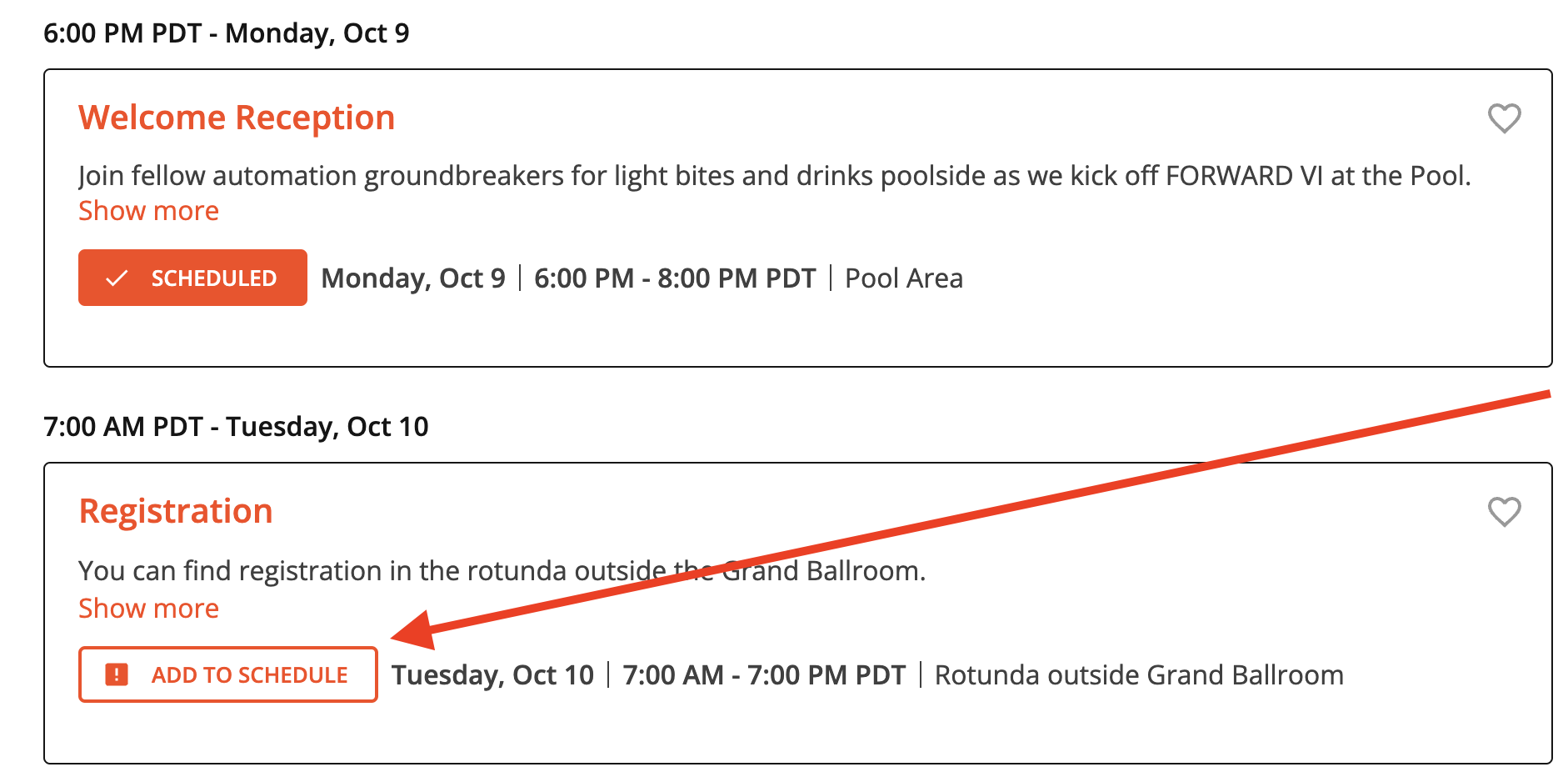 Save agenda items on the event site by clicking Add To Schedule. Saved items will show up under My Agenda on both the event site and the FORWARD VI app.
For those of you who want more guidance building your perfect agenda, we have some recommendations.
For executives
AI has become a Board mandate and executive imperative. And automation is how organizations are realizing actual value from AI. Across the conference, you'll see and hear how other leaders are using AI-powered automation to deliver transformational outcomes for their orgs.
In addition to the keynote presentations, if you're an executive responsible for AI-powered transformation, we recommend these sessions:
AI at Work Customer Spotlight featuring Intel Corporation (October 11, 10:40 am PDT)
Get a behind-the-scenes look at how Intel, the Fortune 500 company creating world-changing technology, is using AI at work to manage trade around the world.
How to accelerate digital transformation with SAP and UiPath - UiPath Platform as an SAP Endorsed App (October 11, 3:30 pm PDT)
For IT executives at enterprises using SAP, this is a must-attend session. Automation leaders from Intel and Applied Materials will share how they're driving transformation by automating complex end-to-end processes across SAP and non-SAP systems.
In Expertsville:
Visit the SAP Lounge to see our SAP solutions in action and talk with experts

Get inspired by UiPath customers' transformation stories at the Gallery of Customer Achievement

Ask questions and get one-on-one advice for successfully transforming your organization from UiPath partners at the partner booths
If you lead an enterprise in the healthcare, banking and financial services, public sector, or manufacturing, don't miss the industry-specific summits Wednesday afternoon. And chief experience officers have the Customer Experience Summit to add to their agenda.
By industry
What is automation's role in your specific industry? How are other organizations in your industry using AI and automation? We have a number of places you can find the answers to those questions and get inspiration for AI-powered automation in your own organization. 
Don't miss the industry-specific summits on Wednesday afternoon. In the app, when looking at the Full Agenda, use the filter option, select Summit, Apply Filter, and you'll have a list of all summits.
Each summit has its own agenda. All summits feature industry giants sharing the lessons they've learned throughout their automation journeys and insights on where the industry is heading. You'll hear how to use AI-powered automation to remain a leader today and into the future.
Want to see all FORWARD VI + TechEd Day sessions related to your industry? Sign in to the FORWARD VI + TechEd Day event site to filter by industry.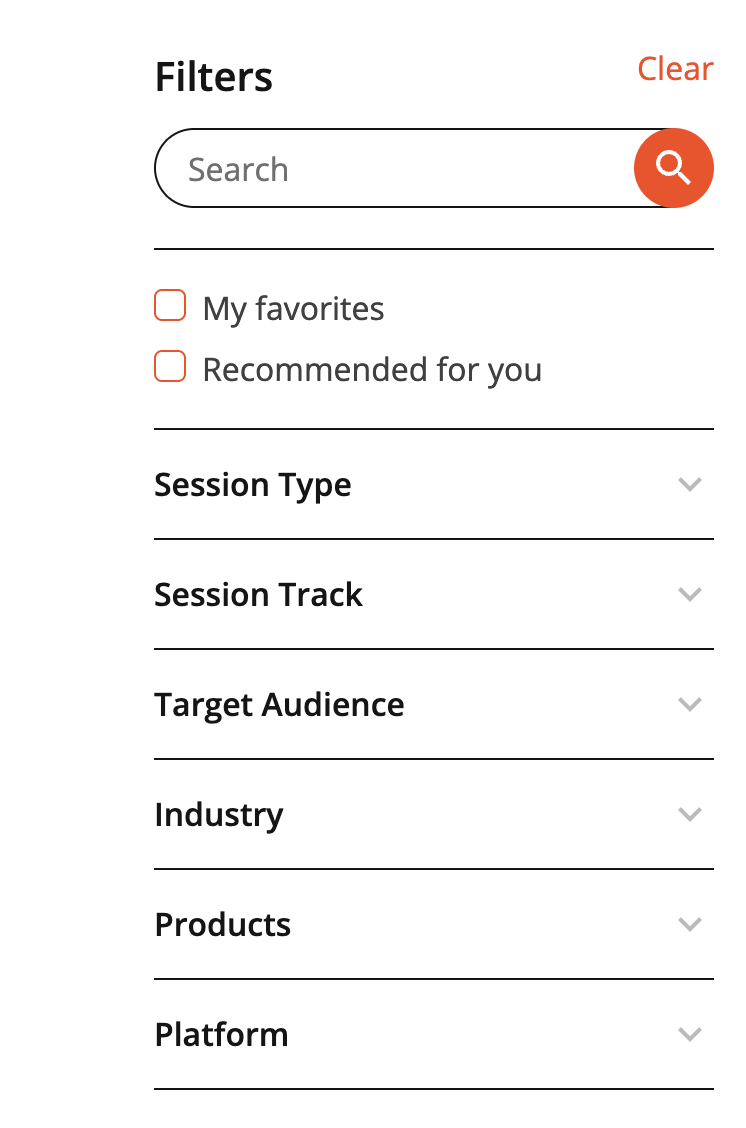 Filter options available when logged in to the Attendee Portal via the FORWARD VI + TechEd Day site.
Lunch Roundtables give you the opportunity to enjoy a delicious meal while sitting down with others in your industry. Pick from more than 30 roundtable discussion topics. Each table has a limited number of seats, so I recommend picking your favorite discussion topic in advance and getting to the table early.
And don't miss the industry-specific booths in Expertsville (there's a handy map in the app).
For automation practitioners 
Are you a center of excellence (CoE) leader or automation developer? In addition to the 'must-attend' sessions mentioned earlier, your curated agenda is only a click away.
When you sign in to the FORWARD VI + TechEd Day event site, you'll be automatically taken to the Attendee Portal. Select your role from the Target Audience agenda filter and the resulting sessions are those that are most relevant to your work.
And, this year, we've added TechEd Day for you and other pros who want to take a deeper dive into UiPath products and technology. TechEd Day agenda recommendations for specific job roles are available in our recent blog post What to expect at TechEd Day at FORWARD VI. 
Don't miss the "How UiPath automates UiPath: the story behind saving $50 million with our own tech" session on TechEd Day at 10:00 am PDT.
Put fun on your agenda
For some, fun and agenda don't belong in the same sentence. But others might be like me. I'm a scheduler—blocking time on my calendar for something is how it gets done.
For fellow schedule-minded people, this is your reminder to add fun to your agenda favorites:
Automation Celebration
If you've been at previous FORWARD conferences, you know that the Automation Celebration is a one-of-a-kind experience. Last year, there were people walking in the air and spinning above the crowd. This year, we've prepared a celebration of human achievement through light, innovation, technology, art, and music. Along with drinks and a delicious meal, of course. 
The Automation Celebration takes place Tuesday (October 10) at 7:30 pm PDT. There's no special dress code but make sure you have your conference badge—it's your entrance into this unique celebration.
Join us for drinks and small bites (relax, unwind, network…it's up to you) at the: 
Welcome Reception on Monday (October 9), 6:00-8:00 pm PDT at the pool area

Unwind Happy Hour* on Wednesday (October 11), 5:30-6:30 pm PDT in Expertsville 
*Note: We'll have beer and wine at the Wednesday happy hour. A delicious meal will be waiting for you at the Automation Celebration on Tuesday night. 
During FORWARD VI, we're bringing back the "gamified" FORWARD experience. While you're onsite during the conference, you'll find FAST Forward (click the More icon at the bottom of the screen) in the app. You can earn points by visiting expert booths, checking out the Gallery of Customer Achievement, reviewing UiPath—you name it, you can probably earn points for it. And the more points you get, the greater your odds of winning prizes.
And, if at any point you have a question while at FORWARD VI, look up. We have information towers (they're tall so they're easy to spot) throughout the conference area. At each tower, you'll find UiPathers ready to answer any questions you may have. 
See you in Las Vegas!