Author's note: FORWARD 5 may be over, but you can still access the great advice and insights shared during conference sessions. Sign up for 'The Best Bits,' a three-volume series of curated FORWARD 5 session recordings. For attendees who joined us in person, you can access all the session recordings in the UiPath Events app.
FORWARD 5 is expected to be the world's largest gathering of automation experts and practitioners. There are so many training, networking, and education opportunities over the two and a half days.
At lunch you'll have more than 80 roundtable discussion topics to choose from. Over 100 UiPath partner experts are available in Expertsville to answer your questions. In one afternoon, you have sessions across three different tracks and Industry Summits to select from. And that's just the beginning.
FORWARD 5 is the ultimate choose your own adventure. But for those looking for some tips on how to build your perfect FORWARD agenda, this blog post is for you.
Don't miss sessions
Later in this post, we'll give agenda recommendations for specific industries and job roles. But first, let's talk about the FORWARD sessions that fall into the "don't miss this" category for everyone. Save your seat in the Keynote Theater for these sessions:
Wednesday, September 28
Reboot and Reimagine Business Processes to Drive Automation-Fueled Business Outcomes (9:15-9:45 am PDT)
There's a new enterprise value on the table. Join UiPath Co-CEO Rob Enslin to understand what that is. And why C-suites are identifying automation as their new strategic imperative. Get there early for a front-row seat.
The Innovation Behind the UiPath Business Automation Platform: Enabling the Automation Advantage (9:45-10:25 am PDT)
Hear the story behind creating the platform you know today. UiPath Executive Vice President of Product and Engineering Ted Kummert will give you that backstory and unveil the next leap forward: the UiPath Business Automation Platform. And how the platform drives business value throughout the enterprise.
Love + Work: Unleashing the Power of Your Joy in the Workplace (10:25-11:10 am PDT)
Do what you love. That's the dream but often is easier said than done. Until you've attended Marcus Buckingham's keynote. Buckingham is the NY Times best-selling author of Love + Work, and his speciality is empowering people to identify what they love to do and then position themselves for maximum joy at work.
Daniel, Unplugged: A View From the Founder's Chair (11:10 am-12:00 pm PDT)
Join UiPath Co-CEO Daniel Dines for an intimate look at the past, present, and future of UiPath. Special guests will join Dines onstage to share insights from their automation-fueled transformations. Every year, the View From the Founder's Chair is one of our most popular sessions at FORWARD.
Sharing Our Vision: A Conversation with Daniel Dines and Rob Enslin (4:45-5:30 pm PDT)
In one of the most anticipated sessions of the conference, UiPath Co-CEOs Daniel Dines and Rob Enslin will share the things that keep them up at night, wake them up in the morning, their vision for the future of UiPath and automation, and more. This session will be moderated by Constellation Research's Ray Wang, the renowned author, TV host, and thought leader on all things tech.
Thursday, September 29
Win in Digital's Next Phase by Building Your Automation Fabric Now (9:10-9:30 am PDT)
Hear new Forrester research from Leslie Joseph, Principal Analyst at Forrester. Joseph will discuss the next 'S-curve' of technology that is emerging and the latest thinking on the power of automation in capturing competitive advantage in the days ahead.
The 2022.10 Release and Beyond: Riding Our Roadmap Into the Future (9:30-10:10 am PDT)
Be one of the first to see what's included in our biggest product release of the year: 2022.10 release. UiPath Chief Product Officer (CPO) Param Kahlon will reveal new capabilities in the 2022.10 release, you'll see it in action with live demos, and get a sneak peek at some of what's coming in future releases.
Success on the Cutting Edge: Customer Lightning Rounds (10:35-11:00 am PDT)
Hear lessons (in lightning-style rounds) from UiPath customers who were early adopters of automation and have successfully scaled automation across their enterprises.
Before we go any further, let's talk about how to save these so you are creating your perfect agenda in our Events app.
How to create and save your custom FORWARD 5 agenda
If you haven't already downloaded the UiPath Events app, do that now.
When you open the app for the first time, you'll enter the email address you used to register for FORWARD 5. Then, click the Agenda tab.
Building your perfect agenda is as easy as clicking the heart on the agenda items you want to save: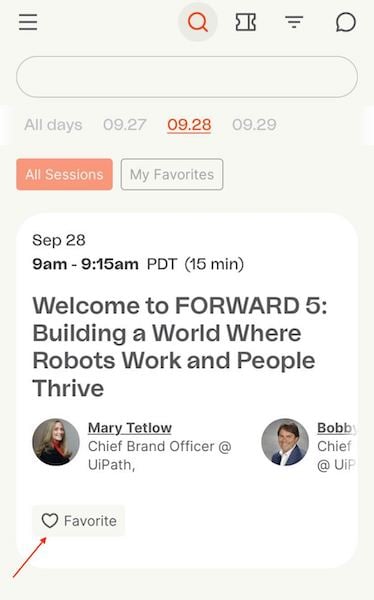 You can see all your saved sessions under "My Favorites" in the Agenda tab.
Agenda recommendations
We invite you to take time before the conference and explore the full agenda in the UiPath Events app. For those of you who want more guidance, we have some recommendations. In some cases, we've even curated agendas for you.
For executives
Automation is quickly becoming a Board mandate and executive imperative. In addition to the keynote presentations—which are for all of you—if you're an executive responsible for automation-fueled transformation, we've put together this agenda for you.
In Expertsville:
Get inspired by UiPath customers' transformation stories at the Gallery of Customer Achievement

Ask questions and get one-on-one advice for successfully transforming your organization from UiPath Partners at the Partner booths

See the art of the possible in the Immersion Lab (located in the center of Expertsville)
For IT leaders, we invite you to attend the IT Leadership Summit (access to the summit is included in the FORWARD 5 registration) on Thursday, September 29, starting at 2:00 pm PDT. You can see the full IT Leadership Summit agenda by selecting the summit in the Agenda tab of the event app.
For automation practitioners
Are you an automation center of excellence (CoE) lead or automation developer? In addition to the 'must-attend' sessions mentioned earlier, we recommend you add to your agenda:
Afternoon breakout sessions in the Automation How-To Theater (located on Level 3 of the convention center)

Product deep dives (search "product deep dives" in the Agenda tab of the UiPath Events app to see all the deep dives)

UiPath product experts are onsite to answer your questions in Expertsville (including the "How UiPath uses UiPath" booth)

Focus groups (provide product-specific feedback directly to Product team members)
Don't miss the "How to Succeed as a CoE Lead - A Fireside Chat w/Meta (Facebook), Indeed, Oshkosh, and UiPath" session on Wednesday afternoon in the Automation How-To Theater.
By industry
What is automation's role in your specific industry? How are other organizations in your industry using automation? We have a number of places you can find the answers to those questions and get inspiration for automation in your own organization.
Finding the industry-specific sessions in the agenda is as easy as entering your industry into the search in the app: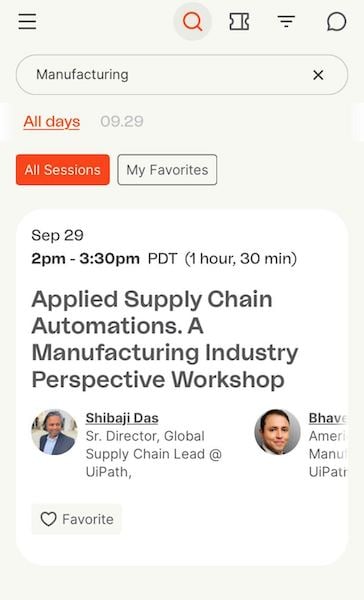 On Wednesday and Thursday, Lunch Roundtables give you the opportunity to enjoy a delicious meal while sitting down with others in your industry. Pick from more than 80 roundtable discussion topics. Each table has a limited number of seats so I recommend picking your favorite discussion topic in advance and getting to the table early.
Don't miss the industry-specific booths in Expertsville.
On Thursday (September 29) afternoon, there are four separate industry-specific summits:
Insurance Summit

Banking and Financial Services Summit

Healthcare and Life Sciences Summit

Public Sector Summit
Each summit has its own agenda. All feature industry giants sharing the lessons they've learned throughout their automation journeys and insights on where the industry is heading. You'll hear how to use automation to remain a leader today and into the future.
You can view the full agendas for each summit in the Agenda tab of the event app (search "summit" in the app).
Put fun on your agenda
For some, fun and agenda don't belong in the same sentence. But others might be like me. I'm a scheduler—blocking time on my calendar for something is how it gets done. For fellow schedule-minded people, this is your reminder to add fun to your agenda favorites:
Automation Celebration: A Venetian Masquerade
If you've been at previous FORWARD conferences, you know that the Automation Celebration is a one-of-a-kind experience. Last year, there were people walking in the air, on water, and spinning above the crowd. This year, we've prepared a celebration of human achievement through light, innovation, technology, art, and music. Along with drinks and a delicious meal, of course.
The Automation Celebration takes place Wednesday (September 28) at 7:30 pm PDT. There's no special dress code and we'll have a mask for you.
Join us for drinks and small bites (relax, unwind, network…it's up to you) at the:
Welcome Reception on Tuesday (September 27), 6:00-8:00 pm PDT

Unwind Happy Hour* on Wednesday (September 28), 5:30-6:30 pm PDT

Fond Farewell Happy Hour with Daniel Dines and Rob Enslin on Thursday (September 29), 5:00-6:00 pm PDT
*Note: We'll have beer and wine at the Wednesday happy hour. A delicious meal will be waiting for you at the Automation Celebration on Wednesday night.
Don't forget to pack your tennis shoes—FORWARD 5 has pickleball. Never played? Don't worry, we'll have experts onsite to teach you the game. The pickleball courts are located in Expertsville and open during the same hours as Expertsville.
See you next week!