A lot is being said these days about enterprise-level RPA. It's clearly the way to go, but we are in the early days, barely scratching the surface of the potential, and still delivering on promised returns.
Many of the companies adopting RPA are now in the post experimentation phase, preparing to scale or already scaling up as we speak. Others are simply eager to discover how the current projects are performing. And there are plenty of lessons to be learned that should help to inform future automation strategies, especially as we progress towards more AI.
72 enterprise executives surveyed
This brand-new research from Everest Group looks into how enterprises at different stages of adoption maturity define enterprise RPA and what they specifically consider to be a best-fit RPA solution. 72 enterprise executives contributed to the research, many of whom have invested their RPA efforts in multiple geographies and across varying organizational sizes.
Enterprise-grade RPA can bring real, tangible benefits, ranging from increased regulatory compliance to increased process automation rates and faster ROI. You will find them highlighted in this research paper. But what are the critical enterprise RPA characteristics that ultimately drive these benefits and how do enterprises rank their importance?
Security, scalability, and software richness are indispensable features
Everest identifies five overall dimensions, three of which stand out as having been rated highest: software quality and robot maintenance, security and risk management, and ease of deployment and scalability. For each of these dimensions, the research dives deeper to identify specific software solution characteristics.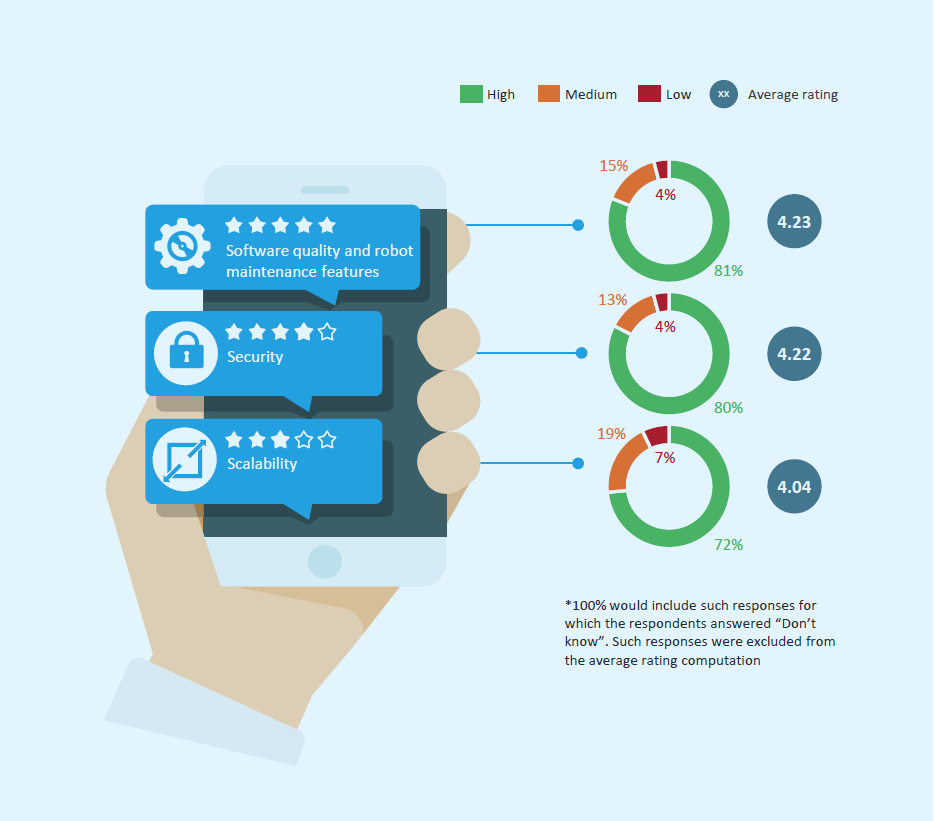 Interestingly, although unsurprisingly, responses varied by company size, by stage of RPA implementation, and by the returns achieved. For the largest organizations, security and risk mitigation are more important than the other dimensions, and the more mature the organization's RPA program is, the more satisfied they tend to be with their investment.
But there is more to enterprise RPA than technology alone. For winning RPA strategies, good product support, easy access to training and the right partnerships to help move you forward into AI are also critical. We'll let you deep dive into the research here.
---