AIS is the number one mobile operator in Thailand, providing customers with mobile services since 1990. Core areas today are mobile, fixed broadband and digital services that it provides to customers throughout the country. AIS' vision is to become the most-admired Digital Life Service Provider in Thailand and its mission is to enhance people's lives through Digital Service. Key to this Mission and Vision is technology, and AIS turned to UiPath to start them on their automation journey.
AIS' automation journey started in 2019. At the time, they had three main objectives that they wanted automation to help them achieve. Firstly, they wanted to further improve customer service and engagement with their suppliers. As a major Thai telcom firm, customer service is central to everything they do and is a major priority for the company.
Their second objective was to improve the working lives of their employees. They specifically wanted to move their employees away from performing routine, rules-based work, to more high value tasks where they could innovate and use creativity.
Lastly, their embrace of automation was part of their full-service digitisation efforts, whereby they are moving to automate as many manual processes as possible. Ultimately, they wanted their automation efforts to improve operational efficiency, generate more revenue streams, and deliver business value to all stakeholders, from suppliers and employees to customers.
UiPath's RPA platform is scalable and flexible. Furthermore, it is also intuitive and easier for our employees to master and teach themselves and others, a key objective for AIS.

Soontare Ngamvitroj • Head of New Domain Acumen
Starting their automation journey
There are many different technological solutions that AIS looks to, however they decided to choose robotic process automation (RPA), and work with UiPath, for a number of reasons. First, they saw the promise of RPA, and its potential to automate rules-based, routine tasks efficiently and accurately. They also saw that UiPath Platform is flexible, scalable and easy for their team to operate, which ultimately would allow their employees to develop and use robots without having to wait on the IT department.
AIS started by developing a proof of concept (PoC). They wanted to test this new technology and also create a use case that would allow them to gain the trust of division heads and buy in from senior leadership.
The PoC consisted of two test cases which allowed them to both understand the technology and see how it worked in practice. It also included a Hackathon which both created awareness of RPA and also brought together numerous divisions and team members, ensuring everyone was on the same page.
The team also set up a center of excellence (CoE) which allowed them to develop and introduce RPA standards that were tailored to AIS, source code reviews, assign and deploy robots, transfer them to operation, and provide technical consultation for the individual divisions.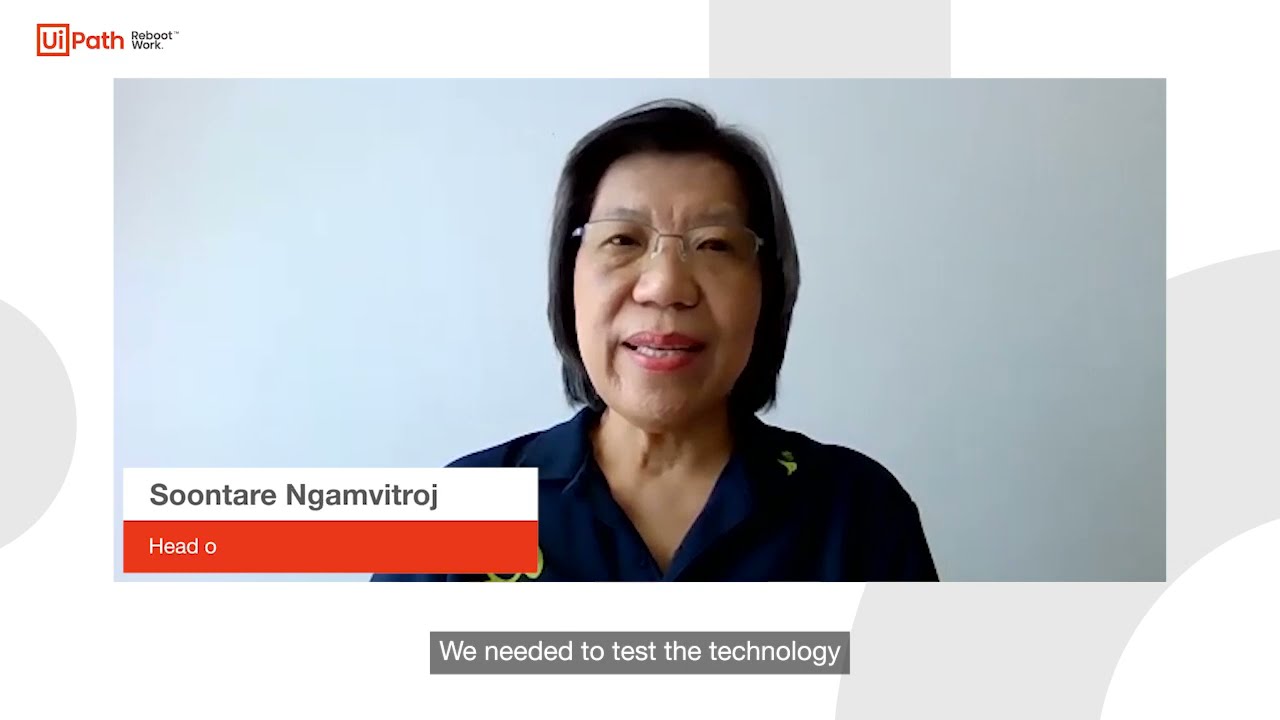 A focus on skills and support
Importantly, the role of the CoE was to promote RPA throughout the company and act as a point of resource and help. One of their first tasks was to get buy-in from upper management, who were more than ready to support automation initiatives, especially after seeing the results of the PoCs. With their backing, the team then set about recruiting interested employees to become trainers.
They focused on training their team, firstly by 'training our trainers' which involved upskilling 16 trainers who could then pass on their knowledge to others. The next outcome was the upskilling of 800 employees to become 'Citizen Developers' who could develop their own RPA solutions in the future.
The CoE worked with UiPath to set up a structured self-learning course that would result in an official certificate of Advanced Developer Training, allowing AIS employees to go on and train others. They then selected candidates who had passed the advanced developer training to attend a further five-day UiPath developer course and to conduct a final exam, qualifying them to teach RPA.
Our employees and management not only understand what RPA is and how it works but have come to believe in its benefits. Employees are becoming more confident in using the technology and they are seeing more processes being automated – this is being driven from the bottom up.

Soontare Ngamvitroj • Head of New Domain Acumen
The course gave them the skills and knowledge needed to teach RPA to others and leverage a number of applications including SAP, Interaction Management, Retails Management and Engineer Application. Ultimately, they could now build their own automation robots and apply them to business processes and teach these skills to others.
This knowledge transfer has already started happening and AIS now have a growing number of Citizen Developers who are able to identify inefficient processes and apply RPA to them. To date, there are now 560 use cases of processes being automated, saving 197 full-time equivalents (FTEs).
Realizing the benefits of RPA
They are also starting to see results within their individual business units. Within Operations, RPA has helped reduce the workload on employees by 72,000 work hours. They have done this by applying RPA robots to automate repetitive tasks, such as automating elements of customer enquiries which has gone on to improve MTTR (Mean Time to Resolve).
Within the Corporate Finance division, RPA has helped reduce errors and saved over 36,000 work hours. Robots have assisted in transaction reconciliation, invoicing, improved data and operational efficiency, and freed uptime for employees to do higher value, more creative work. Staff have also taken this opportunity to upskill themselves, learning new ways of thinking and how to leverage technology to transform the way they do their jobs.
The Advance Contact Center (ACC) division started using RPA in 2019 and has since deployed 30 robots for front and back-office support. The result has been a marked reduction in open screens, from three to one, a reduction in working steps from 10 to three, and complaints and errors being reduced to zero. Productivity has also increased with reports which previously took five hours to produce now done in 30 minutes, allowing more than three reports to be produced daily.
Importantly, their employees and management not only understand what RPA is and how it works, but have come to believe in its benefits. Employees are becoming more confident in using the technology and they are seeing more processes being automated – this is being driven from the bottom up.
This is only the beginning and AIS has ambitions to further scale its use of RPA technology throughout the company, as well as adding new technologies such as cognitive OCR, machine learning, speech recognition, image analytics and more. They also plan on expanding their use of RPA across other business units, including Manufacturing, Retail and Banking and Finance.