Carglass is the go-to company for mobile windshield installation. As part of Belron Group, their 25,000 employees and numerous brands deliver quality service to millions of drivers. Their secret weapon? One "backseat driver" we can all appreciate: automation.
There are few things more annoying than a crack in your windshield. The chore used to require appointments and taking an afternoon off to sit in the waiting room of a repair center. Thanks to the widespread use of mobile devices and smart automation software, Carglass has made windshield repairs easier for both their customers and employees.
Carglass uses automation and UiPath Apps to deliver better customer service, manage field technicians, and work more efficiently with insurance companies.
The results? Employees love having less data and manual work to manage, and customers enjoy faster service. Plus, the Carglass Board appreciates the hours saved, positive impacts to the employee experience, and revenue opportunities automation has unlocked for more on-site sales.
Starting the automation journey
Carglass Denmark began its automation journey in late 2018. They were fully open to exploring and learning how UiPath could streamline efficiencies across its business. Service agents were overwhelmed with the work needed to collect and process insurance claims. One of Carglass' largest fleet clients suggested using automation to smooth out some of the bumps.
Like many companies, their "low-hanging automation fruit" was the invoicing process. Windshield repair requires a significant amount of back-and-forth with insurance companies to process claims and resolve invoices.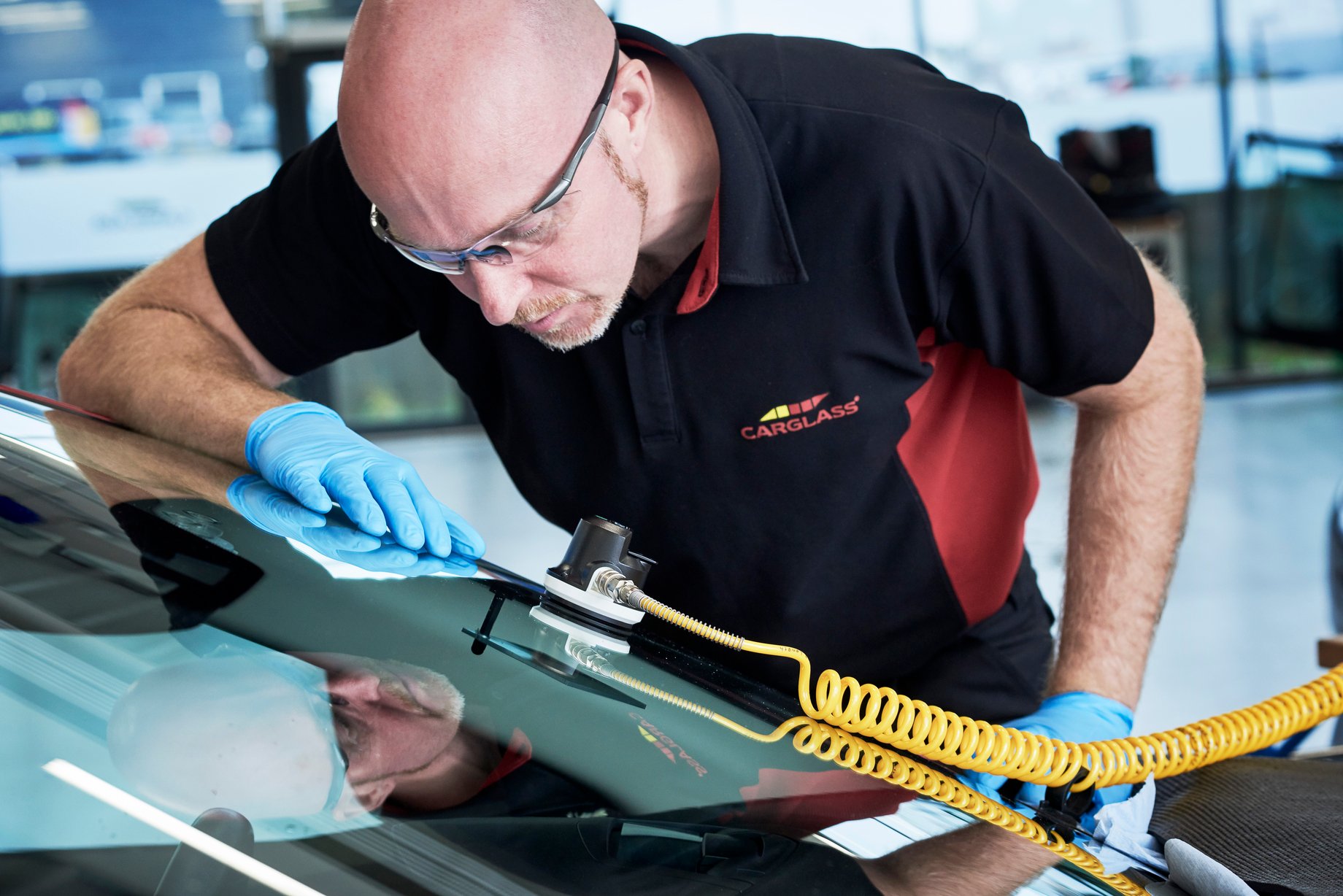 Carglass reported results from their first automation in less than two weeks. Previously, information from a PDF had to be manually imported into a web page. UiPath robots seamlessly imported this information into the appropriate website, meaning insurance companies paid claims faster.
"The process was mundane, and therefore repeatable. We had very simple, very strict rules based on all aspects of the process, and since then, several hundred thousand invoices have been processed this way," says Michael Jeppesen, RPA Developer at Carglass.
Over the years, so many processes have been automated with UiPath that Carglass has five new full-time employees dedicated to the robotic process automation (RPA) department.
Growing an automation mindset
How does a large organization like Carglass plan and manage a global automation program? While most of Carglass' staff is technical, approaches to implementing a new workflow can differ between departments. They've found an agile mindset helps deliver fast value. "We have a saying, 'Fail fast. Give it a go, see if it works," Jeppesen says.
He also believes it's important to take an iterative approach to deciding what to automate. "We don't discard an idea or a process if it's not actually automatable 100%. If we can help automate 50% of a process with RPA, then that's the goal. We take it as far as we can," explains Jeppesen.
In Demark, Carglass uses RPA in their finance, HR, and customer contact centers with 85 attended processes and over 100 unattended processes to help technicians quickly deliver high-quality service to the end customer.
The windshield repair process involves one of Carglass' biggest automations. When a customer books an appointment, the Carglass technician needs to know which windshield will fit the car's body type. This process involves exchanging VINs with a team in Spain. Depending on the car type and the windshield needed, there could be extensive back-and-forth to secure the right product. Now, this is all automated.
We could have two full-time employees just calling our center in Spain trying to identify windscreens—all handled by robots now.

Michael Jeppesen • RPA Developer at Carglass
Embracing UiPath Apps
Carglass wanted to expand on its initial success by offering agents an easy interface to interact with their automation on the go. Jeppesen's team looked for a solution that scaled quickly, rolled out easily, and gave the product owners complete control of the visual layout.
Enter UiPath Apps, a low-code tool for building elegant, automation-powered interfaces that you can access from your favorite web browser. The team built a comprehensive app to ensure the right product went to the correct customer. "We had a process of verifying optic windscreens; we could have two full-time employees just calling our center in Spain trying to identify windscreens–it's all handled by robots now."
Robots, it seems, never get tired of talking to each other. Today, Carglass is running three applications built in UiPath Apps in their Finance, Quality Assurance, and Technician departments. In all three cases, they needed to replace a previous application that required a fair amount of manual input.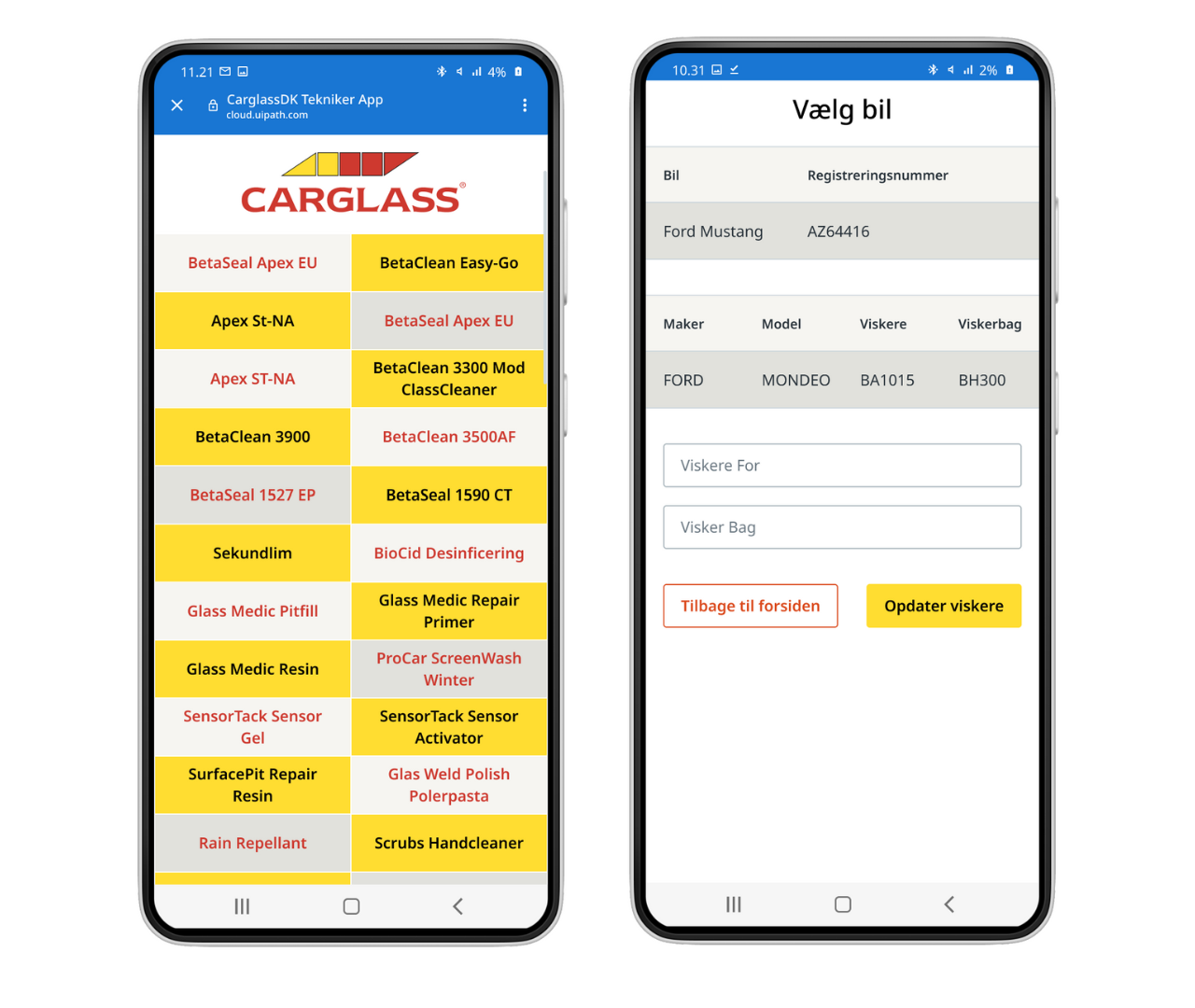 Administrative employees were spending almost two hours a day manually correcting data input by field techs. Thanks to UiPath Apps, "this is down to maybe 20 minutes a day," Jeppesen reports. "Most of our processes help technicians with information collection - everything from credit card payments to making sure they have the right tools on hand." 
Enabling employees for long-term success
When most employees hear "automation," they immediately think of "redundancy." "None of our employees are 'afraid' of the robots because they know [automation] can help them do their job. 99% of our technicians say it's a nice change because they don't have to type in as much information," explains Jeppesen.
Whether it is an unattended robot working in the background or an attended bot actively assisting a service agent, automation ultimately helps employees do their jobs better. When there is less repetitive paperwork to manage, the employees' attention and energy are free to elevate the level of customer service or maintain repair equipment.
The UiPath Partnership and Community
Early in their automation journey, Carglass knew they needed space to experiment and "fail fast" to see where RPA would serve them best. They started with training and quickly took their development in-house. All the while, the UiPath team was ready to jump in and help them with whatever challenge they came across.
"The UiPath Community was very, very giving," reports Jeppesen. "We had a consultant help get us going, but after three days of instruction, we took over and didn't look back. The community is so big that an RPA beginner would probably find solutions for 90% of the obstacles they encounter on YouTube or the forums."
Quantifying the quality
Every company board wants to quantify the savings from automations. For Carglass, UiPath Apps has saved the time and effort of at least two full-time employees, who now are free to deliver a better customer experience. And across the 200+ automated processes, 25 employees have been freed up to focus on more value-added work.
Increased sales, improved data, more intuitive customer interfacing — what else has automation from UiPath brought to Carglass? "Not all of the benefits are quantifiable, but we have a process that collects a lot of data. This may not always save us time, but it gives us a better view of our market and some insights we wouldn't have had without it."
When you come with something that's better than they already have, the change is accepted really fast by employees. In this case, we gave them so many more possibilities so they took in the new app with open arms.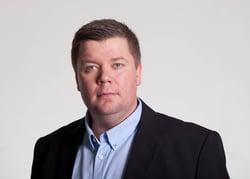 Another surprise? Some of the on-site technicians noted that the new UiPath applications were even more fun to use because they made their jobs easier. Now that technicians had a simple interface, it was easy to sell more products during repairs.
Smoothing the sales process meant technicians could easily offer add-on products without needing to contact the main office. "When you make it easier to make the sales, you see an increase in said sales." Strange how that works!
What's next for Carglass + UiPath
Michael Jeppesen's team isn't done with their automation journey. "We have some gaps in our communication with customers," he says. "We are trying to fill them in by using public-facing apps."
For nearly five years, the company had looked at creating a customer-facing portal to further streamline the experience of working with Carglass. Now that they've seen UiPath Apps in action, they see a new path unfolding. Public-facing applications powered by automation will bring Carglass to a whole new level of customer satisfaction.
Turns out "backseat drivers" aren't so bad (as long as they're automations)!