SCM is the largest provider of insurance claims in Canada, and that means dealing with a blizzard of forms in different formats from multiple customers. The easiest way to tame the paper avalanche is by automating manual data entry with RPA. To ensure RPA success, SCM took months to find the right partners so they could deliver results in just a few weeks.
SCM Insurance Services is Canada's largest provider of claims and risk management and has been serving the insurance industry for more than 30 years. If it's one thing their customers have in common, it's coping with paperwork. In 2019, Mike Ackroyd, CIO for SCM, recognized that the company was relying solely on manual processes to handle claims, and had to cope with forms from each customers in a different data format. There was too much time spent on duplicate data entry or data extraction, and automation seemed to be a logical way to solve the problem. That's when he turned to Burnie Group, specialists in management consulting and intelligent automation, including UiPath integration.
"We knew that having the right technology partners in place was going to make the difference if we wanted a successful launch of the center of excellence and automation program," Ackroyd said. "We spent six months researching the landscape before any formal engagement. We settled on Burnie Group because we wanted a partner that could accelerate our implementation and provide guidance and training. We also were very impressed with UiPath, and the availability of online learning, as well as ease of use."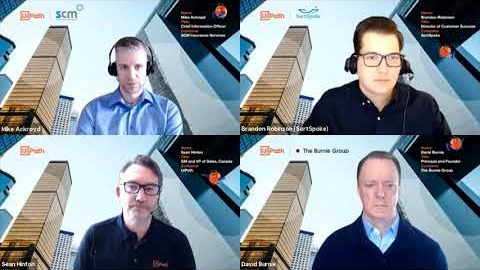 SCM engaged Burnie Group to help with design and implementation using UiPath robotic process automation (RPA), and they selected SortSpoke to provide the AI technology for high-quality document understanding. The goal was to have a platform in place that SCM could manage internally without having to call on outside consultants.
We see organizations fall when they focus solely on business drivers and not enough emphasis on assembling a strong team.

David Burnie • founder of Burnie Group
Preparation and Planning Ensures Faster Results
Before work began adding RPA to simplify documents and business processes, Ackroyd knew he couldn't successfully force automation on the organization. He started socializing the concept of automation early in the process, gathering a cross-functional group of stakeholders, including operations, IT, and executives, to develop a comprehensive automation strategy.
"We worked with SCM for eight to 12 months, developing an end-to-end automation strategy that targeted the biggest opportunities," said David Burnie, founder of Burnie Group. "We also gathered the right people with the right blend of business knowledge and technology. We see organizations fall when they focus solely on business drivers and not enough emphasis on assembling a strong team."
By assembling the right internal team and working with both Burnie Group and SortSpoke, implementation was quick, with production in eight to 12 weeks. Similar technology projects that rely heavily on IT can take months or even years. In the last 12 months, SCM's developer team has been able to launch 10 bots with more in the pipeline.
Enabling Scalability and Greater Accuracy
The most useful aspect of automation was to shorten time to data extraction - a solution that has value in underwriting, claims, loss, and other channels. As Ackroyd says, "you can do so much with that data once it's extracted - sky's the limit."
Since SCM has a diverse customer base, converting text to data is not as straightforward as it might seem. For one thing, each customer has its own claims process so there is no standard format or nomenclature, plus transcriptions must be extremely accurate. SortSpoke has been instrumental in creating accurate transcription data. Instead of having to program template based data extraction from documents for each SCM customer, machine learning makes it possible to accommodate any type of form with a high degree of accuracy.
As a result, SCM can handle any type of customer paperwork faster and more efficiently. For example, using RPA has eliminated manual data entry for First Notice of Loss (FNOL), so new insurance claims can now be completed 80% faster. When you consider that claim volume spikes when there is a natural disaster, such as a fire, flood, or blizzard, being able to scale claims processing capacity is critical. And with automation, the claims paperwork is delivered faster and is more accurate, which saves insurance companies money.
Worker satisfaction is higher as well. SCM employees say they are pleased to be relieved of mundane tasks such as data entry so they can focus on more strategic tasks. 
In bringing RPA to SCM, Ackroyd and his team came away with some insights. "Automation is a great opportunity to rethink how work gets done. You can make a mistake by trying to add automation to poorly designed processes, so don't discount a re-engineering of that same process. I would also recommend you involve end-users and socialize the concepts early so when the time comes to put it into production, people are prepared for the change, both emotionally and mentally."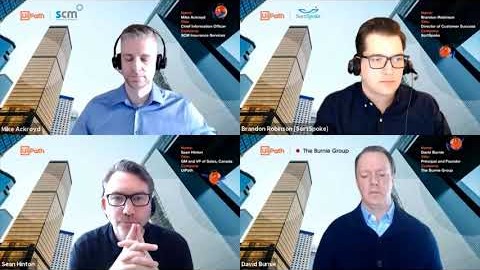 Automating for the Future
Now that SCM has its CoE in place, Ackroyd's team is continuing to build new bots using input from the business side and IT, while maintaining a governance model that provides oversight. As Ackroyd said, "The organization must make a key decision as to whether you want community developers and allow employees to build their own bots, or do you want to maintain centralized control. We decided to maintain control with a centralized group to handle development while supporting the desires of the broader group."
With the knowledge transfer from Burnie Group, SortSpoke, and UiPath, Ackroyd and his development team can create, test, and refine new bots on their own with little or no help. Ackroyd also is looking forward to adding new UiPath functionality to improve their automations. 
Organizations that don't have the automation tools are going to find themselves falling behind.

Mike Ackroyd • CIO for SCM
"Building out additional cognitive AI capabilities will be important for sentiment analysis and intelligent routing content as it comes in," he said. "We also are looking system-to-system data replication activities where traditional API methodologies aren't available."
"Automation and finding new ways to work intelligently is the wave of the future," Ackroyd added. "Organizations that don't have the automation tools are going to find themselves falling behind."