The Municipality of Strängnäs will save four million kr (Swedish krona) a year by automating the management of its financial assistance process. Through automation, Strängnäs Municipality has managed to reduce the time spent on the financial assistance process by two-thirds. This time can now be spent on meeting citizens and helping them achieve an independent working life.
In 2018, Strängnäs Municipality realized there was an increasing need to integrate its unemployed residents into the workplace. The social exclusion of these residents is a huge problem and the financial assistance they receive comes at a high cost to taxpayers. To achieve this goal, social workers would need to take a more active role during the entire process of finding permanent work for these residents. However, the city didn't have enough social workers and was not able to hire additional ones. Therefore, it needed a more effective approach in order to save time.
By taking workshops and visiting other cities, the city concluded that a large part of the financial assistance process could be automated. In January 2019, an automation process was entered into, along with the partner Bitoreq. In August 2019, a new process was implemented.
Bitoreq did not deliver what we asked for without first understanding what we needed. Consequently, the solutions have evolved along the way. I have worked within IT for a long time, but this is one of the few times where we really worked in an agile way. The result was better than anyone had expected

Frédéric Rambaud • Digital Strategist at Strängnäs Municipality
In August of the same year, the last phase was completed and the entire process was implemented. The application process was digitalized, which automated the entire process of handling applications. The only exception was the decision on whether to grant the financial assistance in the first place, as this was required in order to comply with Swedish municipal law.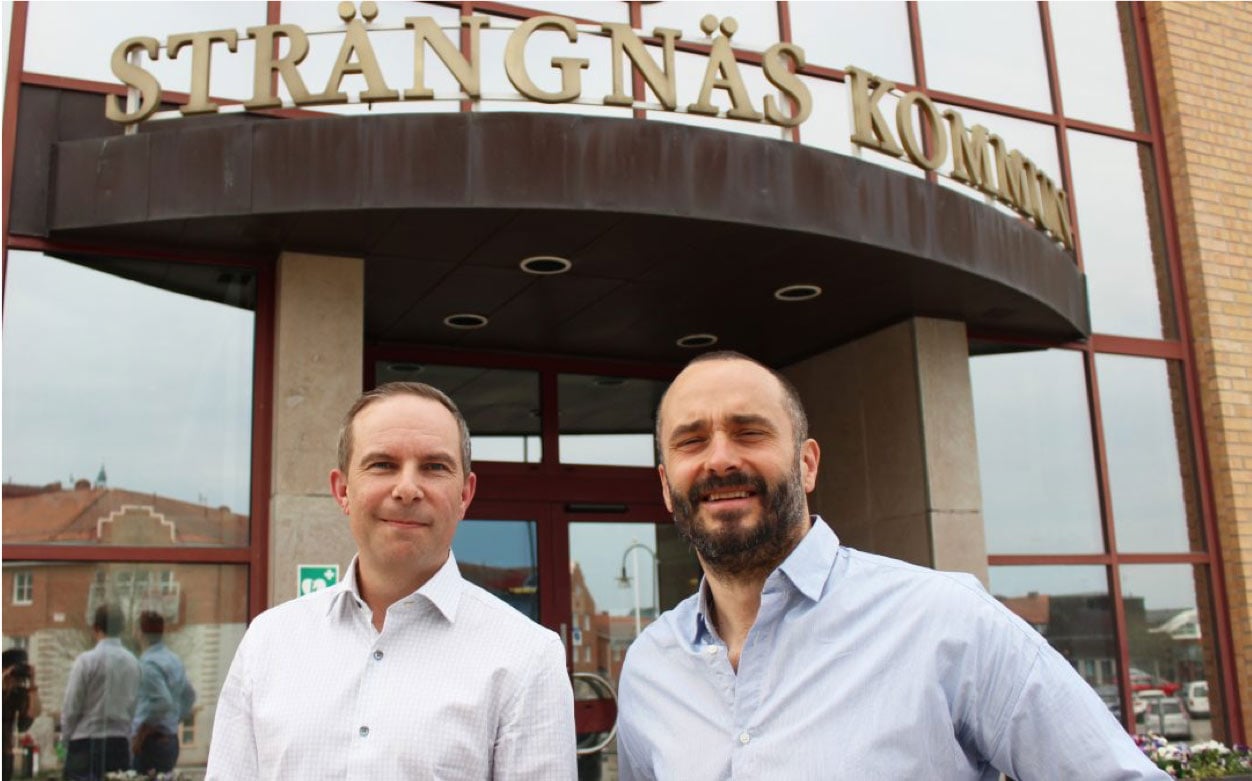 Today, the municipality of Strängnäs has succeeded in saving approximately two-thirds of the time formerly spent on the financial assistance application process. This time can now be spent on personally meeting residents and helping them establish an independent life and find permanent jobs.
"Social Workers who have studied social science for four years have more time now to meet citizens instead of sitting in front of a computer. By helping clients find permanent jobs, we estimate that we can save SEK 4 million a year"

Patrik Nilsson • Head of Operations, Social Services at Strängnäs Municipality
A key to the success of implementing this automation in Strängnäs was that from the very beginning, the community leaders were good at communicating and informing everyone about the upcoming changes to the process. They held short weekly meetings where they informed all employees, both directly and indirectly impacted by the new process, about all of the upcoming changes. Therefore, employees could address any concerns they had during the automation process. At all top management levels, both political and civil servants, were also kept informed. In fact, the project was financed centrally by the municipality, and was sponsored by both the city's Chief Digital Officer and the Head of Social Services. Unions also played an important role and meetings were held on a continuous basis. There were some employees and managers who did assume new roles and changed job titles.
The project described the roles and tasks that would exist after the project, the employees could then apply for their dream job. After restructuring, nine out of ten got the job they wanted

Patrik Nilsson • Head of Operations, Social Services at Strängnäs Municipality
Frédéric Rambaud continues: "Bitoreq did a great job of understanding our needs, and filling in the gaps: from solution architecture, programming and for some technical investigations. Bitoreq also avoided taking over our leadership and changing management so that we could take ownership of our improvements since we had to tackle those tasks by ourselves. So right after we improved this major process, we went seamlessly into tackling the next one (ongoing) and are now planning for 2020. Based on this successful experience, it is now time to ramp up our processes and automation speed!".