Find out how one of the largest European Public Service Organisations decided to embark on an RPA journey to improve employee productivity and deliver greater service to customers.
By combining the Agile approach to digital transformation of ATOS with UiPath's technology platform, the organisation was able to develop an automation strategy that allowed them to quickly transition from a successful pilot to a scalable deployment.
Read the Full Story
UiPath became the technology vendor of choice after scoring highest against the requirements framework.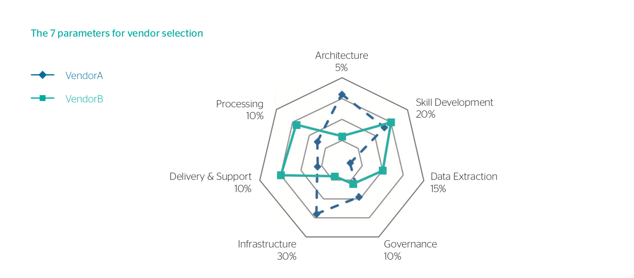 UiPath also showed notable features including an approach – UiPath offers a trial version to test the solution freely – that meant early impact studies could be done within 2 weeks, and an intuitive user interface that made it simpler to learn and create bots. The license model from UiPath was also shown as flexible and scalable, offering additional benefits of either onsite or online training, a certification pathway and a 24/7 support team.
The first two processes targeted for automation involved large volume, manually intense activities processing orders and other documents. The level of complexity varied from relatively standardised and highly repetitive processing, to more fragmented, complex processing.
After just 10 weeks, the organisation was able to cut the time spent on processing to 25%, freeing up about 250 hours a week in total.
Having proved that RPA was a viable and effective solution to eliminate operational inefficiencies and free up employees, the organisation quickly moved on to discover new automation opportunities. Two more processes were quickly identified. They involved creating financial claims cases and lodging of assessment claim appeals.
Atos is currently working with the organisation to explore further options that are available in scaling up. The organisation now have teams upskilled and on training pathways, empowering and enabling them to take forward the industrialised RPA solution.
Read the full story here.