Jim Walker is director of public sector marketing at UiPath.
Often when interns join the workforce for a summer you find them busywork and you have a lot of informational briefings. Not at UiPath! We are about eliminating busywork. We harness the excitement, energy, and curiosity of interns.
This summer, I was privileged to learn from my two exceptional interns. They supported conferences not by just learning Robotic Process Automation (RPA) through our best-in-class Academy Live online training but by expertly explaining to conference attendees how RPA works. They also built me two attended robots that save me from mind-numbing reports each month. We even entrusted them to interview senior government innovators so they might see the quality of the people called "public servants." I hope you enjoy the writeup* they sent me after one of their interviews: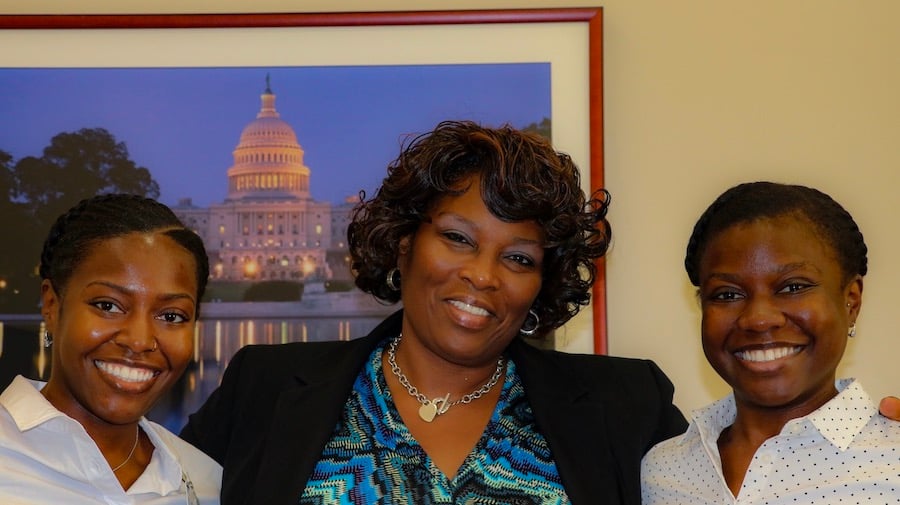 Being first is hard. The Office of the Chief Financial Officer (OCFO) at the United States Department of Agriculture (USDA) is an early adopter of RPA and the first within the department to implement it. However, there was some initial resistance to using RPA especially from those who couldn't foresee the value in the proposition. This included staff within and outside of OCFO who were already stretched thin.
"I know enough to be dangerous and make this initiative work," were impactful words spoken by Lynn Moaney regarding the use of RPA. She was the former Acting Chief Financial Officer (CFO) for two years and is the current deputy CFO at the USDA. She is also the Controller of the Working Capital Fund (WCF) and the Shared Cost programs (SCPs), which means she is responsible for formulating and managing the close to $1 billion WCF budget and $33 million SCP budget. Moaney's position allowed her to be a leader in advocating for the implementation of RPA in the OCFO and throughout the USDA, as well as encouraging its use by CFOs in other government agencies.
Moaney sought to help the department as a whole by envisioning the application of RPA as a bridge and low-cost alternative to high-cost and lengthy IT modernizations. Beginning with a centralized model and doing a proof of concept on the federated model wasn't quick, but it was steady. Moaney is steadfast in the belief that governance is king, and that the framework must be repeatable, which is crucial for a very decentralized organization such as the USDA.
By establishing governance, many people within the department want to adopt RPA. There is great excitement around the abundant opportunities where back-office procedures can be digitally completed through automation. Using her knowledge of the systems development lifecycle, customer service, security, and privacy impact assessments, she helped build a well-oiled intake process so that there would be no redundancy in requests and the entire automation process is streamlined.
With budgets constricting for fiscal year 2019 (FY19) and beyond, and attrition projected to cause an additional 5% - 10% reduction in resources, reducing costs and improving productivity is essential and can be achieved through the utilization of RPA. This optimization in efficiency at the USDA's OCFO has allowed them to save $75,000 annually within the office, and the potential of $2 million annually amongst the staff offices utilizing RPA within USDA. Citizens' tax dollars now go further because government employees within the USDA Finance Office have the opportunity to focus on higher-level tasks.
There is currently an RPA Workforce Reskilling Program underway within the OCFO, training/reskilling a cohort of 25 New Orleans-based employees and a plan to have a Washington D.C. cohort in the winter of 2020. The training program will conclude with the employees being certified as RPA business analysts and developers delivering production-ready RPA bots relevant to the USDA OCFO mission, instead of being contracted to outside developers.
"I will step out and be the champion because this will be a huge win for USDA," Moaney said in a statement about the department's productivity. An unintended consequence of seeking how things could be done more easily was the recognition and visibility it brought to her team who made her vision a reality. Moaney's acceptance and championing of a burgeoning form of technology makes her a pioneer and a beacon for others to follow.
Our summer interns Tasneem and Basheerah brought excitement and energy to every task, every bot, and every client they talked with last summer. Both ladies have a tremendous future ahead of them. Both are enrolled at the University of the District of Columbia and we met them when they were looking for technology training through ByteBack.org. It was exceptionally special to see what the next generation can do when unleashed from busywork.
*This writeup was created during an interview for the FedScoop50 award nomination process. Ms. Moaney was not compensated nor does this interview suggest an endorsement of any companies associated with this interview.