Happy February everyone! Most of our Product team works in the Northern hemisphere and we have been making the most of the long winter months by working on the 21.4 release which will come in the spring. As always, there are many new capabilities this month for both Insiders (people who are part of our Insider Preview program) and Community users to try and provide feedback on. I will highlight a few keys areas of focus. Feel free to go deeper and get all the other details in the UiPath Forum. Let's start with a major new pillar that supercharges automation discovery: UiPath Task Mining.
Task Mining available in Public Preview for Insiders
We are excited to announce that UiPath Task Mining is now in Public Preview. Task Mining captures employees' day-to-day desktop activities and applies artificial intelligence (AI) to identify repetitive tasks that have high potential for automation, which enables more efficient and productive work.
With the new integration with UiPath AI Center (formerly AI Fabric), you can use the new out-of-the-box UiPath Task Mining package available in AI Center. When uploading data to AI Center, you now have several new options that allow you to better configure the application and facilitate the performance of this process. The AI analysis only takes a few steps, requires no data science knowledge, and results are uploaded automatically to the Task Mining project.
Using advanced machine learning, Task Mining teases out frequent tasks and patterns to build a high-value automation pipeline. Get the benefits of full integration with the end-to-end UiPath Platform, including one-click exports to PDD files or into UiPath Studio for speedy bot building.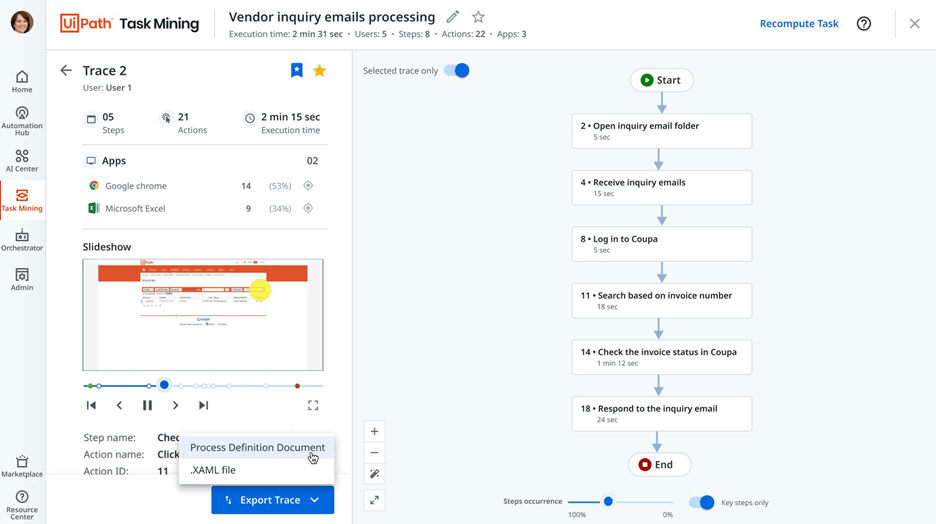 Modern UI Automation moves forward
Next up is a capability that's always been at the core of what we do. Over and over, we hear from you that one of the reasons for the rapid adoption of the UiPath Platform is the ability to directly emulate the way humans work, powered by the combination of both user interface (UI) and API-based techniques. In our 20.10 release, we delivered a completely reimagined Modern UI Automation capability that moved the art of UI automation forward dramatically and the reception has been amazing.
This month, we are delivering several key enhancements based on your feedback. The first is a new Table Extraction that uses Modern UI Automation to simplify the experience and make common table extraction scenarios easier and more reliable.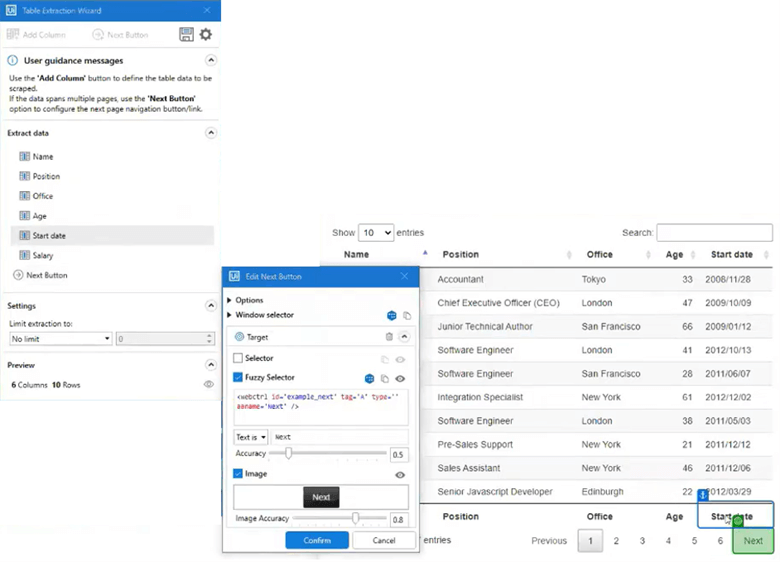 We have also added some great new enhancements in Modern UI Automation itself. We now support Verify Execution, which allows you to easily and automatically retry a workflow step based on UI changes or, more importantly, lack of changes. We have enhanced the Modern Recorder which now lets you record any application in a single stream, thereby speeding the initial wireframes of your automation flow. Finally, Modern UI Automation can now dynamically handle Window Sizing with the ability to restore to specific sizes during your automation to create precise web and UI layouts.
You asked and the Test Team delivered
The UiPath Test Suite team delivered a host of customers' requested features in February. The first set of enhancements made the Test Activity Pack more adaptable, including the most requested feature, the ability to customize the output message of a verification within the Verify Activity.
In addition, we added new capabilities to the Mobile Device Manager. The new capabilities allow you to test more complex scenarios including the ability to take action on any element (like tap and text-input), define offsets for controls, and new advanced actions to directly fetch control properties that are now immediately reflected in the workflow.
Finally, the team made improvements to Test Orchestration. Tests can now be executed on a specific machine, allowing developers to more easily recreate and isolate environment specific issues. Test Configuration parameters can now be configured at and overridden at the Test Set level, which provides the flexibility to more easily test different target systems, like browsers. The team also delivered a new capability that allows triggering of robotic process automation (RPA) workflows from a CI/CD pipeline, enabling more robust DevOps and environment management use cases.
Migrating to Automation Cloud™ for enterprise just got a lot easier
The new Automation Cloud™ migration tool for enterprise customers is now in preview. The tool makes it faster and easier to migrate an on-premises Orchestrator tenant to the Automation Cloud (enterprise or enterprise trial) by reading all the key entities from the on-premises tenant and recreating them in the selected cloud tenant. It does this by using our standard APIs and without requiring the on-premises Orchestrator to be taken offline or put into maintenance mode. This means no downtime in the live on-premises environment during the transfer process.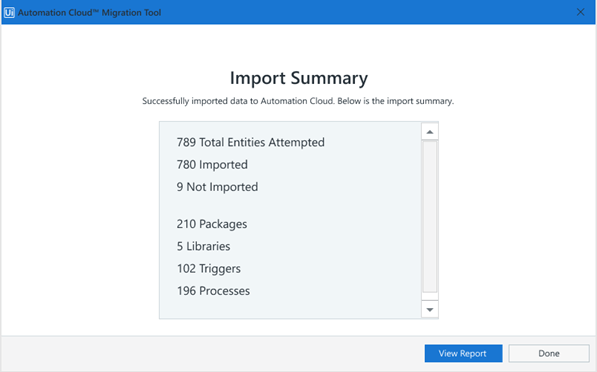 We know many customers have included Automation Cloud in their near-term plans or are waiting to complete their migrations. So, although the tool is in private preview, we invite interested Automation Cloud for enterprise customers to sign to the UiPath Insiders Program, where they can get immediate access to the preview builds of the tool right now–and also give us feedback that will help us release the highest quality product possible later in the year. We hope you find the tool useful and appreciate your help if you choose to be an early adopter!
UiPath Automation Hub is now an Automation Cloud service
In other big cloud news, we welcome UiPath Automation Hub to the Automation Cloud experience. Yes, it's the Automation Hub you know and love, but now fully onboarded as a service in Automation Cloud for enterprise. This change brings some new capabilities immediately but will also enable Automation Hub users and administrators to quickly take advantage of future Automation Cloud platform features.
For example, Automation Hub is now accessed via a tab in the UiPath Portal, along with the other Automation Cloud services. Administrators can take advantage of multi-tenancy immediately to create more than one Automation Hub in the same account for different user sets–and use Automation Cloud users and groups to manage permissions in those tenants. In the near future, when the Azure AD integration is released for Automation Cloud, it will be possible to seamlessly use Azure AD groups to do that management. The integration is just one example of how we are committed to delivering you truly enterprise-scale platform features and management across the ever-expanding array of RPA services available in Automation Cloud for enterprise.
New customers will see Automation Hub in the portal by default. Existing Automation Hub customers have flexibility to move to the Automation Cloud experience at a time that suits their business, through to the end of 2021. Further details about those changes are available here.
UiPath Apps
Since launching late last year, we have been blown away by your reaction to UiPath Apps, a robot-powered, low-code tool. This month brings an all-new UiPath Academy course giving you the latest tips and tricks for building engaging Apps.
The power of UiPath Apps is that it empowers RPA developers (who have typically been relegated to 'back end' development) with a toolkit for building engaging 'front end' development experiences.
We're pleased to share the newest Academy course with you and can't wait to see what you build.
UiPath Data Service improvements
We have also made several key improvements to UiPath Data Service which was released into Automation Cloud late last year. We added support for field level permissions—this means you can have complete control over who can do what not just at the entity level but down to specific fields themselves. We have added support for working with multiple records for creation, update and delete (batch activities). This makes things much more efficient and faster to execute as you can handle large batch changes in a single API call.
We've also taken advantage of the underlying Automation Cloud capabilities to add support for additional worldwide regions (U.S. and Japan) for those with data residency requirements and natively provide high availability and disaster recovery for Data service including failover within region.
Want to be an Insider?
We welcome your feedback on our latest updates. If you would like to become an Insider and have early access to provide feedback on new features, join the UiPath Insider Preview program: