In today's fast-paced world, artificial intelligence (AI) and automation are not just buzzwords—they are essential tools for organizational growth and business transformation. While organizations across various industries acknowledge their importance, many grapple with the extensive effort of building AI-powered solutions from scratch. To bridge this gap and streamline the development process, organizations can turn to prebuilt models and frameworks, such as UiPath Solution Accelerators.
Developing AI-powered automations can be intricate. However, the UiPath Business Automation Platform streamlines this for organizations, making it easier to design AI-driven automations. Solution Accelerators further speed up the process, providing organizations with access to comprehensive technical packages that lay the groundwork based on best practices.
Think of UiPath Solution Accelerators as ready-to-use building blocks, crafted for high-value business use cases. They propel you towards your AI-powered automation objectives, effectively reducing the discovery, design, and development phases. Each package includes easy-to-follow diagrams, a basic overview, setup instructions, and workflows that are ready to be set up.
Solution Accelerators provide prebuilt, reusable components that seamlessly interface with specific systems, while allowing alternative target applications to be easily substituted.
Solution Accelerators are designed to be easily modified, expanded, and customized to meet the needs of customer-specific requirements. For instance, UiPath Document Understanding Solution Accelerators come equipped with Specialized AI models tailored to particular document types. If a business wishes to refine these models to better match a specific type of document they use, the models can be further trained. With the groundwork firmly in place, implementation time can be reduced by weeks.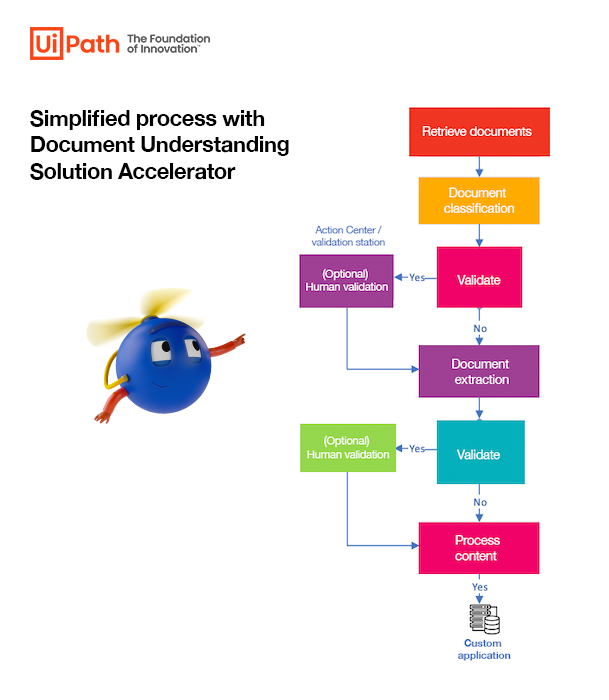 Embracing these accelerators means more than just cutting down on painstaking technical work. Existing Solution Accelerators enable automation centers of excellence (CoEs) to grow their pipeline, all while utilizing the latest capabilities and following best practices. Accelerators serve as a catalyst for building an automation pipeline while enabling the CoE to deliver value quickly; ultimately, helping an automation program effectively expand into new areas.
Ashling Partners is very excited about UiPath Solution Accelerators, especially those based on UiPath Document Understanding models. At Ashling Partners, these Solution Accelerators will be used by our Internal Developer Platform Team, whose mission is to continually standardize and improve the quality and efficiency of Ashling delivery services to our clients. The use of Solution Accelerators will significantly support this mission.

Don Sweeney, Co-Founder and Co-CEO, Ashling Partners
To date, we've delivered over 30 Document Understanding Solution Accelerators. Take the Tax Form 1040 Processing Accelerator as an example. The 1040 form is the primary document used by United States (U.S.) taxpayers to report their annual income and determine owed taxes or refunds. The Tax Form 1040 Processing Accelerator first retrieves 1040-related documents from a data source like an email inbox and/or a network drive. Then, it digitizes the 1040 documents, classifies them, extracts the details, and can check them using rules to make sure everything is accurate. The Tax Form 1040 Processing Accelerator concludes by providing users with the option to process the document using the extracted fields. And, with all Document Understanding Solution Accelerators, the pre-defined workflows already accommodate for UiPath Action Center and Validation Station to get user input or validation whenever necessary.
With Solution Accelerators, it has never been easier to incorporate AI into your business and benefit from the built-in best practices. Organizations will find significant value in each business use case, and CoEs will appreciate the design and development assets provided.
Please visit the UiPath Marketplace to get started with the Solution Accelerators best suited for your organization.