Palak Kadakia is vice president of product management at UiPath.
Editor's note: Some of the UiPath product names in this article have evolved to reflect the continued evolution of the automation market. UiPath Apps is now UiPath Action Center. For up-to-date information on the UiPath product suite related to the "manage" portion of the automation lifecycle, check out our Action Center page.
Robotic Process Automation (RPA) has enabled you to automate many repetitive and mundane tasks, delivering positive results in terms of productivity, employee satisfaction, and overall efficiency.
As you scale your RPA initiatives, moving beyond the simple and automating complex and long running processes can deliver even large productivity gains and help with your digital transformation.
One key challenge you face in automating more complex processes is that it invariably requires exception, escalation, and approval handling by business users. RPA platforms need to allow for humans to step into the process and make the required decisions while robots continue their work. This has been a missing piece of the RPA scale puzzle.
We have focused on addressing this challenge and are excited to launch the all new UiPath Apps. With UiPath Apps, you can now automate your end-to-end business processes through seamless human-robot collaboration from a single platform. Taking into consideration the different kind of business users, UiPath Apps offers a diverse set of capabilities to enhance human-robot engagement.
Seamless robot-human handoff
Starting with the Tasks inbox, business users can easily handle exceptions, escalations, validations, and approvals to take automations to the next level. Unattended robots automatically create tasks when human intervention is required and move on to the next job so robots are always busy. Once the required help from the human is complete, the robots are notified and can resume the automation. With Tasks, users get:
A centralized inbox accessible through a web-based portal

Simple and intuitive User Access management and Task assignment

Containerization of tasks through folders to help delegate tasks to the respective user

The ability to take actions anytime from anywhere via UiPath Orchestrator Mobile App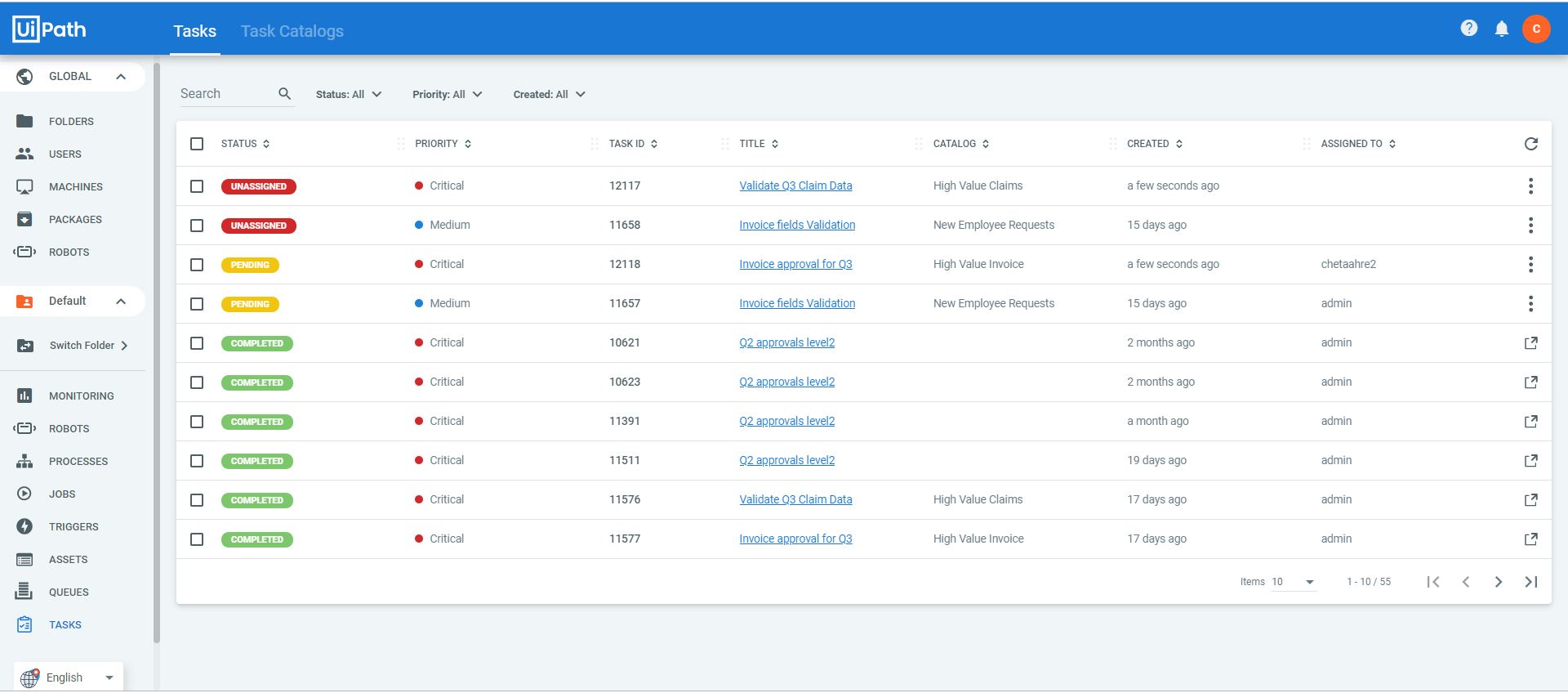 Long Running Workflows
You can now link multiple processes using native Long Running activities in UiPath Studio and orchestrate these robot and human tasks. Robots queue up tasks for users to take action. Using Long Running activities you can:
Achieve centralized coordination of the state of long running workflow through UiPath Orchestrator

Automate a wider range of processes

Ensure robots engage in new work while any human task is pending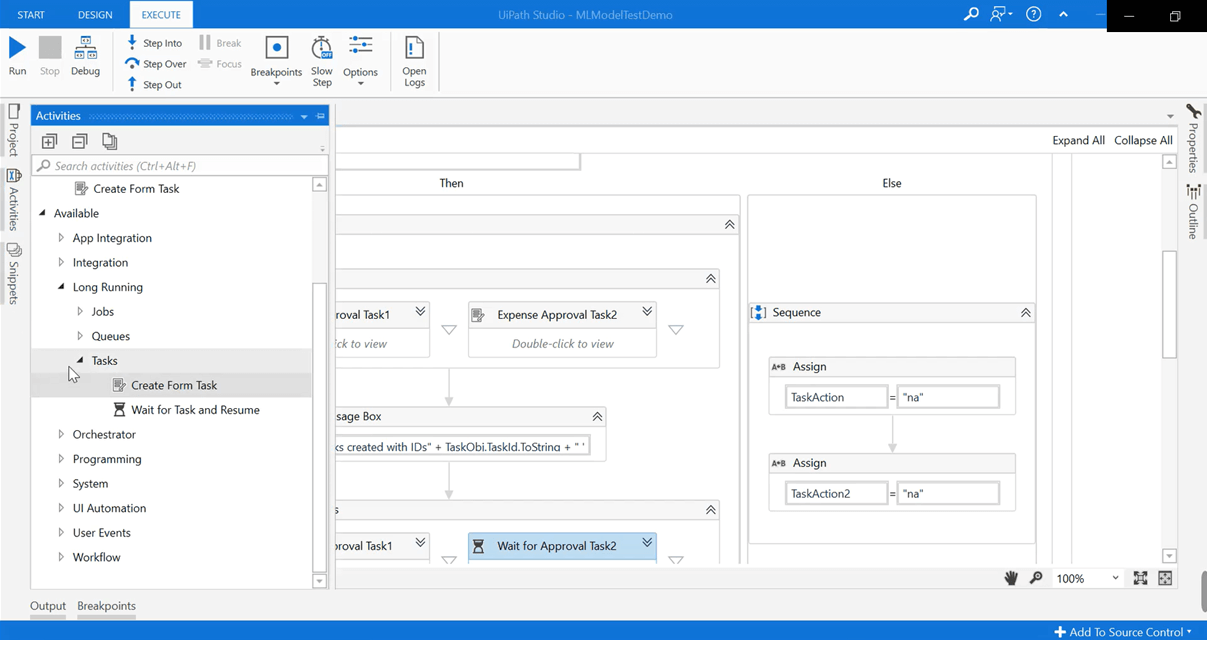 End-to-end Process Monitoring
To automate business processes from start to finish it is essential to be able to monitor the long running workflow as a single job spanning different business units. Our Process Monitoring capability offers a consolidated view of robot logs to understand which processes were handled by the robots at what time in the entire workflow.
Through Process monitoring you can:
Get a process execution summary of robots, humans, and triggers to identify and resolve resource bottlenecks

Attain end-to-end visibility across the entire process from a single platform

Increase efficiency through better decision making and optimization of the process workflows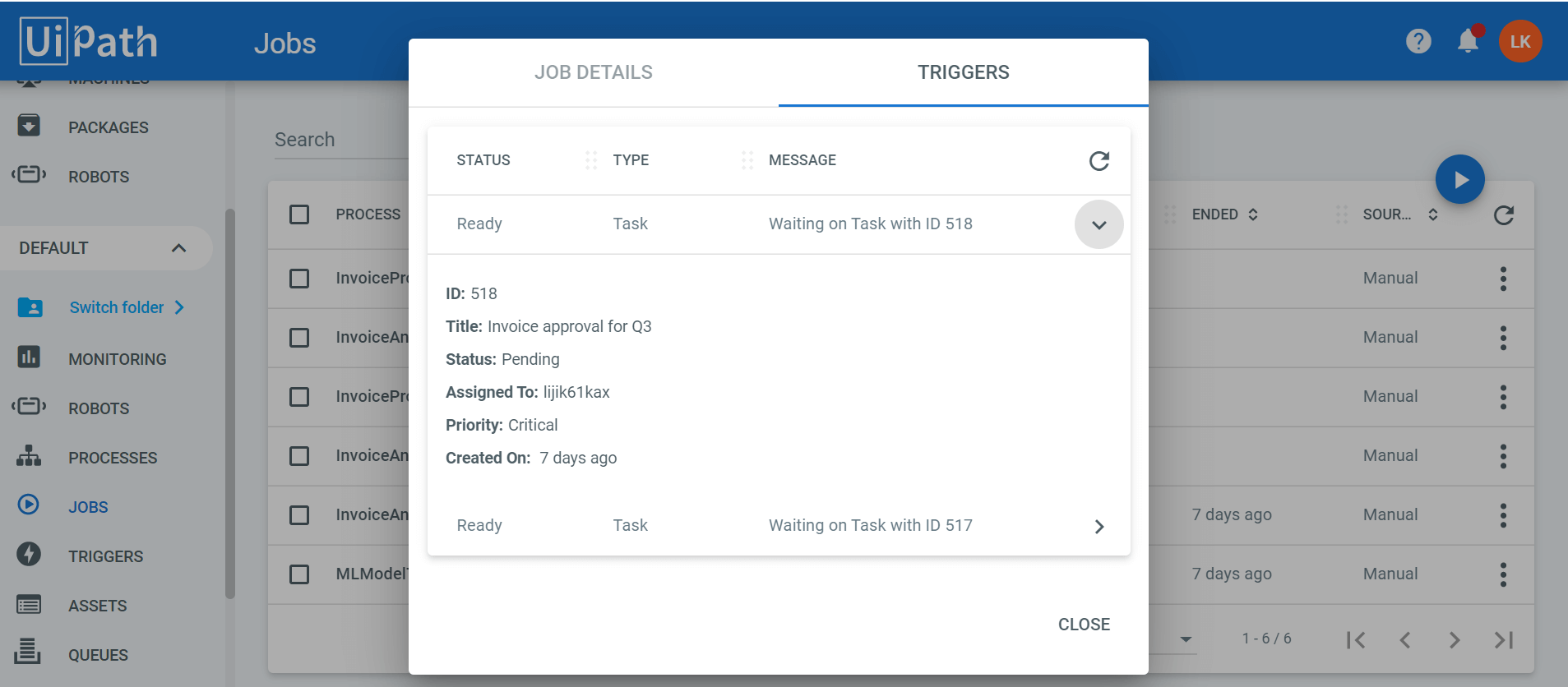 With the all new UiPath Apps, we're helping you scale your RPA initiatives by automating end-to-end complex business processes through seamless human-robot engagement.
With more and more enterprises adopting an 'automation first' mindset, UiPath Apps lets you automate more by bringing humans into the loop. UiPath Apps will be available in the Cloud Platform and 2019 on-premises release later this month.
Want to know more? Dive deeper into UiPath Apps or check out our on-demand webinar Engage Humans-in-the-Loop to Scale Your Automations.