Here at UiPath, we've always had a highly distributed workforce, with a subset of our employees working from home full-time. As a result, we've long had the tools in place to operate remotely, whether Slack, Zoom, or Confluence. Automation has been a key to effective collaboration—whether or not we're in the office.
Most recently, with the health and safety of our employees in mind, we shifted our global workforce to being fully remote. Below, we're sharing five easy ways you can use robotic process automation (RPA) to be more productive while working remotely.
To use the automations described in this post, download the Community Edition of our software to access UiPath Studio. For each of the robots here, you'll find free, prebuilt "components" in our Marketplace. Think of these components as building blocks that you can download and customize to put your robots to work.
1. Send out an automated reminder to the team to submit their weekly updates
Your to-do list is already way too long. Instead of manually emailing your team to ask everyone to send in their weekly updates, use automation to send out a weekly email reminder on a specified day and time. Then, have the robot aggregate everyone's updates and send out a summary email the following day. 
Download the Google G Suite component.
Download the Microsoft Office365 component.
2. Distribute notes after a call to everyone on the calendar invite
As many teams transition to remote work for the first time, professionals are learning to adapt to each other's work-from-home schedules—complete with the distraction of kids, spouses, and pets. This means it's more important than ever to ensure meeting notes are shared in case someone needs to drop out in the middle of a call. You can use a robot that automatically takes the notes you've typed up and sends them via email to everyone on the calendar invite.
Download the Google G Suite component.
Download the Microsoft Office365 component.
3. Manage your busy calendar and quickly resolve conflicts
Getting invites to multiple meetings that occur at the same time? Now that water cooler run-ins are happening less frequently, it seems everyone has taken to scheduling even more video calls. Use automation to identify conflicts in your Google calendar and send a request to reschedule to the owners of the meeting you can't join.
Download the Scheduler Robot Pack.
4. Send yourself a daily digest of Jira Software tasks that you should work on
Using a robot with Jira Software can help you manage a heavy task load more quickly and easily. For example, you can have a robot search within all the Jira projects that you're a part of, filter for issues that have a status of "Open" and that contain a specific keyword, and then send yourself an email digest with the titles and links at the start of each day.
Download the Jira Software integration.
5. Get a random, healthy lunch delivered to you any day of the week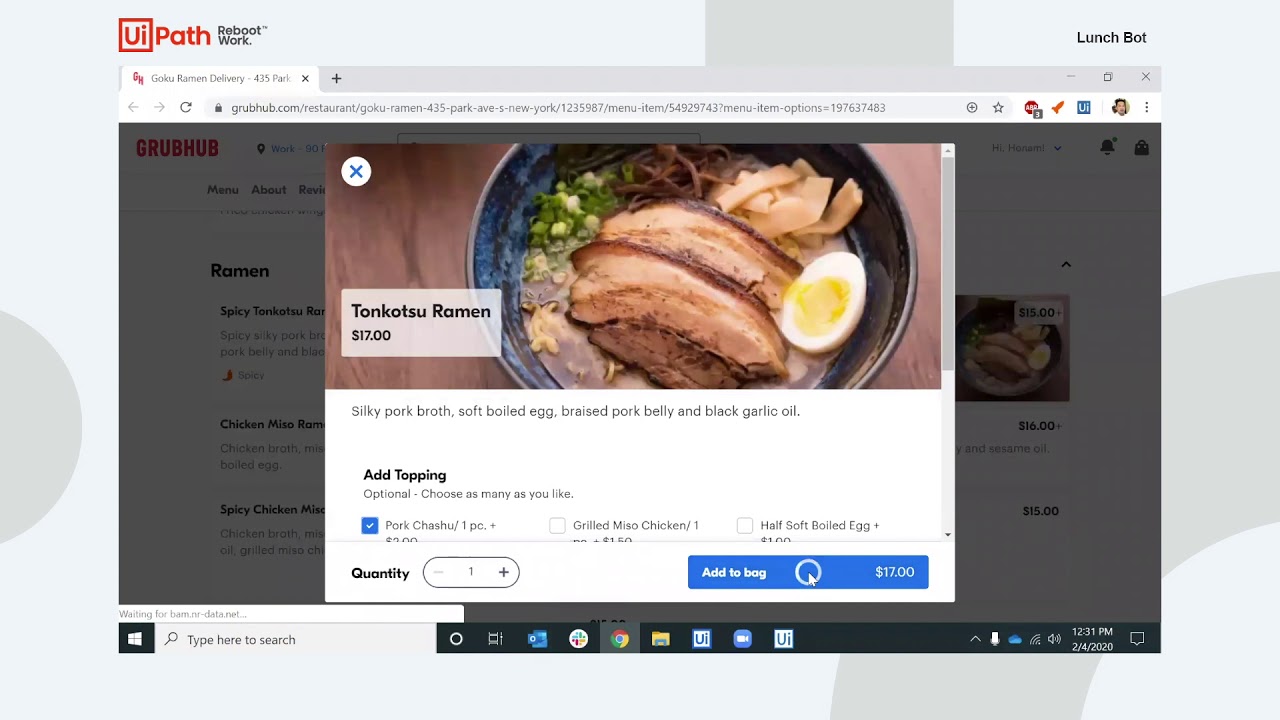 If you've started to place delivery orders during the work week, you may find yourself spending unnecessary time deciding what to eat. One UiPather built a bot that automates his lunch order based on a list that he's curated of healthy meals from local delivery spots. Rather than wasting time picking out lunch or derailing himself with an unhealthy choice when lunchtime rolls around, the robot orders one of his preselected meals. This means that lunch is always a surprise, and he stays on track with his healthy eating goals, too. Stay tuned! This will be added to the Marketplace soon.
For more ideas on improving remote work productivity using RPA, visit the UiPath Marketplace and check out more components that you can download to boost your productivity.