"Alice never could quite make out...how it was that they began: all she remembers is, that they were running hand in hand, and the Queen went so fast that it was all she could do to keep up with her: and still, the Queen kept crying "Faster! Faster!" but Alice felt she could not go faster, though she had no breath left to say so."

("Alice's Adventures in Wonderland and Through the Looking Glass," Chapter II: The Garden of Live Flowers)
The greatest accelerator of human growth is cooperation. In business, cooperation and competition are deeply co-dependent. Much like Alice racing above, or NASCAR drivers working together when drifting to advance through the field, we cooperate to win.
Technologies, too, can work together. Ideas can mix, mingle, and make magic. At UiPath, we are always seeking to facilitate these unions.
With that in mind, we created UiPath Go!, which we are releasing today during #UiPathForward Miami.
UiPath Go! is the new "app store" for automation offering immediate access to an extensive set of RPA and AI building-blocks that developers, customers, and partners can share and use to accelerate their digital plans.
UiPath Go! is not just another RPA marketplace. Although it performs transactionally, the principles that animate it are purely collaborative and transparent. Go! features open and extensible solutions, instantly downloadable—forget about having to fill in a form for everything!—secure automations, benefiting from a large, dedicated community of contributors.
Up to 80% of the content that can be found on UiPath Go! is free.
Go! welcomes you with:
Reusable RPA components;
Drag-and-drop process activities;
Plug-and-play machine learning models;
Connectors to tie UiPath to your favorite technologies;
End-to-end process automations solving domain and industry-specific business problems;
Reporting and analytics dashboards;
Best practices and product documentation.
From custom activities that read extra large spreadsheets to snippets and application connectors for Oracle or Dropbox, from workflow templates that scan your emails for you to ready-made Tableau dashboards, from digitization templates to chatbots for the contact center or KYC automation solutions powered by machine learning –– Go! is a space of possibility, an organizing force connecting people-to-technology-to-people around a growing diversity of use cases.
Everyone is encouraged to contribute, and everyone is expected to benefit.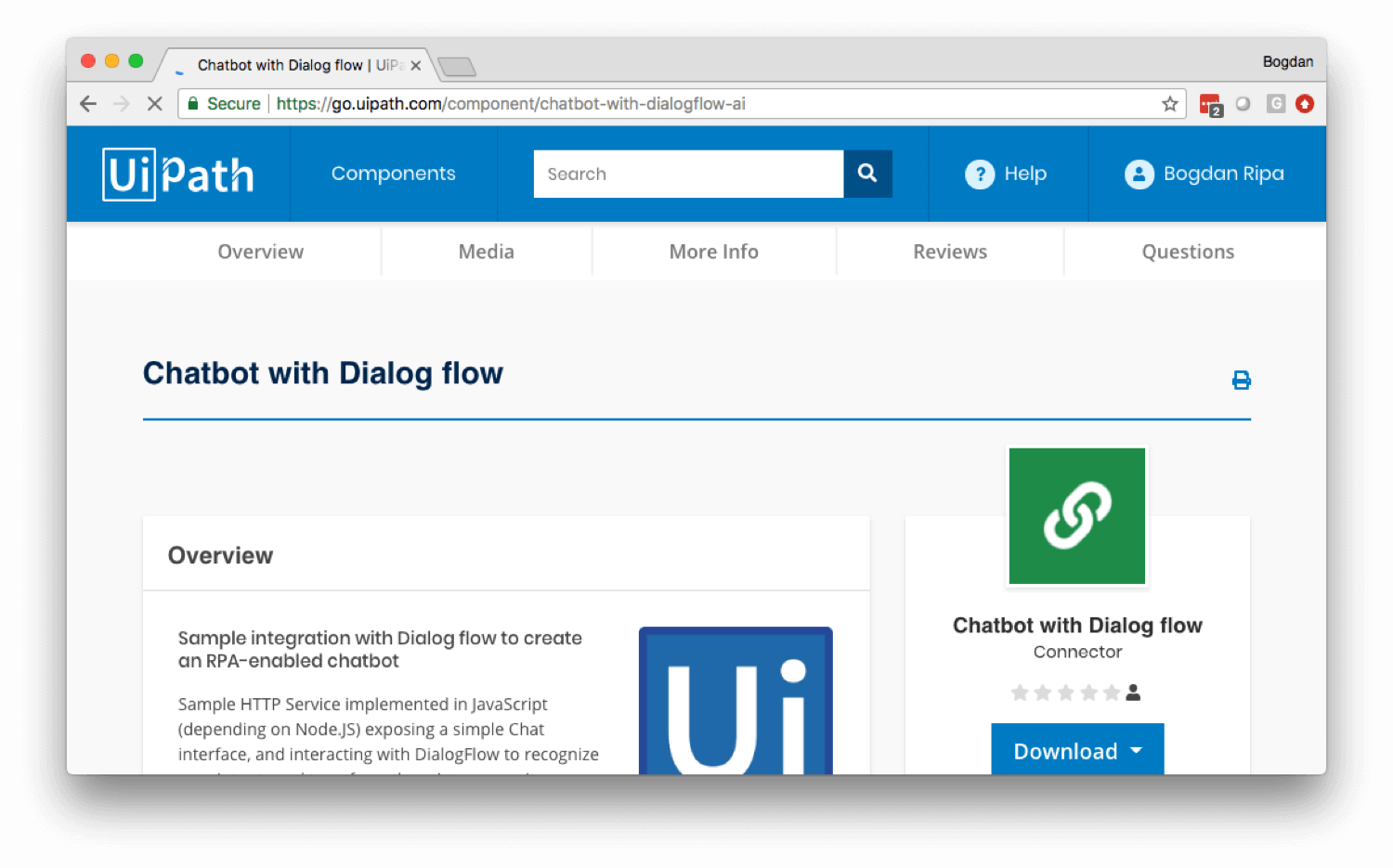 The only automation marketplace integrated into an Enterprise RPA platform
The true makers of our industry are the developers who, like Atlas, support its motion on their shoulders. We hope they will enjoy the freedom to upload, share and use automation components that work directly in UiPath Studio. And, why not, take the opportunity to build their personal brand through UiPath Go!.
"With UiPath Go! developers can benefit from reusable activities and templates to increase the speed of automation development by up to 90%."
Andrew Rayner, Product Director at UiPath
For customers, who need to accelerate their progress with RPA and AI, Go! will be the enzyme that will help metabolize and maximize the value from their investments. They will start building automation projects faster using the best activities, templates, and solutions offered by UiPath engineers, the developer community, our partner ecosystem, and other fellow customers.
UiPath's trusted channel partners and system integrators will have an entirely new venue to offer end-to-end automated toolkits and ensure best practices, while our RPA and AI technology partners will be able to promote their innovations at large.
Go! cultivates an ecosystem where business can be conducted in a more social setting while preserving security and transparency. Every component that is uploaded on Go! is approved by UiPath, undergoing validation before being published, and an open rating system allows the community to upvote their favorite components.

We're still in the early days of adoption, and there is still a considerable dose of ambiguity about RPA & AI's potential application across industries. I believe that one of Go!'s less obvious but far-reaching goals is to make up for that. Another one is to encourage innovation labs, nonprofits and education bodies to learn and experiment with automation. Allowing virtually any two pieces of software to connect, RPA could take us "beyond the API" to foster new ideas and dream up the next big step for our industry.
Please, enjoy UiPath Go! and let us know how we can improve it. We will keep Go! in preview mode through October to capture feedback and ensure high performance.
---