UiPath will be joining the Robotic Process Automation Asia 2017 Summit as a gold sponsor. On the first day of the event, 7th of June, Kulpreet Singh, our Managing Director EMEA and APAC, will moderate a discussion on overcoming roadblocks in RPA implementation between George Papp [Executive Director, DBS Bank] and Sreeram Iyer [Chief Operating Officer, ANZ]. This panel will cover topics like achieving milestones, developing a flexible strategy to address and overcome RPA implementation hurdles and setting performance benchmarks, metrics and timelines to evaluate the progress of your RPA projects.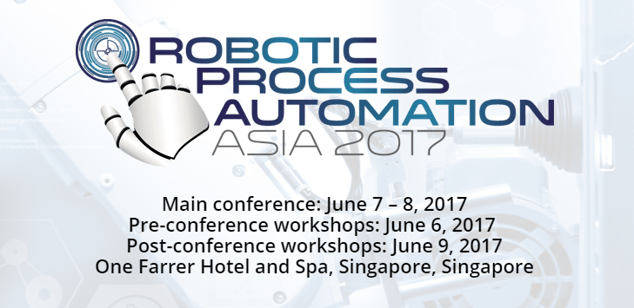 The 2017 edition of the event aims to uncover cutting-edge debates about selecting the right processes, vendor and defining appropriate operating and governance models. Led by early and advanced RPA adopters, the discussions will also showcase ways of achieving agility and efficiency with the help of RPA.
Seen as the next frontier technology with the promise of greater speed, efficiency, compliance and cost savings, many organisations are actively investing in Robotic Process Automation (RPA) to refocus organisational resources and workforce on value-added services.
Here are the key conference topics:
Getting Started with RPA Pilot Projects – From Building a Business Case to Vendor Selection

Who Should Own RPA in Your Organisation? Defining the Right RPA Governance & Control Framework

Case Studies from RPA Early Adopters: Pitfalls, Strategies & Lessons Learnt

Featuring Leading RPA Applications in Contact Centres, Supply Chain, Shared Services, Retail Operations and more

Preparing for Large-Scale, Enterprise-Wide RPA Implementation: How can You Drive Long-Term Success?

Progressing to the Next Level of RPA: Artificial Intelligence (AI) & Machine Learning
Register for the RPA Asia 2017 Summit
---