UiPath is proud to be supporting the drive towards intelligent automation in an industry-leading and world-first event hosted by Abbyy in London UK.
On 25th of April, in an event titled Business Exchange Building Blocks for Digital Transformation, Abbyy and UiPath demonstrate one of the most requested additions to RPA: the automation of semi-structured and unstructured data.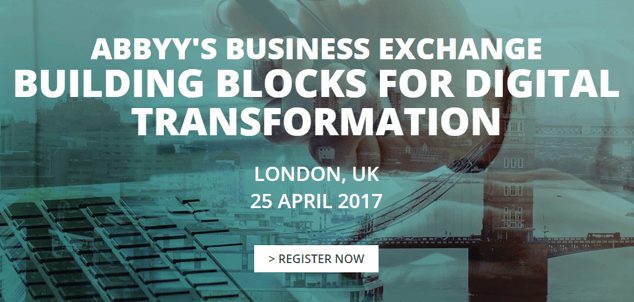 Guy Kirkwood -

(13:45) -

will speak about the importance of RPA and the rapid evolution of the technology which now includes cognitive tools.

Corneliu Niculite -

(16:00)

-

will present a

high-level demo of the UiPath platform and the extending of RPA into specific workforce / businesses / workflows.

Corneliu and Guy -

(16:30) -

will give a joint demo with the Abbyy team combining cognitive technology into RPA and processing semi-structured and unstructured data and transforming it into structured information.
This event cements the ongoing partnership between UiPath and Abbyy, which involves combining both technology platforms to help companies automate more processes, more quickly.
"90% of the world's data was produced in the past two years; 80% of this is unstructured. Dealing with this data within your business - and automating it to drive down cost, increase efficiency and meet your regulatory compliance requirements - is the holy grail of RPA. By combining Abbyy and UiPath, it has come into reach. Come along on 25 April to see how it works.", says Guy Kirkwood, COO at UiPath.
To register for the event access this link : https://www.abbyy.com/business-exchange-2017/
---