We are pleased to announce that a new training module is available in the UiPath RPA Developer Foundation Training: the UiPath Orchestrator 2016.2. We know you have been waiting for this, so here it is.

The first Orchestrator training is dedicated to the 2016.2 Long Term Support version and aims to help you scale RPA in a smart and efficient manner.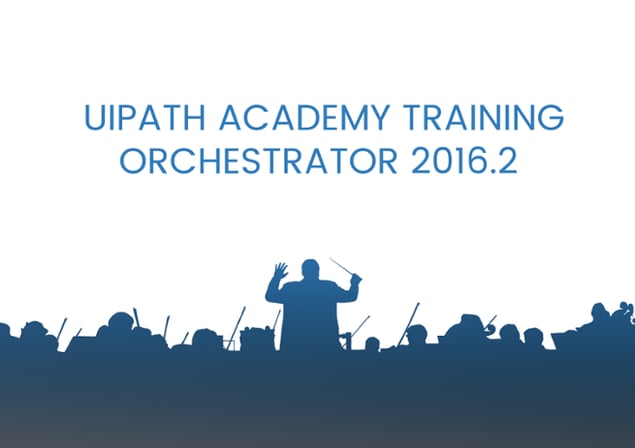 About the training module
The Orchestrator 2016.2 training is a free of charge module, available online for anyone who wants to master UiPath's product technology at full capacity. All you need to do is sign up for UiPath Academy and enroll in the RPA Developer - UiPath Foundation Learning Plan.
What is UiPath Orchestrator?
UiPath Orchestrator is the web-based application that manages Attended and Unattended Robots. It provides centralized Robot logs, remote execution, monitoring, scheduling, and work queues. A highly scalable server platform, UiPath Orchestrator is a game-changer and an industry standard, enabling fast deployment from one Robot to hundreds.


Course audience and structure
The course is dedicated to all RPA roles and audiences involved in a business environment that deploy UiPath. It covers theoretical concepts and practical knowledge ensured by rich documentation, a comprehensive video tutorial, hands-on exercises and smart quizzes. Everything is there to put you at the center of a harmonious RPA orchestration.

What you will learn
How to deploy and trigger a process?

How to publish a UiPath workflow

How to create an environment

How to provision a Robot

How to schedule jobs

How the job queue works, handling pending jobs, canceling and terminating jobs

How to monitor of all Robots registered to the Orchestrator

How levels of error messages are communicated

What are UiPath Orchestrator assets?

How to store credentials in the Orchestrator

What are Orchestrator queues?

How to use queues to work with lists of items that are handled by multiple Robots

How to add items to queues and how to get transaction items
You can also check the
Training
and
FAQ
sections on our website for more information about the Orchestrator module. Stay tuned for the Orchestrator Training v2017.1.
---