We are proud to sponsor the HorsesForSources New York service buyers summit: The Future Outsourcing Model: The Digital OneOffice™ taking place on March 30 at The New York Hilton Midtown.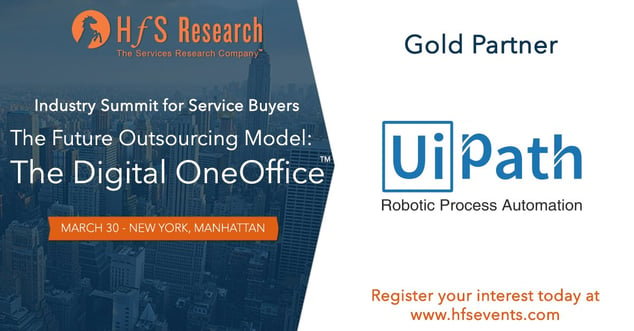 This is an exclusive event targeted to IT executives, operations professionals, automation and cognitive executives and digital transformation executives.
"The Digital OneOffice" summit will focus on the hottest topics in the service industry right now:
Making Design Thinking, Intelligent Automation and blockchain work for you

How the C-Suite views the future of the service industry

How can we get ahead of disruption to be successful as professionals?

Achieving an Outcome-centric Outsourcing Strategy
Here's an overview from the HfS registration website: "Join the HfS Research analyst team and the industry community for this event, attend our compelling presentations and discussions, participate in the exchange of ideas and experiences with your peers and learn to enable your digital organization to become a OneOffice focused enterprise.
To learn more about the HfS OneOffice Premier League read the report and watch the recorded webinar below:
---