We are very happy, and equally grateful, to be recognized yet again as RPA Leader and Star Performer by leading advisor Everest Group in the "Robotic Process Automation (RPA) – Technology Vendor Landscape with Products PEAK Matrix™ Assessment 2018."
Everest Group evaluated RPA vendors for market impact, overarching vision, and product capability and support. UiPath's total score along both "Market Impact" and "Vision & Capability" dimensions have propelled us to the highest point of the PEAK as the RPA leader with the biggest impact on customer value, delivered at depth and breadth across geographies and industries.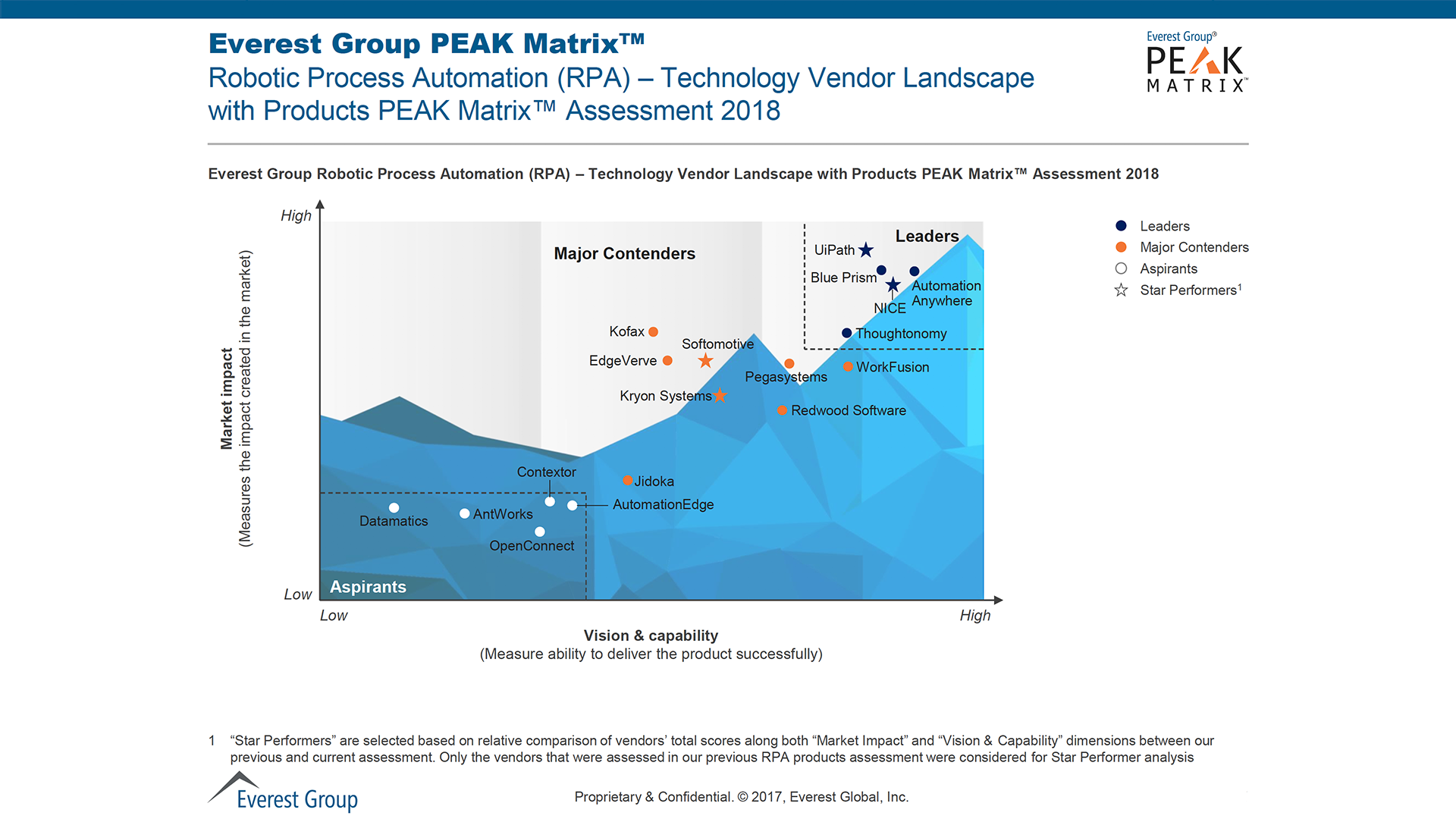 Measuring the impact created in the market, UiPath has been evaluated 'Best-in-class' based upon:
Market success through number of clients, revenue base, and year-over-year growth;

A portfolio mix encompassing breadth

of coverage of industries, geographies, use cases, and enterprise size class;

The value delivered to clients and their satisfaction with the UiPath product as well as the support, based on client feedback.

Client feedback indicates high overall satisfaction with UiPath's product, in particular around its ease of use, robot development, flexibility and ease of deployment, and its product vision & roadmap. Clients have also indicated very high levels of satisfaction with its product training and support services.

Measuring the ability to deliver the product successfully, UiPath's leading position has been confirmed yet again through very high scores for:
Its overall vision including future roadmap and strategy;

Product features and capabilities for flexibility & ease of robot development and integration;

Flexibility and ease of deployment, control & monitoring, solution maintenance & resilience, governance, and security;

Training, product maintenance & support, consulting, and other support services;

Progressiveness, effectiveness, flexibility, and client adoption of available commercial models.
UiPath allows multiple processes to be executed in parallel on a virtual machine for optimal utilization of licenses. It has very recently added concurrency of licenses and plans to offer a usage-based licensing model
Everest Group is a leading advisor of global services and their yearly comparative analysis of RPA vendors provides a benchmark in standards and quality for the RPA industry, offering RPA adopting companies a point of reference for their vendor selection process.

This achievement reaffirms our momentous growth from 2017, when our customer, our partner and our RPA developer community base exploded, making UiPath the most widely adopted RPA Platform in the world. Highlights of the year include:
We expanded our team globally, to 620 people currently and opened new offices across the USA, UK, France, Romania, Japan, Singapore, India, Germany, The Netherlands and Dubai;

We grew our enterprise customer base from 100 to 700, with 40% of the world's top 20 Financial Services part of our portfolio;

The UiPath Academy has trained and certified over 55,000 RPA professionals;

We broke the ice with one of the world's first truly large scale RPA deployments, at SMBC in Japan;

Over 25 federal government agencies have decided to put their trust in our Enterprise RPA Platform to make their employees happier and more productive;

Held our #UiPathForward global events series in NY, London, Bangalore and Tokyo, with more than 4000 guests attending as a testament to UiPath's and RPA's great current momentum.

---