Founded over 70 years ago, Thermo Fisher Scientific has grown to become a major global enterprise. It has more than 90,000 employees in various business units serving customers in 50 countries. 
The company's Smart Automation Global Business Services (GBS) unit works from locations in Paisley (Scotland), Hungary, and Costa Rica, providing support to EMEA and North America in purchase-to-pay (P2P), record-to-report (R2R), order-to-cash (O2C), HR, procurement, and customer care operations. 
Luis Cajiao, Senior Manager for GBS, said the company and his team faced tough challenges during the COVID-19 pandemic as they ramped up efforts to support the pharmaceutical industry. In response, the GBS team looked for ways to automate routine but important tasks. 
An area of particular concern was managing invoices and payments for vendors. 
"We were facing a perfect-storm scenario," Cajiao recalled. "We have thousands of vendors sending in semi-structured data in different formats. We were manually pulling information from PDFs and then doing data entry into our ERP [enterprise resource planning] systems. Even in normal times, these are very manual, repetitive, and time-consuming tasks." 
The pandemic added additional strain to critical workflows. It became clear the company had to work even faster and more efficiently to service both vendors and customers. 
"There was an urgent need to identify and automate some key processes to save time and increase operational efficiencies," he said.  
Automating payment processing with UiPath Document Understanding 
The GBS team decided to deploy a solution based on UiPath Document Understanding (available via the UiPath Business Automation Platform).  
UiPath Document Understanding combines robotic process automation (RPA) and artificial intelligence (AI) to automatically process documents using software robots. The robots can be trained to quickly read, understand, and act on information within those documents. They can work quickly and with a high level of accuracy to minimize errors and improve the end customer experience. 
"Our goal with UiPath Document Understanding was to develop a business solution that would provide a robust, standardized process that could be used across vendors, ERPs, and regions," Cajiao explained. "A clear objective was achieving scalability. This was a key factor in prioritizing the projects because we wanted to replicate the effort across other workstreams, such as invoice processing and customer care." 
The first project was automating P2P invoice processing through Coupa, an enterprise business spend-management solution. This process required UiPath Document Understanding capabilities to extract data from PDFs received from Coupa—invoices, purchase orders, and related documents. Then UiPath Action Center was used to validate the extracted results or ask for any missing details (if needed). Thermo Fisher has a team based in North America and another team in Europe helping review extracted data.  
You can find the end-to-end process description on the image below: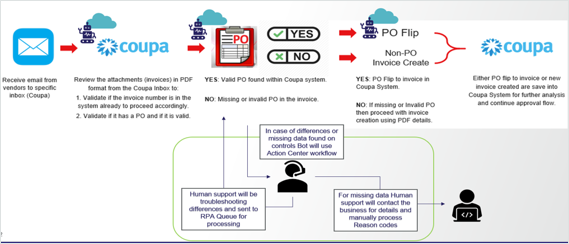 Delivering immediate benefits 
The UiPath Document Understanding-based solution started delivering benefits almost immediately after deployment. For example, the GBS team achieved a repeatable, standardized invoice processing solution that worked both for the Coupa system and the needs of specific regional operations, including capabilities for handling different languages. 
The solution took about 12 weeks to design. As documents were coming from multiple vendors in different formats, they used UiPath AI Center™ to teach the machine learning (ML) model to understand all the custom fields across multiple document variations. After initial deployment, the solution operated with an 82.4% accuracy rate when reading documents. The GBS team has a goal of increasing that to 85% or higher. 
The solution has delivered a 70% reduction in the time it takes to process invoices, with about 53% of all invoices being handled without any human involvement. This helped our P2P finance team dramatically reduce the workload of eight full-time employees who were managing about 824,000 invoices annually.

Luis Cajiao, Senior Manager, Smart Automation Global Business Services, Thermo Fisher Scientific
The solution is stable and scalable, which will enable Thermo Fisher Scientific to replicate it across other workstreams and groups. It can also use the solution for invoices and charges that are sent internally between groups and business units.
Something we really like about the UiPath Document Understanding technology is that the more we use it, the better it gets.

Luis Cajiao, Senior Manager, Smart Automation Global Business Services, Thermo Fisher Scientific
Capturing valuable lessons for a Document Understanding solution  
Andras Balogh, Solution Architect for GBS, said the team learned valuable lessons during the initial deployment that will be useful for future automation projects. 
"First, we realized it was important not to try to do too much at once," he said. "We split up development efforts by region, and then built and trained the data model for the key suppliers in each region." 
According to Balogh, it was also important to provide complete transparency to relevant stakeholders to build trust.  
"We provided controls and warnings about the process through QA [quality assurance] and QC [quality control] reports, as well as real-time model and performance metrics," he added. "The business units were very interested in how the solution and transactions were proceeding. Also, we all recognized that we could not deliver every possible feature right out of the box. But we knew that new features can be easily built on the UiPath Platform as we go along, including ones built on ideas from daily business users." 
Cajiao also noted that once the solution was deployed, the GBS team realized that improvements would accelerate as the company's employees were using it and offering suggestions. "This creates a lot of momentum as we move from one workstream to others. We started with just one ERP and P2P process, then we started adding more ERPs, and more regions. Now we are planning to scale the solution to include intracompany processes, customer care, order entry, and more. The more business cases we complete, the more knowledge we collect on how to make improvements, and the more [employees] approach us to use this technology." 
He added that continual iteration is spurred by user enthusiasm, which in turn creates ideas and innovation. That creates a flywheel of constant process improvement. "That's a great thing about the UiPath AI solutions," he said. "Owing to UiPath AI Center, more ML models can be easily deployed as we go along, and can be improved based on the feedback from daily business users. There is always opportunity to advance on what we are doing to make the company more efficient and better at serving our vendors, our customers, and our internal teams."   
In the next few months, Thermo Fisher plans to install AI Center across multiple machines to deploy 15 ML models, and make sure all AI projects run in an environment with high availability and elastic processing power.