Why Excel Automation?
How could something like the venerable software Excel - perhaps the all-time champion in storing, organizing, and manipulating data - become even more efficient and productive than it already is? Excel is already easy to use, accessible, and highly popular. Nonetheless, it is not always user-friendly and can at times
prove to be both very time-consuming and hard to integrate with other applications. For example, the established way to automate tasks in Excel requires training for you to become proficient in Visual Basic for Excel Macros.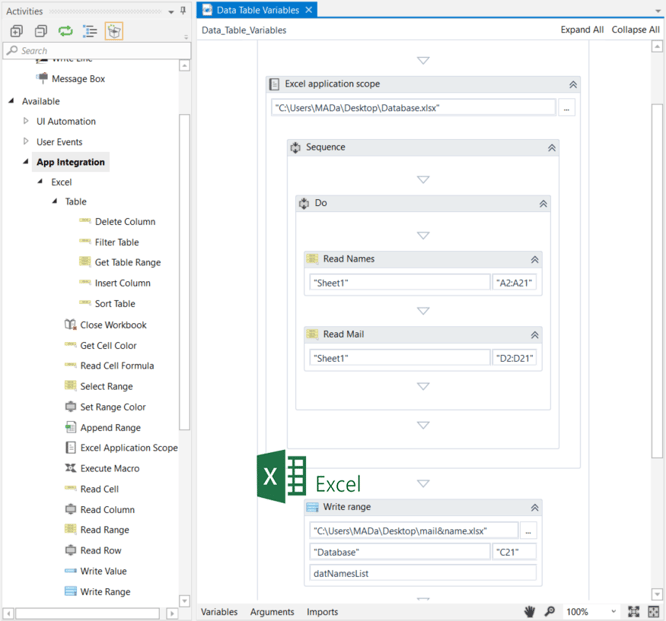 Today's working environment is multi-application focused with data constantly being transferred between applications. Migrating and integrating data into platforms can therefore become troublesome, even when you work with applications that can
import and export files. This is because information can get mixed up or lost in the process, forcing you to waste precious time by repeating the steps each time you sync the data.
Excel Automation
You can automate Excel procedures and activities in no time, while also ensuring that everything is regularly kept up to date.
Freedom to Focus on Higher-Value Tasks
Save considerable time, which can instead be used more profitably by working on activities and tasks that generate more value.
Increase Productivity and Efficiency
Let the robots take the responsibility by not only cutting out all errors but also working tirelessly.
Ensuring Accuracy and Speed
Manual labor is inevitably error prone, so avoid it. You will benefit many times over because the time that it takes to fix the mistakes can be very costly.
Integration with Other Applications
Migrate and integrate data with enterprise applications and databases.
No Programming Needed
Automate the most sophisticated tasks without coding.
A Full-Featured Automation Software Tool
With UiPath Excel Automation, manipulating Excel data becomes hassle- and error-free. It saves valuable time and relieves your employees from boring, repetitive tasks and the unnecessary burden of having to learn extensive coding. Therefore, integration with other applications is done both smoothly and safely.
UiPath Excel Automation brings you countless automation possibilities, no matter how small or elaborate the tasks you are doing.
Common Automation Examples:
Reading and writing data
Data extraction and migration
Sorting data and deleting duplicate rows
Comparing columns
Integrating with other applications and databases
Retrieving and creating workbooks
Running analysis reports
Filling in forms with data from Excel spreadsheets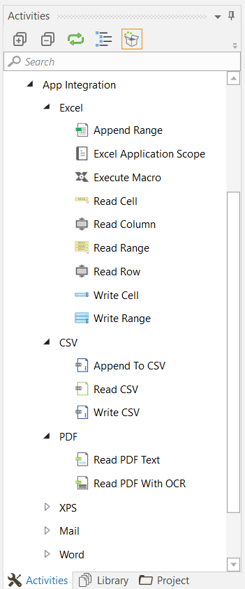 UiPath – RPA Designed for the Needs of Global Enterprises and BPOs
UiPath RPA is an enterprise computing platform dedicated to automating business processes. It provides process modelling, change management, deployment management,
access control, remote execution and scheduling, execution monitoring, auditing, and analytics in full compliance with the enterprise security and governance best practices.
UiPath Studio is the highly visual productivity environment where business users can model end-to-end business processes into a process diagram with simple drag-and-drop functionality.
Advanced error checking and history visibility ensure flawless execution and detailed project monitoring.
UiPath Orchestrator is a scalable RPA server, fully integrated and equipped with centralized instrumentality for enterprise class management, security, compliance, support, and auditability.
Our Orchestrator records everything the robots do through log files and transforms them into advanced analytics.
UiPath Front Office Robot is the agent-assisted robot that shares the same workstation with human employees and assists them to automatically execute business activities.
UiPath Back Office Robot is the autonomous software robot programmed to run unattended, independent from human interaction.