Infosys CEO Vishal Sikka's announcement last week, that the company will add 70,000 more people by 2020, begs the question: is he serious or just talking up employee morale and dampening attrition rates? Given the rapid emergence of robotic process automation (RPA) and information technology process automation (ITPA) as powerful change agents for the traditional outsourcing business models, it seems remarkable the company would anticipate a five year rise in headcounts to that level. Or was it simply a case of Infosys missing the news – that RPA and ITPA have radically changed the outsourcing business model?
The announcement did forecast revenue ($20B in 2020 vs. $8.7B for 2015) growth that implied workflow automation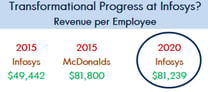 efficiencies are reflected in Sikka's headcount forecast. However, when those efficiencies are expressed as revenue per employee it's clear the company regards automation as a transitional – certainly not a transformational – influence on their operational model.
Wipro, a direct competitor, apparently views automation as being – if not transformational – certainly disruptive. During a meeting with analysts at Frankfurt last month, CEO TK Kurien said the company's use of automation would lead to a 30 per cent reduction in its headcount in three years. It's clear Infosys and Wipro are either modeling similar operational factors in very different ways or incorporating very different operational architectures into the modelling itself.
A third possibility may be the most likely. For whatever reason, both both companies are misinterpreting – to different degrees – the nature of emerging automation technology by regarding it as a variation of the disruption introduced by the offshore rate card twenty-five years ago; higher productivity and a lower cost basis.
Seeing an equivalency between robotic software automation and old-school rate card arbitration is a misinterpretation of what the future holds because the technology goes much further – it changes the work distribution model between outsourcer and client. By changing costs, efficiencies, and work distribution models, this automation technology becomes a transformational force to be reckoned with.
IPSoft & ITPA
Due to its singular focus upon – and success with - IT process automation (ITPA) through the use of autonomic and cognitive technologies, along with its convincing success, a case could be made that the 1998 founding of IPSoft marked the advent of automation as a transformational force.
Before that time, few (if any) outsourcing authorities imagined the offshore labor arbitrage model could be challenged; IPSoft , on the other hand, understood the IT space held particular advantages for the successful application of automation technolog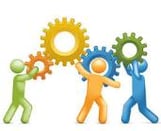 ies, particularly cognitive and autonomic software.
Objective outsourcing industry observers quickly perceived and cited the transformational impact of these technologies; "In Gartner's study of applying IPSoft's technology to customer service for one of the world's largest media conglomerates (Disney?), they found it reduced the mean time to resolution (MTTR) of issues from 18.2 minutes to 4 minutes."
By 2013, three large outsourcing providers – Infosys, Wipro and Cognizant – appeared to perceive the transformational nature of IPSoft technology by forming their respective alliances with the company. Though apparently win-win, the partnerships foundered. This year each of the three outsourcing providers announced investments to develop their own, proprietary, ITPA automation technologies. Infy and Wipro publically acknowledged partnership benefits had been less than expected.
According to an industry insider familiar with at least one of the partnerships, each of the three providers committed the same oversight as the Infosys headcount announcement – a misinterpretation of how critically automation technology will play a role in radically transforming their business model. Now they find themselves in the problematic circumstance of having to catch up with their former partner's capabilities.
The company has continued to develop more capable generations of its technology, most recently with Amelia, an artificial intelligence platform, created to redefine business operations by automating and enhancing a wide scope of processes. Currently in trials with Accenture, Shell Oil and Baker Hughes, Gartner is optimistic, forecasting that by 2017, autonomics-based managed services and cognitive platforms like Amelia will enable automation to fuel a 60 percent reduction in the cost of IT and other business services.
Noshoring
Another likely factor in the failed partnerships was a toxic mix of very different strategic objectives.
Whereas the outsourcing industry gives every indication of viewing software automation technology as a stable transition from the current global delivery model and labor arbitrage, robotic and autonomic software automation companies have no investment in or concern for any global model. They simply want to increase the workflow automation footprint. In essence, the global delivery model is part and parcel of outsourcing while workflow automation is focused on noshoring.
In the context of this article, noshoring is defined as using automation to remove the FTE component of an activity, thus also taking geography and work shifts out of the future state work distribution model.
Noshoring has become possible over the past ten years by complementary advances in cognitive (e.g. Amelia) and robotic (e.g. UiPath products) software. These two types of software, both of which are still in relatively early stages of adoption, combine to dramatically increase the automation footprint within both IT and business workflows.
As an example, healthcare insurance claims adjudication systems can be (and usually are) highly automation up until the process hits two claim review criteria that require a manual review step: were the treatments appropriate, and a logical outcome of the facts and conditions shown in the medical record; does the claim information provide any reason to believe the services provided were not accurately reported. By combining cognitive and robotic software, this step – and thus the entire adjudication workflow – can be completely automated.
Once the existing and increasing viability of a substantially noshoring delivery model is recognized, the implications of any outsourcing provider projecting an additional 70,000 employees in five years are clear. It's time to be more careful when checking your email.


---