Last week, I had the good fortune to spend time with the Chief Marketing Officer (CMO) of a Fortune 5 organization to discuss the 'automation first' era. There is now rapidly growing interest across senior executives and boards of directors towards prioritizing automation as a strategic imperative. We're also seeing the emergence of Chief Automation Officers and even the emergence of Automation Committees on boards. I know of a handful of large customers that feature Robotic Process Automation (RPA) in their annual reports—not only as a driver for digital transformation and increased productivity but also a more engaged workforce.
Software robots are now driving innovation across marketing organizations too. While RPA is frequently prioritized in back-office operations, including in finance, human resources (HR), and legal operations, it is increasingly gaining ground in the front office. Not just in obvious areas, such as contact centers, but also in sales and marketing. UiPath is well positioned here by offering both "attended" Robots (front office) and "unattended" Robots in a single Platform.
Related read: Attended Or Unattended RPA? Advantages for Both Solutions
We believe the opportunity for RPA in marketing is best divided into the following three categories: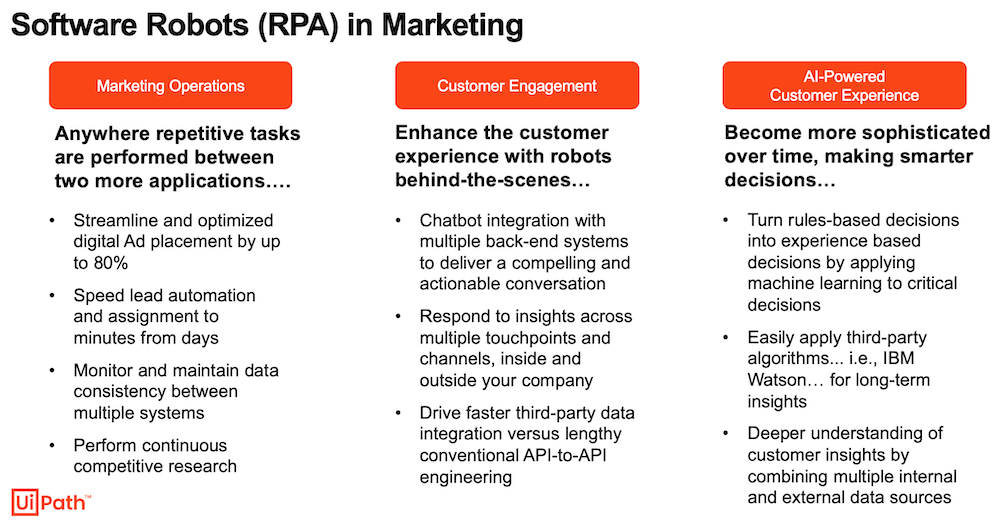 1. Marketing operations: Marketing is full of repetitive tasks involving multiple systems. For example, last week, a Robot helped quickly determine the account owner in our Salesforce app with a spreadsheet provided by SAP SAPPHIRE NOW's event venue, allowing us to more quickly respond to interested RPA prospects. Every marketing organization is well aware of the amount of tedious work between multiple systems.
2. Customer engagement: CMO's today want to be more involved directly in customer engagement. Marketing wants to use all sources of data to improve the accuracy of our targeting efforts and the relevance of the content we use.
3. Artificial intelligence (AI)-powered customer experience: Perhaps, the most exciting benefit from RPA in marketing is the application of machine learning on the marketing funnel and customer experience. Rules-based decisions in our workflow can improve by becoming experience-based over time.
In the UiPath Go! marketplace, we offer Go! components that can accelerate automation around your marketing stack. For example, check out our Go! connector for the Salesforce Marketing Cloud, which includes a set of 25 Activities and two wizards to drive very fast implementations. You will also find LinkedIn, Hubspot, Twitter, and other components on the UiPath Go! marketplace.
Editor's note: the name UiPath Go! has been updated to UiPath Marketplace. You'll find the same connector (mentioned above) in UiPath Marketplace.
Today, we have hundreds of Robots that drive the scale and agility at UiPath, including almost a dozen in marketing. Here are a couple fun ones:
1. We named our first Robot "Patty" (note, we are neutral on whether you should name your robots). Patty is our Robot that can place our Google Ads, greatly streamlining the time it takes in multiple geographies to deliver targeted, approved ads.  
2. A more tactical example is an activity that I previously performed every morning. I would spend 10-15 minutes analyzing our competitive online presence against our competitors across multiple sites. Now, we have a Robot that does this for me and even tracks performance over time. The results from this Robot even go into our quarterly reports. And, this Robot is, of course, available for free on go.uipath.com for everyone to track our industry. Check it out: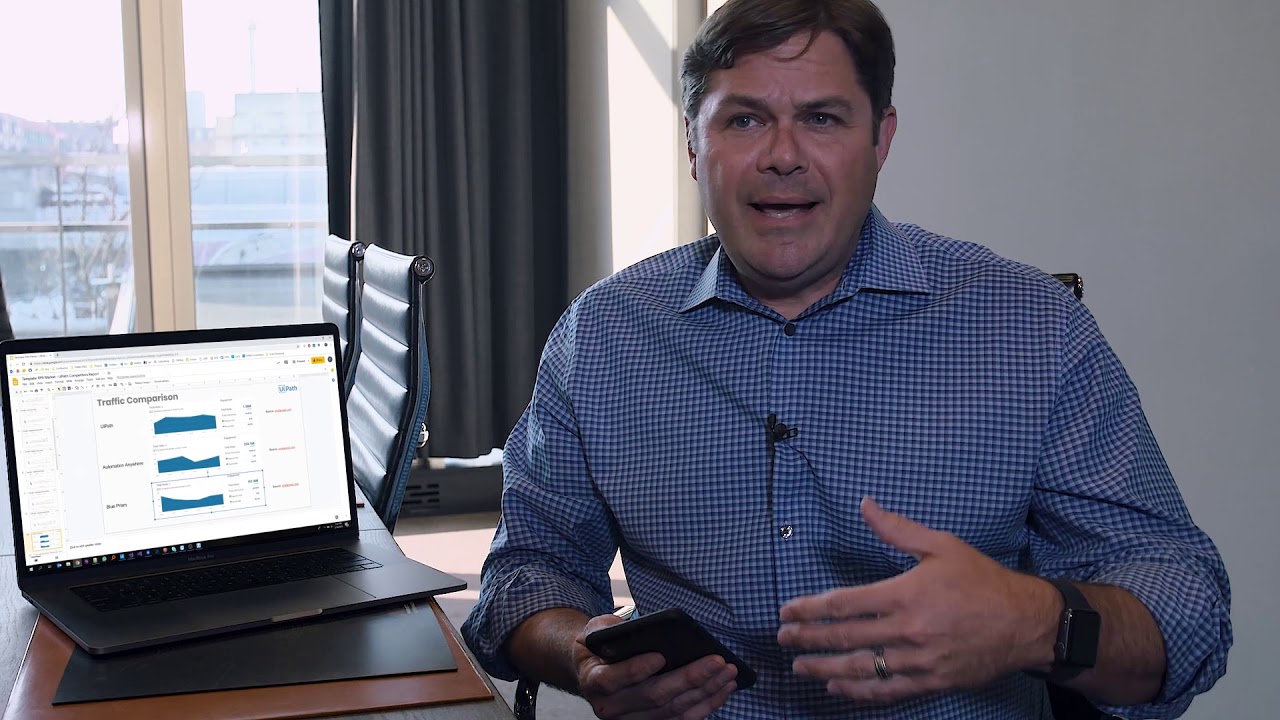 Software robots, or RPA, will be a fundamental part of innovation in marketing.
Want to jumpstart RPA adoption in your own marketing department?
I suggest an RPA contest for your marketing summer interns (read about the UiPath intern experience from one of our own summer interns).
Interns can quickly learn to build a Robot with our free online RPA training. A contest provides interns with RPA skills and jumpstarts summer marketing ideas. UiPath would be happy to judge your contest. Contact us to help launch and judge your summer intern RPA contest!