Leadership at the executive level of the United States (U.S.) government continues to encourage and clear a path for the use of robotic process automation (RPA). The rapid adoption of RPA pilots across the government is a testament to its potential. This rapid adoption has not, however, led to rapid scaling.
More than 30 government agencies are currently using UiPath to reduce their backlogs, eliminate compliance issues, improve throughput, and save precious taxpayer dollars. In addition to liberating government employees from the mundane, repetitive, and boring yet necessary work, RPA allows them to better serve citizens. RPA also provides opportunities for life-long learners to flourish in the government just as the "silver tsunami" is expected to have its biggest impact on the federal workforce.
The government agencies utilizing the UiPath Platform have accelerated their automation efforts following three milestones announced in the last month. These milestone announcements are:
New Office of Management and Budget (OMB) guidance

General Services Administration (GSA) creating the RPA Community of Practice (CoP)

Call to action to save $1 billion
In the President's 2018 Management Agenda and his Fiscal Year 2020 United States Budget Plan, RPA was specifically called out as a tool for agencies to explore and use to address budget and staffing issues to deliver better services to the public. There was also a suggestion for government agencies to consider utilizing RPA in the OMB memorandum 18-23 (M-18-23).
The OMB M-18-23 specified the 24 agencies under the Chief Financial Officer (CFO) Act must, "develop and implement strategies for shifting resources to high-value activities. Agencies should develop and implement reforms to eliminate unnecessary or obsolete compliance requirements and reduce the cost of mission-support operations. Reforms may include streamlining or eliminating unnecessary reporting requirements, consolidating processes and functions across offices, using shared service solutions or technologies, eliminating agency specific guidance or policies that preclude using shared services, and introducing new technologies, such as robotics process automation (RPA), to reduce repetitive administrative tasks, and other process-reform initiatives."
The OMB gave federal agencies a big 'wow' objective—modernize operations, reduce human error, and improve compliance with contracting protocols and financial analysis and reporting. RPA is key to agencies meeting the OMB's objective. On May 21, 2019, OMB issued another important memorandum (OMB M-19-17) on the subject "Enabling Mission Delivery through Improved Identity, Credential, and Access Management." This is an instance where the length of the memorandum title matches the importance of the message.
The OMB M-19-17 makes it clear that secure work by a software robot is just as important and critical as the security related to the work done by our government employees:
"Agencies shall manage the digital identity lifecycle of devices, non-person entities (NPEs), and automated technologies such as Robotic Process Automation (RPA) tools and Artificial Intelligence (AI), ensuring the digital identity is distinguishable, auditable, and consistently managed across the agency."
UiPath attended Robots have been using credentials since the government first deployed RPA more than two years ago. Recently, when the Defense Logistics Agency (DLA) developed a solution for using common access card (CAC)-enabled sites via a token generated by a secure hardware device, DLA allows government agencies to use attended or unattended Robots in the process. Similarly, the NASA Shared Services Center (NSSC) has its own personal identify verification (PIV) card ensuring secure and auditable access by UiPath Robots to NASA systems. Security is paramount to both the DLA and NASA NSSC, and both trust the security of UiPath Robots.
This new guidance from the OMB M-19-17 is the 'how' to the 'wow' of the OMB M-18-23. While the DLA and NASA NSSC were early adopters, this recent directive from the OMB makes it easier for all government agencies to realize the full value of their UiPath Robots—to automate the numerous antiquated, slow, and costly manual processes in operations today. Credentials to unattended Robots will accelerate new digital services to be offered to citizens while improving the internal operations of intra-agency work agencies perform.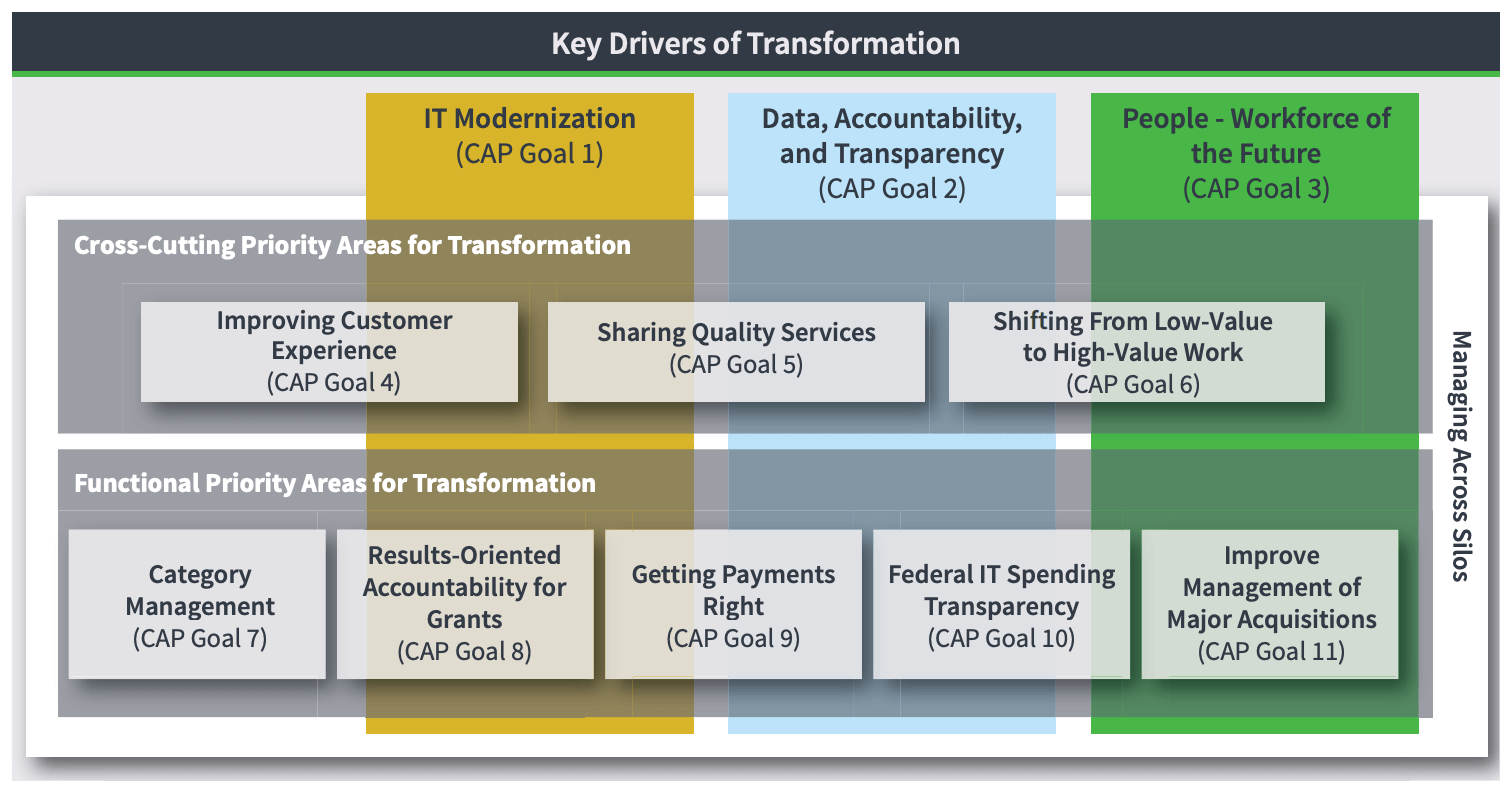 The second major announcement came in early April of this year—the GSA announced it would lead RPA implementation across the government with the creation of an RPA Community of Practice (CoP). The CoP is also a 'how' answer to the digital transformation objective OMB M-18-23 lays out, as the CoP will bring together and formalize RPA across all agencies. The CoP will serve as the catalyst to effectively implement Cross-Agency Priority (CAP) Goal 6 from the President's Management Agenda: "Shifting from low-value to high-value work."
The GSA believes they will address the CAP Priority Goal 6 from the President's Management Agenda in the following ways:
"Re-engineering and improving processes as they are automated;

Increasing the efficiency of existing operations;

Completing more work with fewer resources (e.g., more frequent and timely processing, improved data quality through full reconciliation);

Reducing costs over time by creating the capacity to maintain quality of service and absorbing new work requirements without the need for additional hiring;

Reducing processing errors and labor costs related to rework, delays, and customer dissatisfaction; and,

Reducing process cycle times and thereby improving service to internal customers, agency partners, and U.S. citizens."
The GSA's creation of an RPA CoP will accelerate the adoption of RPA by sharing lessons learned, avoiding duplication of efforts, and using proven management expertise to bring RPA to the attention of all agencies. 
The UiPath government user group, GovPath, allows agency employees to share successfully tested and operationally used UiPath Robots and RPA best practices. GovPath also creates naturally formed networking groups of RPA practitioners to help seamlessly improve the mission of all agencies and increase the awareness and understanding of RPA. In addition to joining GovPath or the city, county, and local user group, government RPA project managers and leaders can now email rpa@gsa.gov to learn how to get involved in the GSA RPA CoP.
The GSA RPA CoP will have two strong champions—GSA's Chief Financial Officer Gerard Badorrek, and Technology Transformation Services Deputy and Director Anil Cheriyan. Both are executive sponsors for the CoP.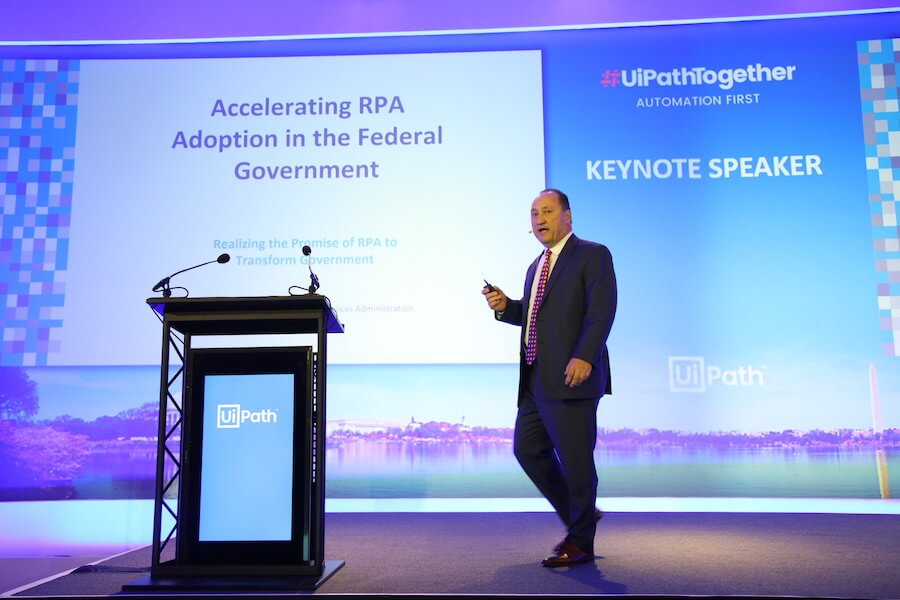 The third milestone and major push for the use of RPA came from Badorrek, on April 25, 2019 at the UiPath Together event in Washington D.C. During his keynote speech at the Together event, Badorrek called for "5000 processes to be automated saving one billion dollars by 2021."
Government agencies now have a 'wow', 'how,' and what Jim Collins calls a "BHAG"—Big Hairy Audacious Goal. The UiPath Platform, coupled with these three milestone announcements, puts the 34 agencies using UiPath even closer to a fully integrated and operational workplace. In such a workplace, federal employees and digital assistants can tackle the volumes of data, the numerous manual processes, and the acceleration work brought about with the proliferation of technology.
Government employees can finally stop working like robots for their computer and serve citizens while their digital assistant handles the necessary but tedious work on their computers.
Learn more about what our government clients are saying, watch their recent interviews, and discover how to begin your journey with UiPath