Editor's note: Agent Desktop is now called UiPath Assistant. For the most up-to-date information, visit the UiPath Assistant page.
As our customer projects have grown over time, so have their needs, especially in the attended automation area. Extensibility, flexibility to customize, and adding more capabilities for front- office automations are some of the areas that needed improvement. To address these needs, the UiPath team has created Agent Desktop, which replaces the old Robot Tray and provides a better attended experience for our users. Agent Desktop is now part of our 2019.10 LTS release, with the new patch that came out on Monday, February 10, 2020.
This exciting release brings with it a brand-new user interface (UI) that provides more control and flexibility over attended robots, while also allowing the end user to run multiple attended automations at the same time using Agent Desktop. Being able to concurrently run multiple automations further improves the user's productivity and gets rapid results from the automation.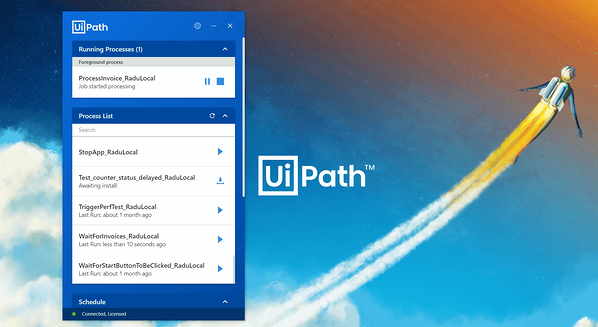 Agent Desktop, coupled with the latest features in UiPath Studio, provides process chain capabilities. Process chaining lets you reuse an existing process to speed up automation development. You can now trigger a new process to start based on the outcome of the previous process, allowing for faster results and more flexibility.
Scheduling allows a user to set a schedule for robots to run a process and get reminders straight into the user's tray.
A new public API helps integrate the Robot and Agent Desktop into existing applications, such as Microsoft Excel or Microsoft Outlook. For example, to run an Excel-specific job, users can have a button right in the spreadsheet to start the process.
Attended automation has more productive results when there is a more customized, insightful, and directional interaction between a robot and a human. To achieve this goal, we now have Forms Activity that also includes Callout Activity to improve the experience of using attended automation.
With Forms Activity, developers can create forms by using a WYSIWIG editor and simple drag-and-drop actions. The Form Activity improves the interaction between a user and a robot because entering the required data to downstream processing is now more intuitive for the user. Before this feature was available, developers had to code forms in HTML, and the result had limited capacity to collect data. This feature accelerates the time to automation development and speeds up front- end automation processes.
Using the Callout Activity, developers can easily design a screen pop-up to provide contextual guidance to the front- office user. This activity is an improvement over the existing feature, as it requires no coding skills. The previous Callout could display only limited data on the screen pop-up. Callout Activity can be used to expedite the training curve for a new employee in a contact center or even improve the average call handling time by providing quick screen tool tips.
We envision Agent Desktop as the 'one stop' for attended automation—your central hub on the desktop to help deliver a smooth automation experience to business users, call center agents, or developers alike. As we progress in our development steps, we look forward to receiving your feedback.