Coming out of our DevCon 2021 event, where we went deep on all the exciting new capabilities of our 2021.4 release, its time to turn our attention toward the end of the year and 2021.10. This month, our 2021.6 preview is the first milestone on that journey as we release the first major new capabilities for your feedback. 
UiPath Assistant and Marketplace integration
As organizations become more familiar with automation, employees want to automate more. While many tasks have high automation potential and solve real business challenges, the automation center of excellence (CoE) doesn't have the bandwidth to automate every mundane process.
A new integration between UiPath Assistant and UiPath Marketplace is here to help! It lets users easily find and use pre-built automations from Marketplace directly in Assistant.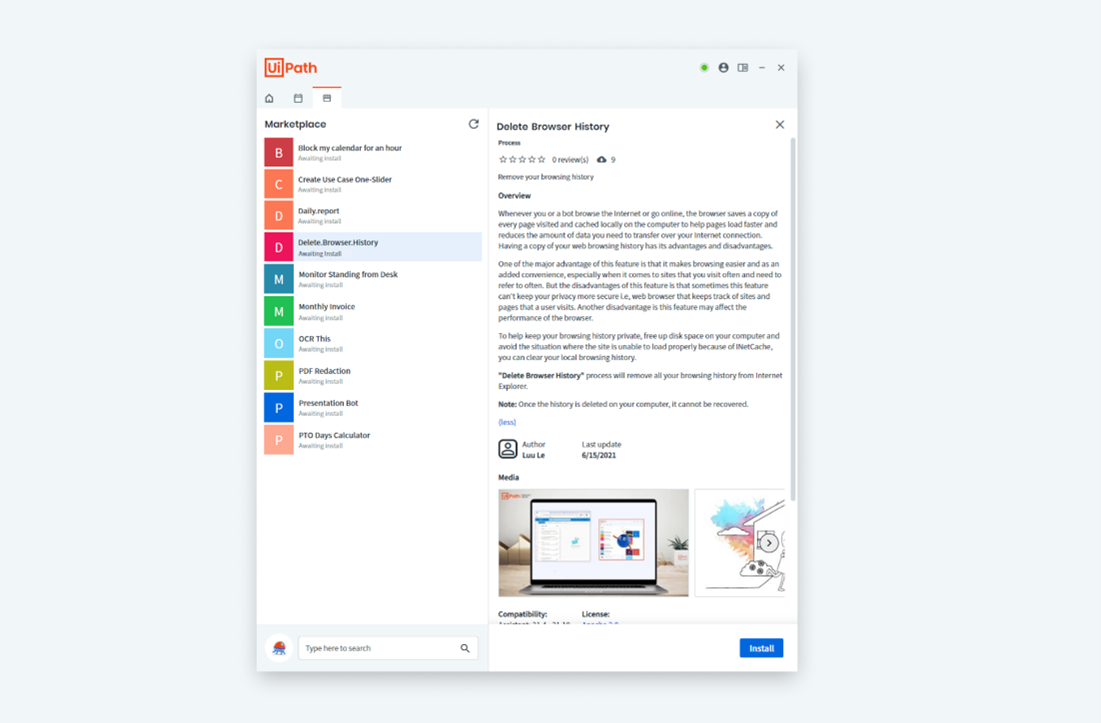 Here is how it works:
The CoE governs access to the Marketplace Widget and decides who should be allowed access.

Once the CoE grants access, employees can discover and install pre-built automations in one click–directly from their Assistant. In the background, automations are added to employees' personal folders in UiPath Orchestrator.

Users can customize input parameters or update an automation once a new version is available. Moreover, employees who are familiar with the Marketplace (i.e., citizen developers) can install automations to their Assistant right from the Marketplace web page.
We expect to introduce a wide range of horizontal, industry, and role-based automations by our 2021.10 product release.
UiPath Customer Portal
The UiPath Customer Portal is ready for broad adoption and we have begun rolling it out.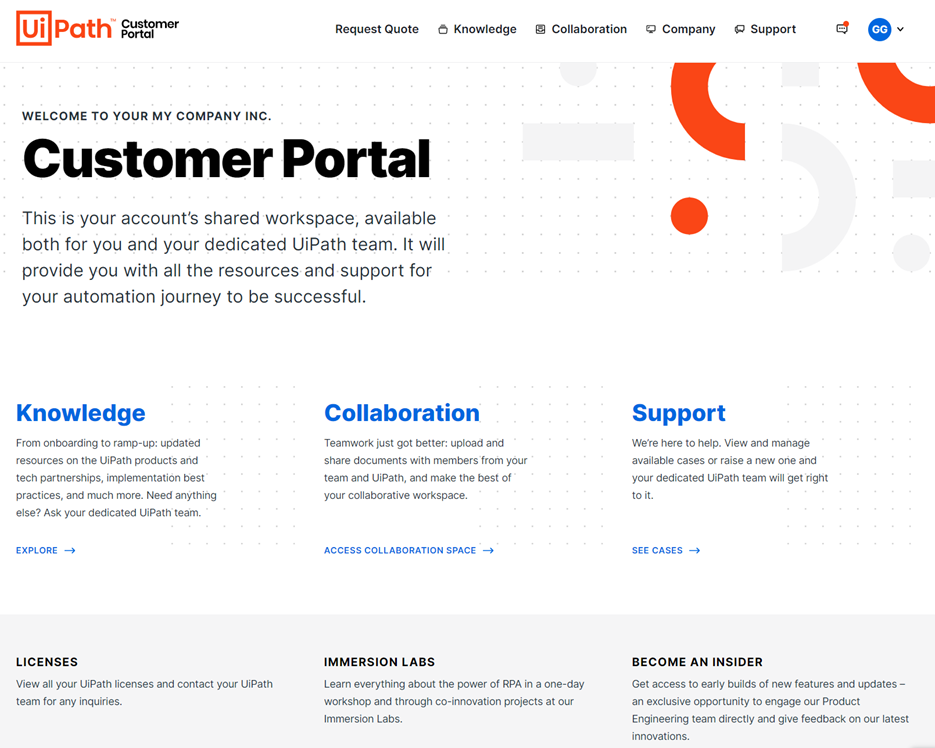 The Customer Portal is a self-service web portal for customers using UiPath products, giving you access to an array of services in one place. The portal includes highly requested capabilities such as an overview of all your licenses, a place to provision licenses, and request quotes for additional licenses.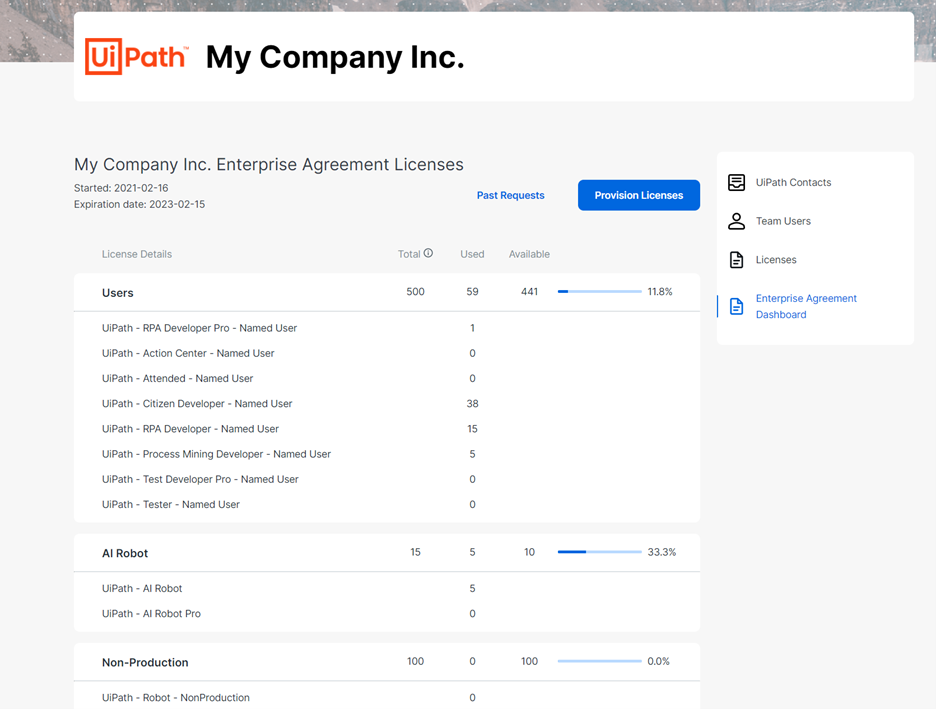 And a support dashboard shows ​ all your open and closed support tickets with UiPath.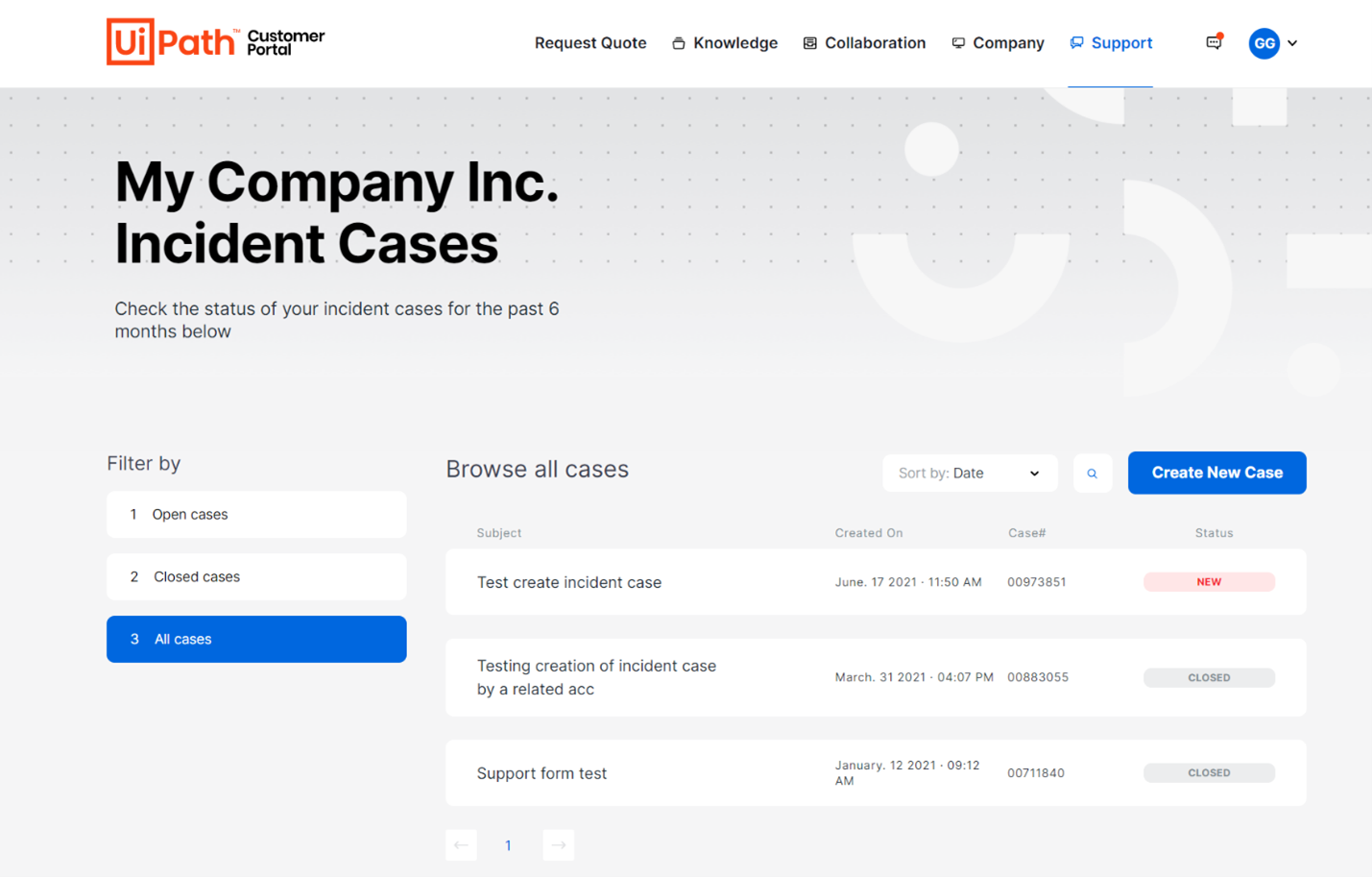 Access to the UiPath Customer Portal is through invite only. As the rollout happens, an email with a DocuSign agreement will be sent to your organization to begin the onboarding process. Here are Frequently Asked Questions (FAQs) that offer more information about the Customer Portal.
So keep an eye out for that invite email!
UiPath StudioX
As we learn even more about how citizen developers use and interact with StudioX, we are constantly improving the product design and usability. This month, we have a redesign of our activities panel, aimed at improving how you find and use activities within your automations. That, coupled with our new "next best action" machine learning (ML) recommendations model, makes it easier for you to find and use the next activity in your automation.
Starting with this release, you can find new common activities for files and folder automation (such as For Each Folder or Select File/Folder) as well as new activities for working with lists (Read list item or Update list item being just two of them). 
As citizen developers are starting to build more advanced automations, deeper integration with other UiPath products are in demand. For example, you will now see the addition of Arguments in StudioX which allows you to integrate StudioX tasks with UiPath Apps.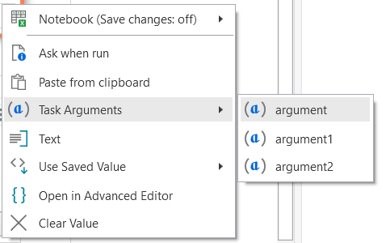 We also have some exciting things going on with Studio and our activities that we will share in the near future. 
UiPath Process Mining
In 2021.4, we released the first of our discovery accelerators for the procure-to-pay process. This month, the order-to-cash (O2C) Discovery Accelerator is now generally available. The O2C Discovery Accelerator consist of purpose-built Process Mining dashboards that fast track how order management teams discover automation potential in O2C. Pre-defined key performance indicators (KPIs), like on-time delivery rate and sales order cycle time, provide further alignment and visibility on the impact automation has on the end-to-end business process. 
UiPath Document Understanding 
UiPath Document Understanding also adds on some new features in 2021.6 and the most important one is auto-retraining capabilities for ML models. This means that once an employee corrects any automatically extracted fields in Validation Station, these corrections are stored for the retraining pipeline. Thus, your ML model can be regularly retrained based on the human validation—enabling continuous learning. Therefore, the model accuracy improves over time.
Within the context of ML-based extraction, some new models have been recently released to preview. These include Contracts, ID Cards, and Passports. Additionally, UiPath Document optical character recognition (OCR) is enhanced with improved character recognition which can positively impact the final extraction results. 
UiPath AI Center
In 2021.4, AI Center enhanced retraining capability and improved developers' user experience via deploying ML Skills as REST API, auto-generated ML pipeline parameters, and others. This month, we've released a new ML model and our first artificial intelligence (AI) solution to public preview.
The retrainable Named Entity Recognition (NER) model identifies key elements from text, then classifies them into different categories. The text can be in emails, letters, webpages, documents, and call transcripts. One example use case is processing emails: extracting important information (name, title, organization name, etc.) from email bodies and then entering the information into a customer relationship management (CRM) tool. Please watch the DevCon session to learn more.
If you are interested in learning what other use cases AI Center enables, visit uipath.com/ai-center.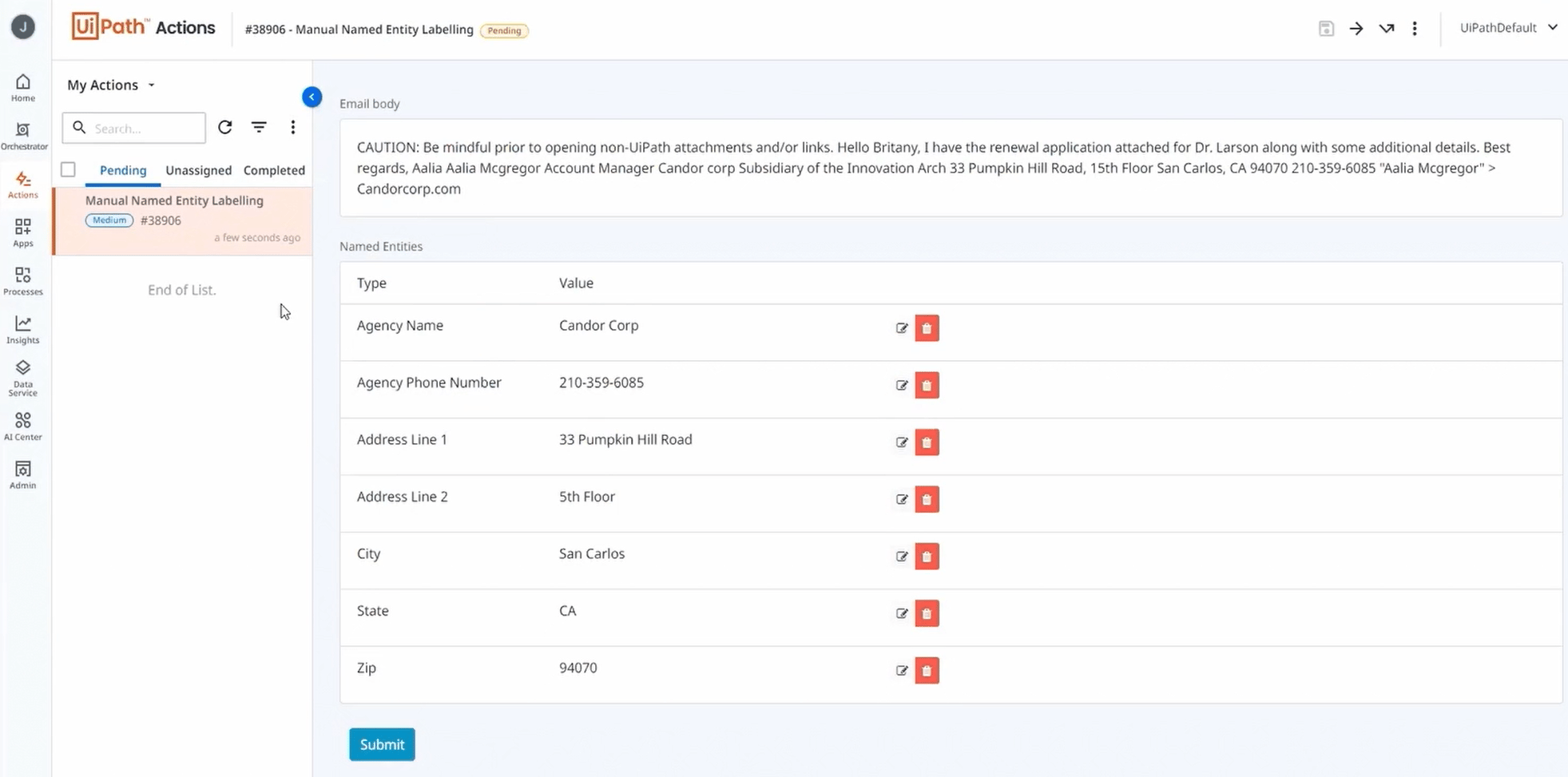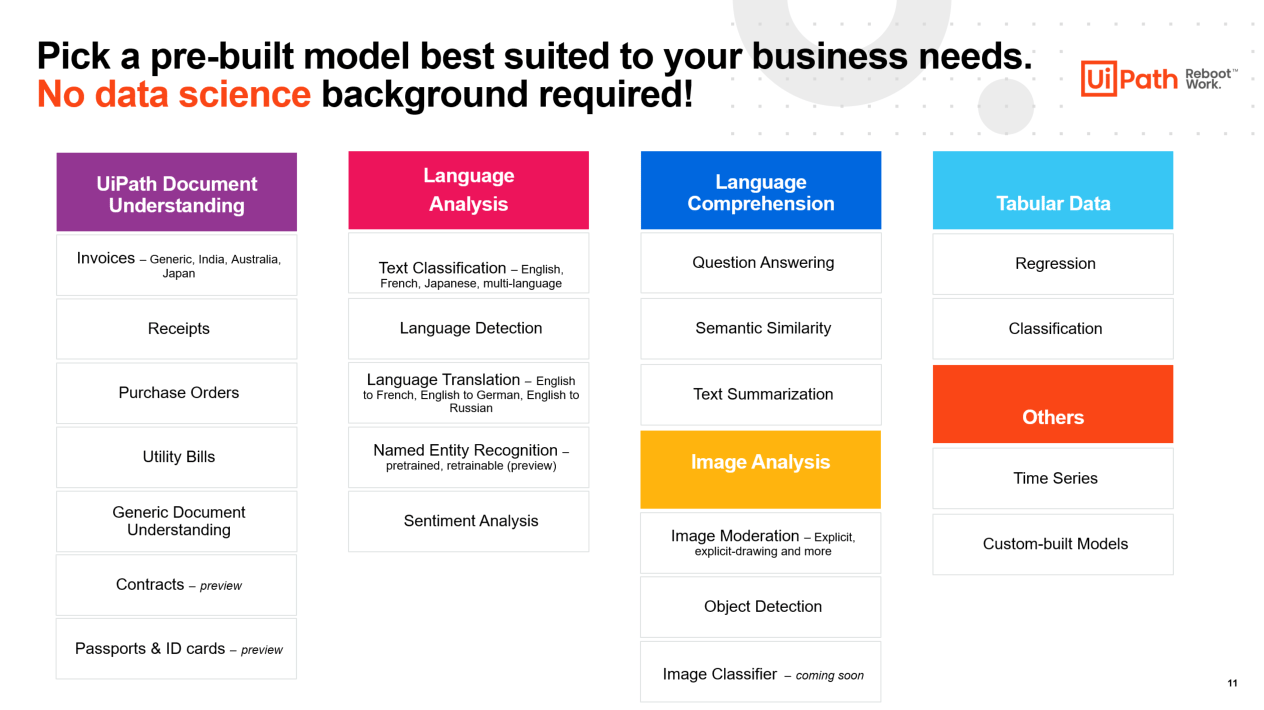 Another important update is the AI solution. In the past few months, we've released more than 25 ML models (enabling hundreds of use cases) to help robotic process automation (RPA) developers start their AI projects quickly. The AI solution is designed with the same purpose. The solution includes data scraping, data labeling, sample dataset, sample RPA workflow, pre-built ML models, analytics, and more. The first solution will focus on processing emails for faster data extraction and data analysis (such as detecting intent and urgency).
We're currently accepting preview customers for the NER model and the AI solution. Please sign up for trial through the UiPath Insider Preview program.