Happy March everyone. We are on the final glide path to the 21.4 release and the team can't wait to get the finished product into your hands next month. As usual, there are a tremendous number of new capabilities coming into preview and Automation Cloud™ this month to share. I plan to cover a few of the biggest areas and, as always, you can learn more and see all the details over on the UiPath Forum.
IT Automation
Let's dive right in and start with IT Automation, where we are seeing huge interest in using the UiPath Platform to automate core IT processes and free the IT teams from repetitive drudgery. This month, we are adding support for a new category: desktop as a service solutions.
We are starting with Amazon Workspaces and will fast follow with Microsoft Windows Virtual Desktop and other providers. The new activities enable IT departments to easily automate processes related to provisioning, management, and maintenance of Amazon Workspaces. This covers frequent tasks such as onboarding, offboarding, and a wide range of cost-optimization and management functions.
Next is documents—the lifeblood of so many of your core processes. We have some new enhancements in UiPath Document Understanding and its machine learning (ML) capabilities. Now our Machine Learning Extractor can help you process forms containing checkboxes in challenging use cases with significant variability in formats, image distortions, and low-quality images.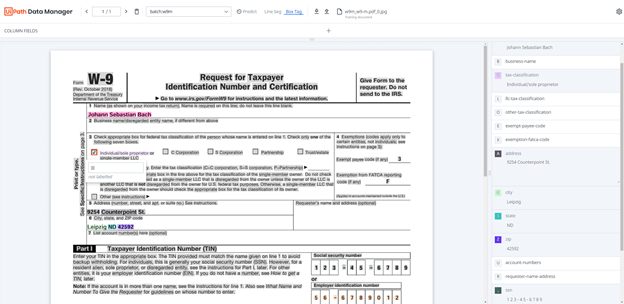 Another improvement to the Machine Learning Extractor is removing the limit of 40 fields for extraction form complex documents containing a large amount of data to be extracted (up to 300 fields).
Finally, as we're getting ready for the 21.4 Fast Track Support (FTS) release, we've launched a Public Preview of anchor-based extraction. This enhancement will help process structured documents with higher accuracy as well as make it easier for robotic process automation (RPA) developers to configure and maintain the templates. We'll have more details on Document Understanding updates coming soon in the 21.4 release!
Automation Cloud updates
We have talked each month about the rapid progress on the Automation Cloud. The biggest news this month is for our Automation Cloud for enterprise customers: we now have Azure AD integration in preview.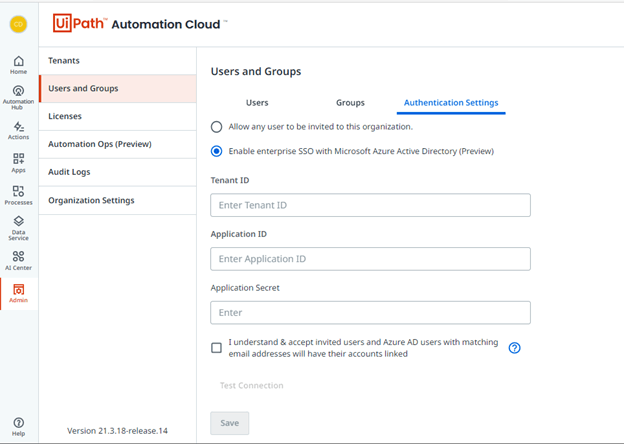 All Automation Cloud customers get the option to invite Azure AD users with single sign-on (SSO) today, but with this integration our enterprise customers get three new key capabilities:
Rich user/group access management: use your Azure AD groups to manage permissions in Automation Cloud services like Orchestrator

Automatic onboarding of Azure AD users to Automation Cloud: no need to invite them individually by email

Simplified sign-in: no need for users to create a UiPath account to sign in to Automation Cloud
You can read more about this feature here, and you can try it in preview with the Enterprise Trial SKU, or get it added to an existing account through the UiPath Insider Portal.
All Automation Cloud customers also now have access to the OAuth 2.0 Support for third-party app authentication preview.
An important capability for large automation programs is an open platform ecosystem, so we now offer OAuth capability in Orchestrator for authorization of third-party apps with limited and controllable access to the resources within the UiPath Platform without sharing any credentials.
Now, as an administrator you can enroll, manage, and monitor new applications that can access resources in the UiPath ecosystem by providing few necessary details such as application name, type, confidentiality, etc. We also expect to deliver this capability to our on-premises customers in Orchestrator 21.4.
New in UiPath Assistant
Pursuing 'a robot for every person' goal, we've made some exciting improvements to UiPath Assistant to make it easier for employees to work with robots.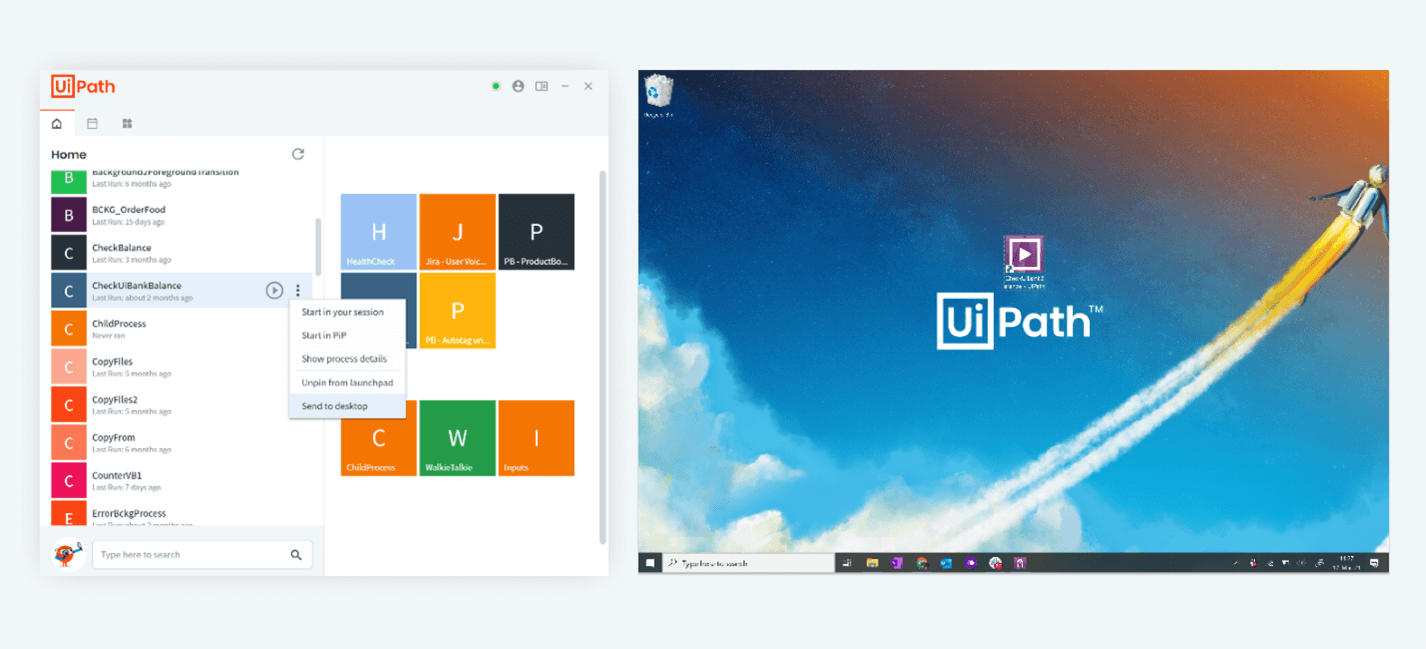 In 21.3, end users can now:
Create desktop shortcuts for their favorite automations. Employees can pin their most-used automations to the desktop—without a need to search for them every time they do a manual task.

Create keyboard shortcuts from the process details section

Organize their automations by folders in the personalized launchpad by simply dragging processes from the list in the left panel.
Last, but certainly not least, I want to close with developer productivity and integrations. We know that a thriving and productive ecosystem of developers is the heartbeat of our platform and this month brings the following for this community.
A stronger foundation for UiPath Studio
This month represents the first version of UiPath Studio and Robot built on the .NET 5 framework. While not an obvious or glamorous change it's an important one. This transitions them to 64-bit with full compatibility for all your existing automations. It provides our development team the latest platform, increasing our productivity and enabling us to deliver you more innovation faster. It also opens up the possibility of future cross-platform support for Studio and Robot. We'll have more news on our plans there in the months ahead.
We also launched a new bi-directional integration with Workato. Our goal is to make it easy for our customers to work with integration platform as a service (iPaaS) tools they are using today. An out-of-the-box UiPath Activity for Workato connects the UiPath Platform to Workato, enabling UiPath robots to start and stop recipes in Workato, invoke actions, and list and get recipe details.
The UiPath Activity for Workato is available in UiPath Studio, UiPath StudioX, and UiPath Marketplace.
The UiPath Connector for Workato allows users to start UiPath robots directly from Workato. The Connector is available in the Workato Marketplace. With this integration, Workato customers will be able to kick off automations based on triggers in systems in Workato's library.
As you can see, there is a tremendous amount of new value for customers of all types again this month. And there are still a few more fun things to come between now and the final 21.4 release.
We will be extra hard at work next month finishing the release and preparing for our official launch, so there will not be a product blog in April. We'll see you again here on the blog mid-May where you will be able to see the collective result of all the work since October.
In the meantime, feel free to join the Insider Preview Program to try all the new updates mentioned in this article and much more.
Want to be an Insider?
We welcome your feedback on our latest updates. If you would like to become an Insider and have early access to provide feedback on new features, join the UiPath Insider Preview program: