UiPath has long recognized the critical role that automation plays across organizations. UiPath Automation Platform has been continuously improving automation scalability, management, and reliability across all the departments of the enterprise. With the 2021.10 release, UiPath has taken it a notch higher by making sure that the mission-critical role of automation in your organization is easier to manage and meets the standards of a truly enterprise-grade technology. All that while also offering robust governance and security to your entire automation ecosystem.
Starting with our endpoint protection integration with CrowdStrike, we're the first in the industry to offer endpoint security for robotic process automation (RPA). Joint UiPath and CrowdStrike customers now can enjoy the same level of endpoint protection for robots as they already have for people at no extra cost. The integration significantly improves and accelerates threat detection, investigation, and remediation while ensuring business continuity. You get real-time correlation of events with the originating RPA processes and the ability to quarantine hosts without disrupting business processes.
Now, with the 2021.10 release, a UiPath Robot reports key endpoint detection information to the CrowdStrike agent, which can then be seen by the security team and trigger alerts on the CrowdStrike dashboard. This enables rapid response to breach risks, a better organizational security posture across human and robot workforces, and prevents the need to take global actions. For instance, a global action might be to shut down a process across all robots because the specific robot with the security issue cannot be identified, which can cause obvious business continuity issues. That isn't an issue you have to worry about anymore, thanks to the UiPath and CrowdStrike integration.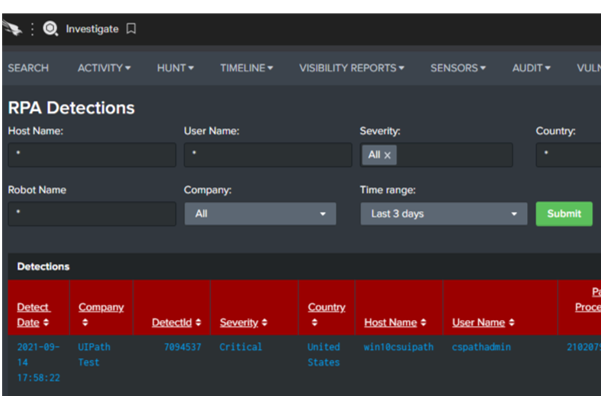 Some of the notable innovations in the 2021.10 release across UiPath products that enhance the governance and security of the automation ecosystem are:
Runtime governance: previously, our Workflow Analyzer in UiPath Studio checked for compliance with corporate standards and policy at automation design time. Now, it also checks at runtime, covering a broader set of scenarios including access to dynamic data.

Feeds management: Automation Ops now allows admins to have an overview of all feeds exposed to users across the organization. This provides clarity and control over the internal feeds (within Orchestrator), external feeds (official feed), and the ability to create aggregation mechanisms that allow composing and filtering feeds.

AI Center access control: UiPath AI Center now offers support for more granular role-based, project-level access control to better protect sensitive business data.

Task Mining PII data masking: when UiPath Task Mining takes screenshots to help capture an employee's work process, sensitive customer data in those screenshots will now be automatically masked. Data masking detects and masks personal identifiable information (PII) including driver's licenses, social security numbers, passport numbers, bank routing numbers, credit/debit card information, and contact information.

Improved governance and source control: you now get a central location for citizen developers to back up automations while automatically handling source control and configuration.
In 2021.10, UiPath Orchestrator packs a lot of enhancements that make managing your automations easier. Let's start with the auto-update Robot, Studio, and Assistant capability that will help save a lot of time for your IT admins and RPA centers of excellence (CoEs) who regularly check and update UiPath Robot, Studio, and Assistant that are deployed across the organization.
You can now easily control version management of UiPath Robot, Studio, and Assistant, including more frequent upgrades to get the latest features and patches from Orchestrator. Not only can users get all the updates faster, but you can also set the auto-update policy for users, user groups, and machines by clicking a few buttons in Orchestrator.
Other key enhancements to UiPath Orchestrator include:
Elastic Robot Orchestration: now you can provision, start, stop, and scale unattended robots on demand using your own public cloud subscription, allowing you to lower your cloud costs.

Cross-platform runtimes: this allows you to deploy robots on Windows machines or Linux containerized. You can specify, for a given machine template, the number of unattended runtimes as well as the number of cross-platform runtimes.

Robot accounts: allow a user to create a dedicated "service" (non-user) account or robot account that are only allowed to run unattended automations, thus avoiding the creation of fake accounts.

Unattended execution in Personal Workspaces: the Orchestrator tenant admin can now associate machine templates to all Personal Workspaces and thus enable citizen developers to execute unattended processes in their Personal Workspaces.

View and manage process dependencies: you do not need to guess what Orchestrator entities are needed for a process to be functional. The entities needed for the process to function are shown when the process is created in a folder.

Cloud native deployment flexibility: you can deploy Orchestrator on-premises, in virtual machines, in private or public cloud, Linux VM, or as a cloud native single containerized suite via UiPath Automation Suite. Or you can always try it instantly as software as a service (SaaS) from UiPath Automation Cloud™.
To make your automations more resilient, we have introduced the new Robot auto-healing capability to resolve issues in jobs being run without human intervention. The built-in Robot auto-healing capability helps monitor robots, robot machines, running jobs, and initiates actions to resolve issues when preconfigured states such as operating system (OS) freeze, server unavailable, automation stuck, etc., are detected. The auto-healing capability then helps bring robots back to the available state.
The Robot auto-healing capability also helps:
Isolate the failing robot and reallocate the work to other machines

Troubleshoot the failure occurred in the automation process

Fix the failure with a series of preconfigured jobs
Download the latest IT Automation Activity Packs from the UiPath Marketplace
UiPath Insights – revamped on-premises experience
Time and money are some of the scarcest resources in an enterprise—and a driving force behind the adoption of RPA. Today, automation powers some of world's most important processes, and it is business critical for enterprises to track and measure the performance of those automations.
For nearly two years, UiPath Insights has been the RPA analytics solution our customers have used to not only improve their RPA operations, but also understand the impact that those automations are having on their business.
In 2021.10, UiPath customers get a revamped on-premises experience with the following improvements:
Improved ROI experience: refined access controls, creation of datasets per tenant, and access to custom fields directly from the data model

Expanded reporting: new pre-created measures, the ability to share dashboards across the entire tenant, and share reports with external stakeholders via email

Advanced analytics: expanded formula functionality to support string functions and improved datetime support

Increased reliability: UiPath Insights now utilizes a database that is optimized for analytics (SQL columnar) and removed the use of ElastiCubes
We've also simplifed platform support. Beginning with 2021.10, all Enterprise releases receive two years of standard support and one year of extended support, simplifying customer upgrade timing.
To learn more about all the new capabilities released with 2021.10 that make automation in your enterprise more secure, resilient, easier to manage and govern, join the live virtual session "Powering the Mission-Critical Role of Automation in the Enterprise" on November 18, 2021, at 11:30 am EDT.
That session is part of the 2021.10 release virtual event that kicks off at 11:00 am EDT on November 18. Save your spot and join us for the entire event!
Discover all the opportunies to explore the 2021.10 release in the '2021.10 release set.'