At this time last year, we were talking about how UiPath technology available in the 2020.10 release empowered the fully automated enterprise. Last month, I was at FORWARD IV to hear UiPath customers and partners talk about the paths they're taking to become a fully automated enterprise.
Paths that they're actively on now. Specific action steps being taken and larger, organization-wide plans for achieving the goal of becoming a fully automated enterprise. It's not an abstract concept or unrealistic goal.
With a new product and more than 100 feature enhancements across UiPath products, UiPath 2021.10 release advances core automation capabilities for the fully automated enterprise.
The 2021.10 release not only gives you the core automation technology you need for enterprise-wide success today, but also sets you up to succeed with your future strategic automation initiatives.
As is our tradition, we've created an entire 'release box set' of resources for you to explore the biggest UiPath release of the year.
Want a quick overview? You got it.
Want to dive into the release and see the new capabilities in action? We've got you covered.
Want to learn to put the new features to use in your own automations? Enroll in the new, release-specific UiPath Academy course.
Think of it as a pick-your-own adventure for the 2021.10 release. And this blog post is your starting point.
2021.10 virtual event
Join us on November 18, 2021, for "UiPath 2021.10: The Automation Platform for the Future." The virtual event is divided into three, 30-minutes sections.
Starting at 11:00 am EDT / 2:00 pm AEDT, UiPath Chief Product Officer Param Kahlon will kickoff the event with an overview of the key updates included in this release.
At 11:30 am EDT / 2:30 pm AEDT, you'll have four sessions to choose from. Each session is led by a UiPath product expert and gives a more extensive look at each of the release themes Kahlon highlighted at the start of the event:
Introducing UiPath Integration Service

Powering the Mission-Critical Role of Automation in the Enterprise

Accelerating the Development and Use of Automation

Leading with Cloud Native Automation
What happens if you want to attend more than one session? Since the sessions take place at the same time, you can pick the session you want to attend live and access the other sessions on demand.
The final 30 minutes are an open Q&A. UiPath automation experts will be on hand and answering your questions live.
Want to go even deeper into the new functionalities and learn to put them to use in your own automations?
2021.10 release blog posts
Don't want to wait until November 18, 2021 to find out about the release? Thanks to our 2021.10 blog posts, you don't have to.
Kahlon has written a blog post that gives a great overview of the release, and I recommend you start there. Kahlon's post features highlights across the release and the following blog posts give you a deeper look into areas of the 2021.10 release:
Catch the replay: The Innovation Engine of the Fully Automated Enterprise
At FORWARD IV last month, Kahlon joined Ted Kummert, Executive Vice President of Products and Engineering at UiPath, onstage for the opening keynote.
They discussed how we got to the point automation is at today, the future of automation, innovation powering the UiPath Platform, and a sneak peek of the 2021.10 release. It took the entire stage just to display all the platform capabilities in 2021.10!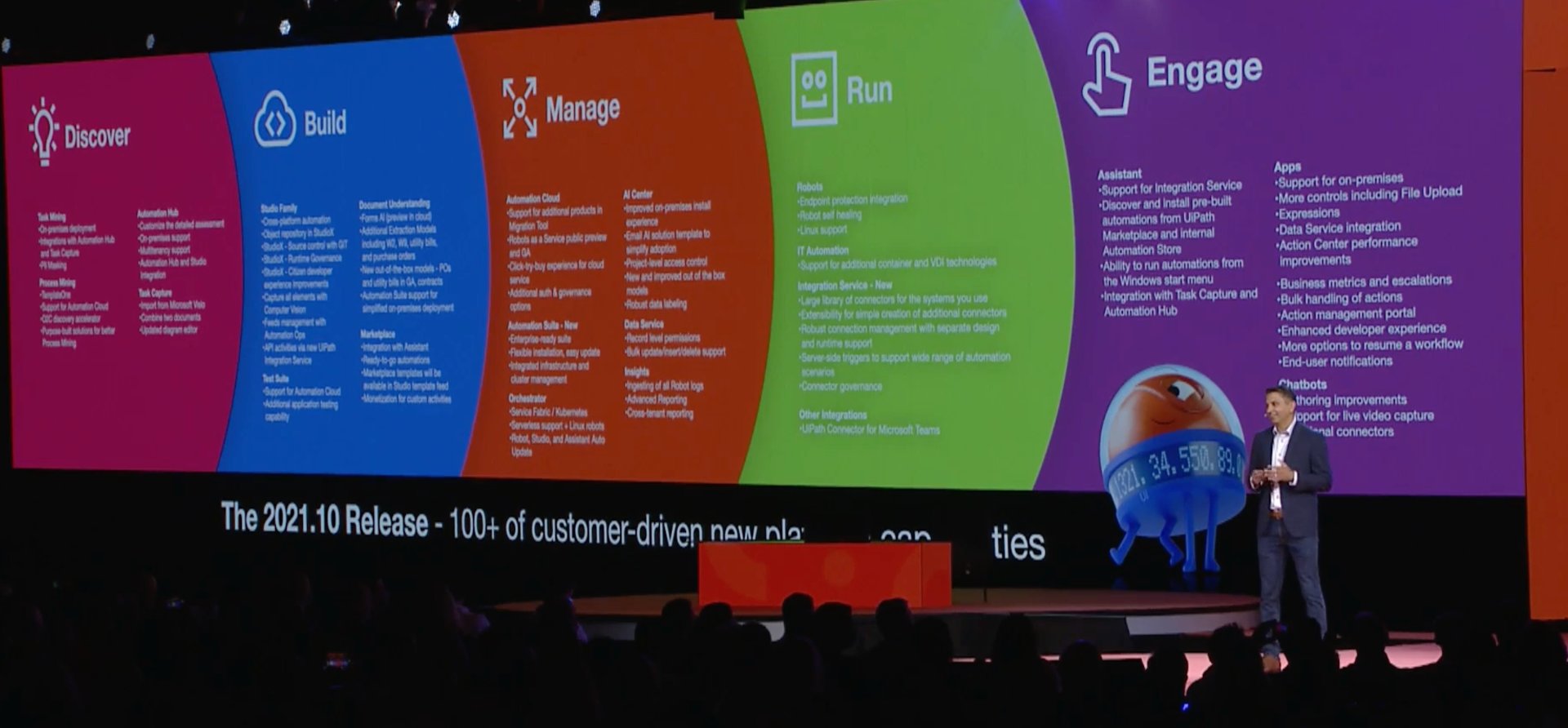 If you weren't able to join us in person at FORWARD or attend the livestream of this keynote, you can still access the recording for a limited time.
Bonus: we'll also give you access to the recording of UiPath co-founder and CEO Daniel Dines' FORWARD keynote!
Share your feedback
Want to get early access to try out new products and features before they're available to the public? Join our Insider Program.
Thank you to all our Insiders, UiPath customers, and partners who have already provided feedback. Your feedback went into the more than 100 feature enhancements now available through the 2021.10 release. Please keep your feedback coming.