Grace Wang is product marketing manager for UiPath Process Mining at UiPath.
We can plan all we like, but sometimes things don't go the way we'd like them to. Being able to adapt goes a long way, particularly in the current climate, where many things are out of our control. The plans we made at the beginning of year may have been derailed, but do we dwell on the 'what if's,' or course correct and set new goals?
In the same context, if we look at businesses that have flourished in the first half of this year, we see a few common themes: adaptability, agility, and accuracy. Particularly when it comes to processes. Take delivery companies and grocery stores who've had to manage a huge uptick in demand. In order to thrive, they've had to adapt, be agile, and execute flawlessly, with little to no warning. Their processes need to be spot on. As always, technology and data play a huge role.
As companies endeavor to become more agile, now is the time to be asking:
How can we leverage existing data to determine our best course of action?

How can we make our processes resilient to change?
This blog post introduces the latest innovation from UiPath Process Mining and how it helps close the loop between understanding processes and swiftly acting on that knowledge with UiPath Action Center.
Putting analysis into action
Process mining is a powerful technology that can help businesses gain visibility into their processes. It does this by tracing the digital footprints left behind in systems and applications. Process mining then transforms that raw data into intuitive visualizations of process flows. It makes those complex and wide-ranging processes, like procure-to-pay (P2P) and order-to-cash (O2C), tangible. With thorough and fact-based visualizations, you can spot process bottlenecks, inefficiencies, and risks, at a glance.
The insights that process mining reveals are incredibly useful. Take, for example, discovering that delays in invoice collection and entry negatively impacts your ability to capitalize on discount opportunities and optimize working capital.
Clearly, this is a significant piece of information to form a solid business case to adjust the process, but how do you make the leap from insight to action? This is where using process mining as part of a wider toolset, including Robotic Process Automation (RPA), can result in tremendous business value.
By automating invoice collection and entry, you save countless hours and free your employees up to work on more value driving activities. However, you still need the right mechanisms in place to ensure your process stays on track and has the intended outcomes.
Keep your processes in check
Let's say we want to ensure invoice entry always happens within two hours of invoice collection. To be able to track this, we can add some business logic to our UiPath Process Mining data.
The dashboard below shows us all the times invoice entry took more than two hours.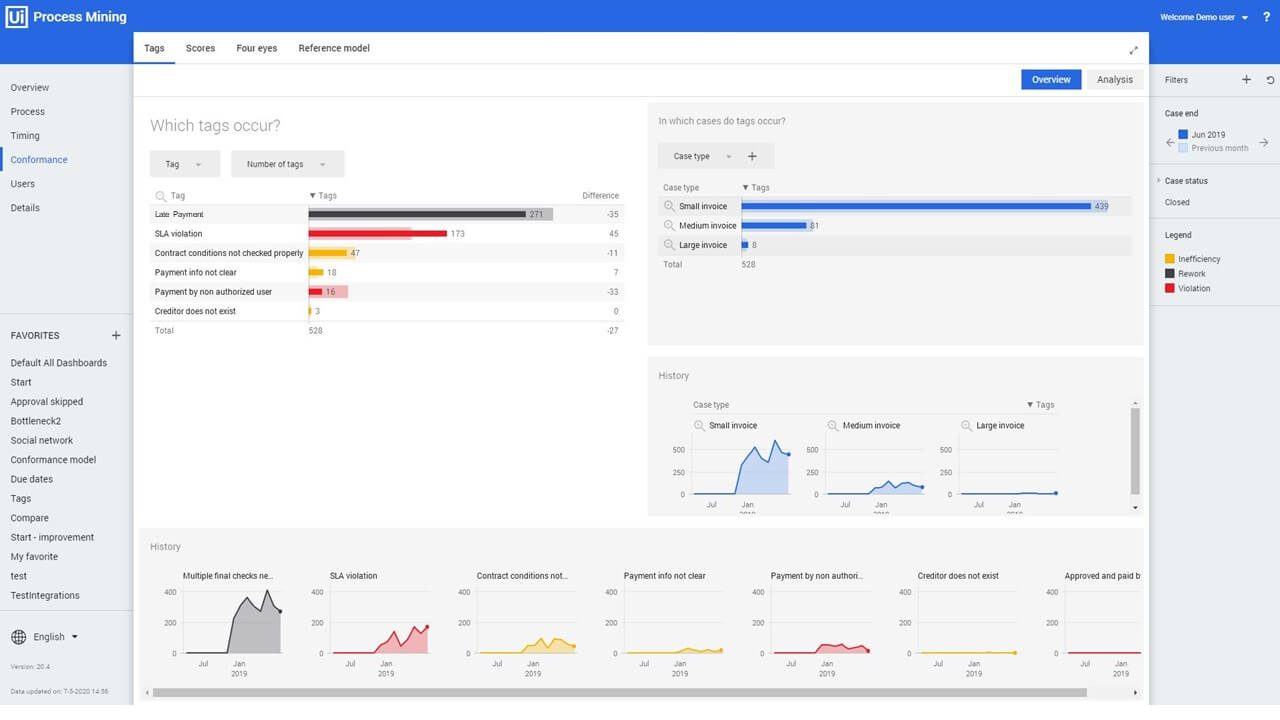 With the latest integration between UiPath Process Mining and UiPath Action Center, you can proactively alert someone in UiPath Action Center whenever the invoice takes longer than two hours to enter. Action Center essentially works by bringing humans into the automation loop to manage exceptions, issue approvals, and process escalations.
Using our example, if invoice collection and entry take more than two hours to complete by a software robot, a team member is alerted and can handle the exception directly in Action Center, before handing the process back to the robot. The best part is that the robot continues working on something else while you're handling the exception.
Take charge of your processes
It's this ability to prevent problems before they happen, and course correct when processes veer off track, that is key to ensuring your process stays within your control. And it's not just about telling robots what to do, you can also resolve the issue yourself or delegate it to another team member. You're effectively putting the right process mining insights into the hands of the right people at the right time. Action Center has robust access management and dynamic task assignment capabilities built in.
If we look at an example in the procurement process, we can set up alerts to be sent directly to the master data manager whenever payment information is not clear. The master data manager can verify the master data in the system and prevent any future problems.
A study by Harvard Business Review showed that organizational change was more successful when organizations drive change from the bottom up.
The integration between UiPath Process Mining and UiPath Action Center directly supports a cycle of continuous monitoring and improvement that is, in part, pushed by people directly involved in the process. It promotes a culture that encourages employee ownership of their processes and results in employees and processes being as efficient as possible.
Balance big picture thinking with attention to detail
When looking at your processes, having a view of the big picture is just as important as being able to dive down to the small details.
The processes that keep your business moving often touch many different departments. But every department has their own priorities and goals. Procurement wants to capture the best discounts from suppliers, while finance is concerned with working capital. How do you align all these individual goals to your higher-level goals, like customer satisfaction, operational efficiency, and risk mitigation?
All these smaller, department-specific goals should feed into your high-level goals. This is where UiPath Process Mining can play a valuable role. It does this by connecting all the dots in a process and adding business logic that is geared toward your important business outcomes.
The combination of UiPath Process Mining and UiPath Action Center brings to light all the parts in your processes that can be proactively improved and enables you to have a direct impact on your processes.
To be truly adaptable and agile, companies need to be able to seamlessly switch from the bigger picture view of their processes, down to those minute details. They need to leverage this wealth of information to act fast and effectively. This latest innovation from UiPath makes it possible to embrace an adaptable and agile approach to process optimization, ensuring your team and robots play an active role in making your processes better.
Find out how UiPath Process Mining drives resiliency by watching our on-demand webinar.