Kristina Kaldon, an Industry Enablement Manager based in Los Angeles, has a unique story of how she came to UiPath. After growing up on a farm in Pennsylvania, she went to Penn State and received her bachelor's degree in Astronomy and Astrophysics.
"I loved my major and did a lot of outreach work, but I wasn't ready to spend another 6+ years studying at graduate school. I am most interested in cosmology, which is the origin and evolution of the universe, so the data and programs can take way longer."
She worked at MIT Lincoln Lab in their space systems division for 2 years after graduating from Penn State. Realizing her desire for a new career, she moved to Puerto Rico and joined a start up as a software engineer. "I fell in love with Puerto Rico during an internship in college. I worked there during Hurricanes Irma and Maria. It was insane and scary, but I really bonded with my coworkers during that difficult time."
Kristina then joined UiPath after talking with one of her friends who was working at the company. She packed up her life in Puerto Rico and moved back to the states. Like most employees at UiPath, she adapted quickly to our fast-paced environment.
Everyone wears so many hats that after 2 or 3 months at UiPath, you have much more experience than you could gain anywhere else. I think those low barriers help you grow very quickly and widely."
Kristina currently works on our learning team, an area that is rapidly expanding due to the coronavirus. "We have a commitment to all the people losing their jobs or wanting to upskill. We have more than 70 university professors in the US that teach RPA and ever since COVID-19, I've had dozens of them call me and say 'Hey I was going to teach this at the end of the semester but I want to teach your technology in the next couple weeks.'"
Cornell University, Syracuse University, University of Washington and Georgia State University are just a few of the universities that Kristina supports. While she works closely with the professors, she also gets to know some of their students. She believes that learning RPA can be more than a credit for their degree, but a skill that will allow students to be more successful right out of school. "A lot of new graduates don't feel confident sharing their ideas. By empowering new graduates, they can be the leaders of this technology and bring it to the forefront. Many of them are hired to bring in new ideas and perspectives and this offers an easy way to bring value, introduce this technology, and be a leader in the space, even though they may be young or inexperienced."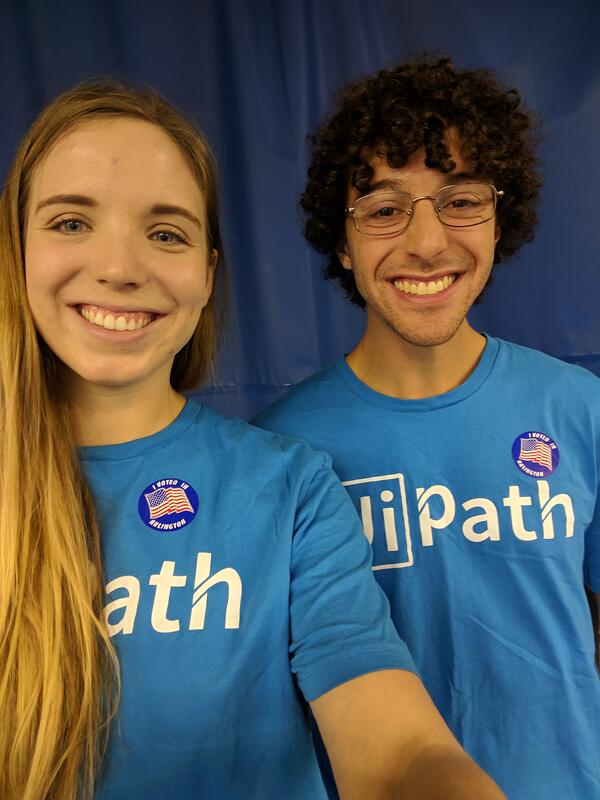 Another way that RPA can help new grads is by saving them from having a mindless and repetitive first job out of college. One client that Kristina worked with had an unfillable job requisition open for two years that listed a required college degree. The job did not pay well and was a contract to manually look up and enter 70,000 lines of company information in an Excel spreadsheet. One of UiPath's robots was able to complete this tedious backlog in under 5 days. "If a student who knew RPA joined this company and saw all the backlogged lines of data, they could have easily identified and solved the problem.
They could help make changes, upgrade legacy systems, and quickly show their worth in the company." Students today are going to face many challenges that previous generations didn't have to but hopefully by learning new technology like RPA, it can make the transition into the workforce a little easier.