UiPath, known for unrivaled Citrix automation performance with its computer vision technology, has been recognized as an RPA industry leader in the "Forrester Wave™ Robotic Process Automation, Q1 2017". The report compared 12 RPA vendors against criteria in the areas of: current offering; strategy and market presence.
When evaluated solely by RPA technology criteria, UiPath received the industry's highest score.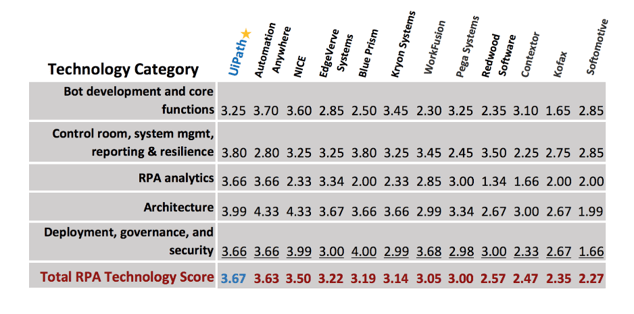 In highlighting UiPath's industry leadership credentials Forrester cited the "strong architecture" of its solution and said its "open platform is well suited for complex automation".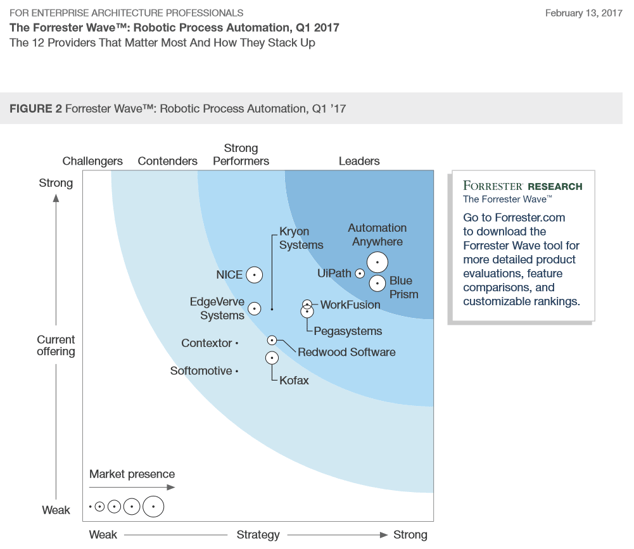 Daniel Dines, UiPath CEO said, "We are honored to be recognized as a leader by Forrester, particularly for the value placed upon, and recognition given to, our open platform's innovative RPA technology. We firmly believe it is the best foundation for automation excellence.
Forrester on RPA: Robots can replicate human tasks without affecting underlying systems. As a result, the process in place remains unchanged, eliminating data integration and analysis efforts. RPA is gaining the interest of enterprises.

Forrester has taken 100 inquiries on RPA in just the past six months. It's easy to see why. Enterprises are under immense pressure to digitize operations and they see a future where routine operations are fully automated.
Find out more about Forrester Wave on Robotic Process Automation here.
2019 Update: Forrester Wave RPA 2019 - Q4 Report
The newest RPA MQ: 2019 Magic Quadrant for Robotic Process Automation Software"
---