Orchestrate Robotic Processes with UiPath
UiPath Orchestrator Enables the Orchestration and Management of Thousands of Robots From a Single Command Center.
UiPath Orchestrator is a browser-based server application that enables you to manage robots and processes. By using the server web console you can deploy, start, stop, and schedule processes and monitor their execution by the robots. UiPath Orchestrator facilitates both human-robot collaboration and business exception handling by using centralized work queues.
In front office automation scenarios, the Orchestrator acts as a central repository for processes. It manages version control and aggregates robot logs. It also provides monitoring, reporting, and security capabilities. From its browser-based dashboard, dozens – or hundreds – of software robots can be deployed and monitored.
In back office automation scenarios, the Orchestrator is an industry standard platform capable of queuing large volumes of transactions. It orchestrates and deploys dozens - or hundreds - of software robots in a synchronized, scheduled fashion to complete the work with remarkable speed.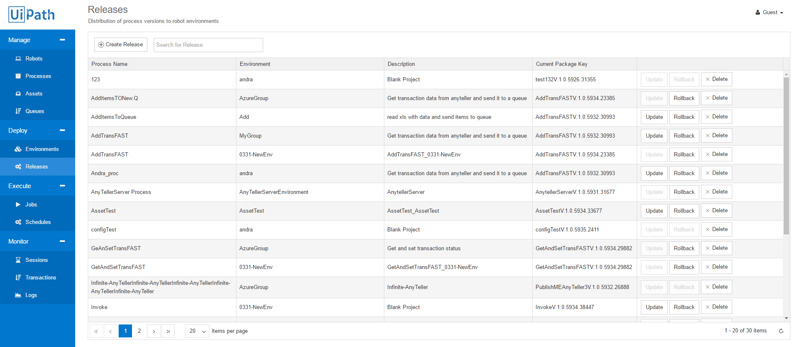 Benefits
Secure Central Monitoring & Analytics
Monitoring and analytics are provided. You can keep track of processes as they happen and harness actionable insights that the robots report back. The robots log everything they do on the server. UiPath uses Elastic Search to sort through all the logs collected and Kibana to build visual analytics.
Infinite (Almost) Scalability
UiPath's back office robots can run in the background without causing capacity issues. The Orchestrator provides a robust solution for scaling, with robots that can be cloned and deployed when more are needed and de-activated when demand changes. Software robots are also quite willing to work twenty four hours a day, on weekends and holidays.
Scalability of Workforce
Automation can be scaled up or down according to needs and additional robotic force can be deployed quickly at negligible, marginal cost.
Actionable Analytics
Every action that a robot does is centrally logged, so you get unprecedented insights into your business processes and underlying systems. UiPath comes with a few predefined reports, but nothing stops you from getting fancy and feeding your favorite analytics software with the raw sql data.
Human - Robot Collaboration
Robots are very good at processing rule based tasks but not at classifying unstructured data or making decisions. This is human territory. Most business processes require collaboration between human users and robots. UiPath Orchestrator facilitates human- robot collaboration by providing work queues.
In a typical business process, humans transform unstructured data into structured data and send it to the queue from where the robots read it and then process the rule based transactions. When the robot encounters a business exception, it flags it for a human to review. This is a turn-based interaction that happens at the server level.
Dashboards and Analytics
Tell at a glance how many transactions are processed and the average handling time per transacation. Robots report on their work performances in the form of actionable insights and key analytics.
They keep track of all exceptions and transactions so that the team can identify bottleneck areas and make improvements to the system.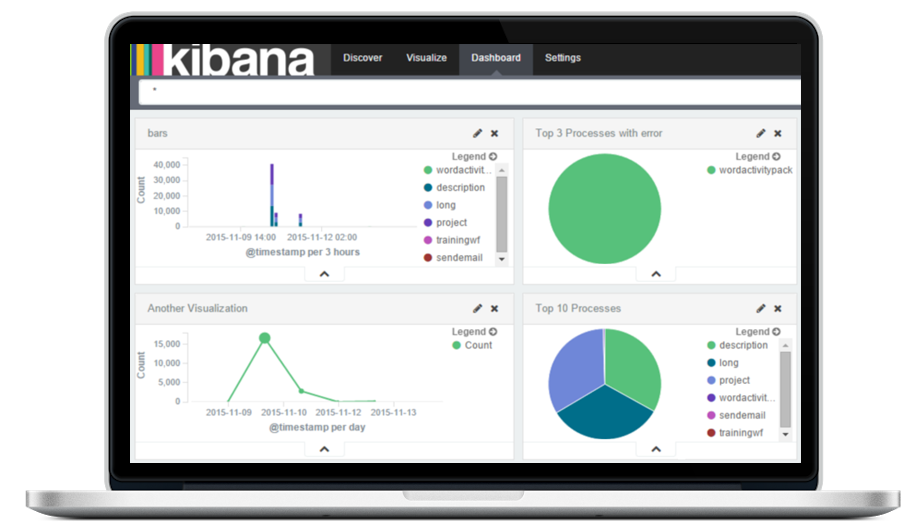 What Our Customers are Saying
"I lead the Global Technology Innovation team for Capgemini Business Services and I became familiar with UiPath after their RPA product surpassed five other vendors in the selection process of our RPA programme, becoming a Capgemini automation technology of choice.
Their product's robust intuitiveness, and unsurpassed ability to seamlessly integrate with Citrix at the presentation layer, were absolutely essential to the success of the project. UiPath's refreshing spirit of collaboration was equally vital to our development of innovative RPA implementation and deployment solutions for Capgemini Business Services. Both contributions led to Capgemini and UiPath signing a three year technology partnership agreement."
Dr. Marcus Esser,
Global Lead Technology Innovation, Capgemini Business Services
"Volvo operates SAP and found that processing supplier invoices through the system required a number of manual interventions, in terms of reading, validating, registering and posting invoices. As part of the efficiency drive, it was decided to try out automation in one of the accounts payable (AP) teams which processes around 2,000 supplier invoices every day. Volvo managed to almost completely eliminate human intervention from the AP process. UiPath is a front-end automation software, which mimics human actions. It operates on top of the existing applications in a non-invasive way, which means there is no impact on the core applications used. The robot logs into the necessary systems, reads the invoice image, registers the invoice in SAP, performs all the necessary validation, including cross-checking against other systems, and ultimately decides whether to post, park or block the invoice. Having the same robot following the entire process flow and communicating with all the systems involved brings much higher automation benefits than the traditional mix of humans and partial automation."
Case Study, Robots in finance: Volvo leads the way,
Joakim Abeleen, KPMG: Strategic Visions on the Sourcing Market 2016
Orchestrator Features in Front Office Scenarios

Auditable Execution Trace
Highly auditable compliance is supported by robot log files, aggregated at the server level, which record end-to-end activity data, easily queried and reported using Elastic Search.
Web Based Control Panel
Server level, web-based management consoles are used for robot deployment, monitoring and operational reporting.
Release Management
Robust release management enables multiple versions of a published process on the server. The process reviewer can release a stable process version to robot groups for execution.
Orchestrator Features in Back Office Scenarios Include the Above Front Office Features and More:

Process Monitoring
Active robots send a constant "heartbeat" to the server as a sign of operational health. Process performance is monitored and alerts can be raised in case of failures.

Centralized Scheduling
Deployment and scheduling of processes to robot groups is centralized and handled by the control center.

Remote Control
Back Office Robots are remotely deployed, monitored and controlled from the server.

Transaction Queue
The builtin transaction queue system stores work items on the server and makes them available to robot groups.

Asset Management
Assets are securely stored in the server and distributed to the robots at runtime.

Web Based Control Center
A server-level management tool that consolidates and displays key robot/process metrics - while also providing utilities for: transaction queues, robot scheduling, deployment, reassignment and retirement.

Enhanced Exception Handling
Robots are instructed to retry a failed transaction before sending an exception message to the server.

Integration Queue API
The transaction queue API is exposed to 3rd party systems with a REST based web service. This exposure enables the queue API to integrate with ERP and BPM systems and pool work for groups of robots to complete.