Cleveland Clinic uses RPA to cut wait times at drive-through

COVID-19 testing facilities and enable scaling capacity.
The Cleveland Clinic is a nonprofit multispecialty academic medical center that integrates clinical and hospital care with research and education. It's a world-class healthcare organization that runs a 170-acre campus in Cleveland, as well as 11 regional hospitals and 19 family health centers in northeast Ohio, and hospitals in Florida and Nevada. Their motto is: "Every life deserves world-class care." In fact, the clinic refers to all employees as "caregivers," viewing the entire organization as one coordinated care delivery system that culminates in a positive patient experience. ​

In June 2018, Bob Gross, Senior Director of Revenue Cycle Transformation, undertook a year-long journey to discover how Robotic Process Automation (RPA) could transform the healthcare organization. Part of Gross's mandate is to help make Cleveland Clinic one of the best places to work. During his year-long search, Gross became convinced that attended bots were the answer to helping make work less tedious, so caregivers can focus on what's important—excellent patient care. ​

​After interviewing the top three RPA providers, Gross selected UiPath to help his team complete their first use case. Gross selected UiPath in part because of the accessibility and helpfulness of the UiPath team, who gave him a demo on the very first call and followed up with a proof of concept two weeks later. Gross then availed himself of the UiPath Accelerator program, where UiPath foots the bill for an implementation partner (in this case, Huron Consulting) to help him develop the first two use cases. He also selected UiPath because of its ease of use; one of the non-technical members of Gross's team was able to create a bot on his laptop using the UiPath Community Edition in just two days, after spending a few hours of UiPath Academy.​

​In fact, due to the scarcity and high cost of RPA professionals, many organizations are hesitant to undertake large RPA projects. But Gross was able to build a capable team of people with various backgrounds, who were able to train themselves in on UiPath RPA using UiPath Academy.

​By December 2019, Gross and his team had completed two use cases — insurance verification and claim auditing — and had established an automation Center of Excellence (CoE). They were actively seeking more processes for automation across the organization. Then COVID-19 hit the United States.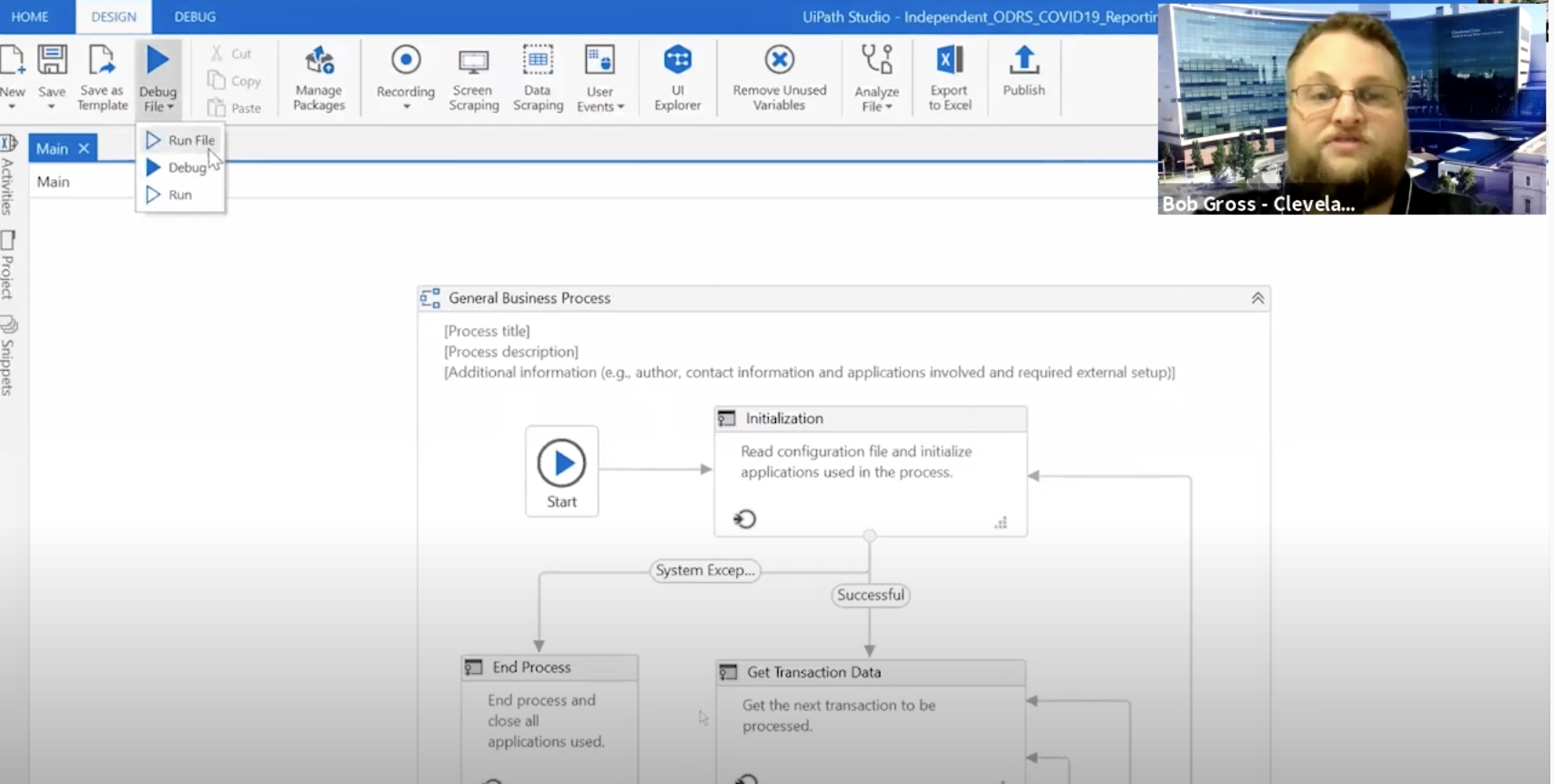 The COVID-19 challenge
In March 2020, the U.S. Centers for Disease Control (CDC) approved drive-through testing for COVID-19 at hospitals like the Cleveland Clinic. The approved testing sites immediately began experiencing huge demand and long lines.​

​The testing protocol requires a patient to be registered and for test kits to be correctly labeled for collection and reporting. Because of social distancing in place with Cleveland Clinic caregivers, this work was done by remote, with admins validating if patients are new or existing, registering the patient in the electronic healthcare system (EHR), and then printing the test label remotely to one of ten printers located at the front of the testing lines. ​

​During the first few days of testing, the manual nature of the process, in combination with human errors in printer routing and intense demand for testing, was contributing to six-hour waiting lines. And the demand was expected to increase dramatically. The Cleveland Clinic knew they had to do something quickly to ease the congestion at test facilities and get patients processed faster. They also wanted to make the registration and printing process as automated as possible, so untrained caregivers could augment staff as required to scale testing capabilities.​

​Gross and his team decided to implement attended bots that would essentially take over the registration and printing process once the human attendant had verified the patient's identity. Unfortunately, many of the world's largest EHR software providers, like Epic, specifically disallow using robots on their software, which could have stopped the project before it got started. Fortunately, because of the relationship with Epic, Gross was able to explain the use case to Epic and they agreed to allow the project to move forward, with a few stipulations to the licensing contract.
Our progress really speaks volumes to ​
the capabilities that UiPath software brings, and also the implications that it has within healthcare, especially in helping us deal with the COVID-19 crisis.
Bob Gross


Senior Director of Revenue Cycle Transformation, Cleveland Clinic
Solution: Drive-through testing registration automation
With the go-ahead from Epic, the team at the Cleveland Clinic set up and deployed an attended robot in just 48 hours, that takes patient data, checks if they are already a patient in the EMR via a Citrix environment, registers the patients, and correctly selects the right printer for label creation. While it typically takes a human two to three minutes to execute these tasks, the UiPath Robot executes in fourteen to sixteen seconds. What's more, there have been zero instances of labels being sent to the wrong printer. ​
Benefits of automation:​
Reduces wait times for testing

E

nables scaling of badly needed COVID-19 testing

​

Saves eight to nine minutes per patient

Eliminates costly manual errors

Keeps critical workers working

Reduces hospital backlogs
Improving clinicians' quality of life and really focusing them on what they're best at was one of the key success factors of RPA.
Charlie Sweeney - Director of Automation Solutions, Cleveland Clinic
BY THE NUMBERS


48hours

to deploy two attended bots

~15 sec

to handle a process that used to

take 8 to 9 minutes

0 Errors