RPA has emerged as a cost-effective solution to help organizations capture efficiencies quicker than ever before possible. But apart from benefits such as cost and speed, RPA provides significant qualitative improvements through greater accuracy. It is for this reason that the regulatory compliance environment, heavily burdened with strict oversight and highly dependent on massive amounts of data from multiple lines of business that need to be analyzed and consolidated, RPA has been gaining traction particularly fast.
Consequently, it's no surprise that banks and financial institutions, for example, are spearheading RPA adoption. Finance and risk management functions spanning across KYC, monitoring transactions against potential money laundering or fraud, financial reports, risk assessment and exposure reports, all involve heavy manual processing that is time-consuming and susceptible to errors, and all benefit from RPA almost immediately.
The same goes for GDPR, today's most stringent and comprehensive data regulation. Although GDPR came into effect on May 25th, not all organizations have taken concrete steps to ensure full compliance. Companies as owners and controllers of the data must make sure that they are GDPR compliant and that they respect data protection laws and security. RPA is an efficient tool to be used in this process.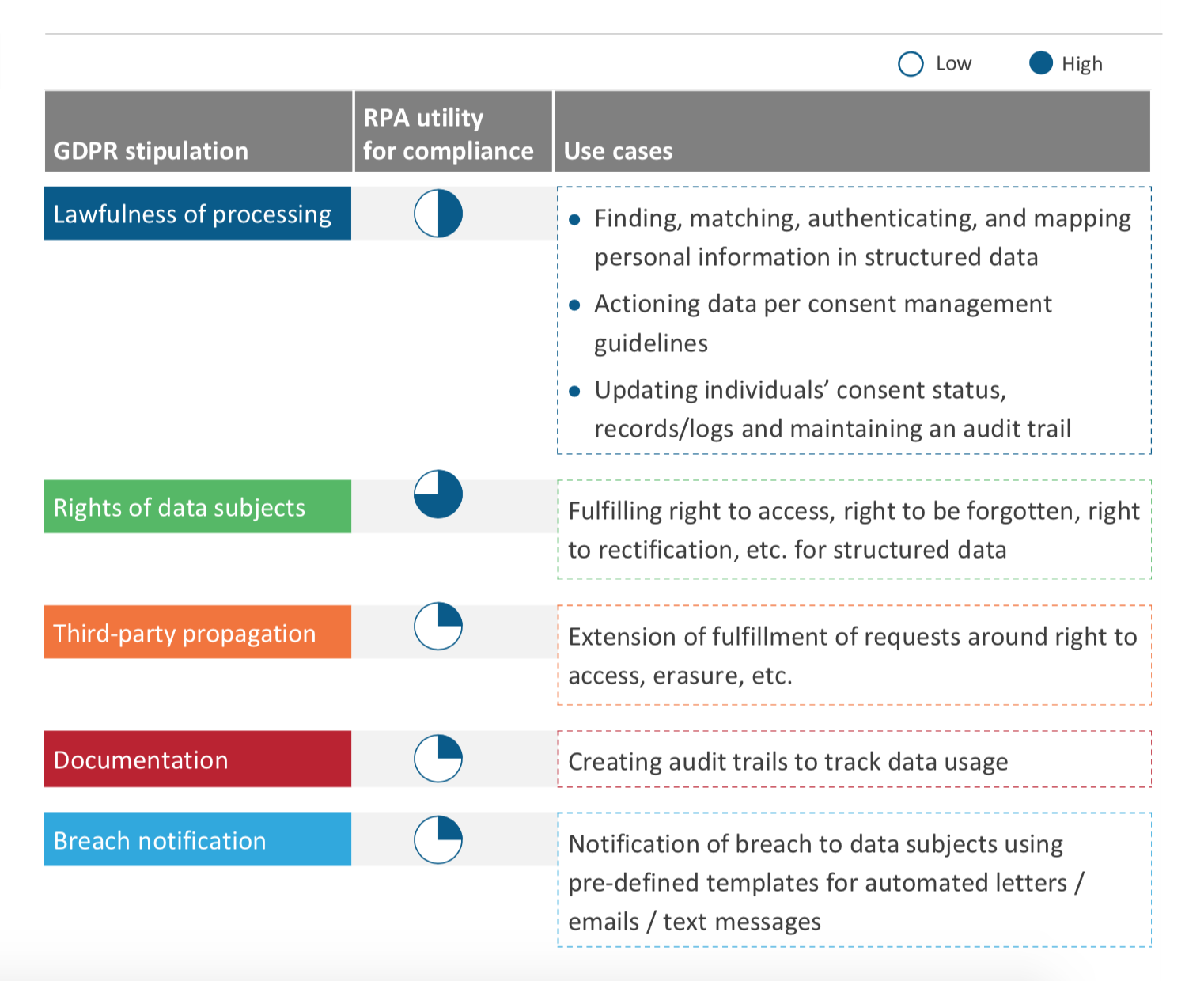 It's obviously not a fit-all panacea when it comes to all the complexities inherent to GDPR, but it can help companies ensure compliance with large parts of the regulation quickly and cost effectively. RPA robots work fast, operate 24x7x365 and produce highly accurate results. They can be scaled almost instantly and are manageable and auditeable across their entire activity, no matter the geography. For GDPR-lerated administrative activities, RPA can accelerate data entry and data checking across all systems, reconciling and cross-referencing data and implementing decision making at key points along the process.
Nowadays managing risk requires increasing complexity along with heavy amounts of data that need to be managed. Maintaining structure and clarity through technology is a necessity. Luckily for the GDPR laggards, RPA is one of the technologies that deliver faster than anything.
In this paper, Everest Group researchers will examine and discuss:
GDPR and its implications for organizations, particularly in terms of administrative overheads;
The role that RPA can play in helping automate GDPR-related administrative tasks and functions;
The implications of GDPR on sourcing / service delivery models and the RPA angle in such decisions;
The case for digital transformation and superior analytics driven by GDPR compliance, and a framework to work through the automation play.