Kate McDaniel is blogs editor at UiPath.
It's difficult to look toward the future while in the thick of the 2019 novel coronavirus (COVID-19) crisis. We owe it to ourselves, our employees, and our communities to consider how we can successfully transition to a new, post-pandemic normal. 
This global crisis has pushed companies to innovate like never before. Leaders who may have been slow to adopt automation technologies—such as Robotic Process Automation (RPA), artificial intelligence (AI), and machine learning (ML)—have begun leveraging them as a way to cut costs during economic turmoil, provider faster service to customers, and revamp their operations for distributed work.
The automation work done today will pave the way for a better future tomorrow. We're seeing hospitals quickly implement new technology to better support their personnel, governments streamlining their unemployment systems to care for their citizens, and banks processing small business loans in record time.
In our recent webinar, How Automation Enables Fast Change in the Healthcare Industry, Mark O'Connor, public sector director in Ireland at UiPath, shared some examples of how companies are using automation to navigate the demands and challenges of COVID-19. These new use cases have promising implications for businesses not just as emergency solutions, but as long-term strategic changes to allow business to thrive in a post-pandemic world. 
Hospitals leverage automated systems to help nurses refocus energy and time
This crisis has opened our eyes to the inefficiencies in healthcare systems around the globe. The immediate future will place a lot of emphasis on implementing changes that optimize healthcare to better serve patients and respond to demand. One of the fastest and most important optimizations we can make right now is giving time back to our healthcare experts. On average, nurses spend 7.3 hours per week on paperwork, and this number will only go up as more patients are added to their care.
Additionally, many healthcare systems face a shortage of nurses to deal with this surge of new patients. So, while governments hurry to recruit new medical personnel, many hospitals are leveraging automation to ensure nurses spend more time caretaking, and less of their shifts doing repetitive administrative tasks, such as updating records.
"Given that IPC nurses spend close to 30% of their day with administrative tasks, for the past few months I have been looking at ways to make software robots part of our daily jobs," Jincy Jerry, assistant director of nursing in the Infection Prevention and Control Department at Mater Misericordiae University Hospital, told UiPath.
The response of Mater Hospital to COVID-19 offers just one example of their work to innovate healthcare through automation. Even before the pandemic, nurses in the Dublin-based Infection Prevention and Control Department were doing tests every day for infectious diseases like Methicillin-resistant Staphylococcus aureus (MRSA), influenza, and norovirus. The team struggled to keep up with the amount of resulting administrative work and knew that, despite their best efforts, the process had a high error risk.
So the hospital turned to UiPath to build an infection control robot that could augment their team. The robot—which tied together their existing legacy systems—could do the manual, repetitive testing work that used to take hours in mere minutes.
"At this time of heightened stress and anxiety, it's vital to free up doctors' and nurses' time for patients wherever it can be done," said O'Connor.
He predicts that while automation is essential in the fight against COVID-19, it will continue to deliver benefits long term. As the curve flattens, these process improvements will allow nurses to shift their focus from repetitive administrative work to doing what they do best: caring for patients.
Learn more about how healthcare organizations are using software robots during COVID-19.
Governments automate unemployment applications and benefits processing
The United Nations International Labor Organization (ILO) estimates that quarantine measures affect almost 2.7 billion workers worldwide, and report that an expected 195 million jobs will be lost due to COVID-19. In the United States alone, unemployment applications have reached nearly 17 million and continue to climb.
The speed and accuracy with which governments process unemployment applications will have major impacts on what economies look like after the pandemic.
The latest report from ILO states that: "Without appropriate policy measures, workers face a high risk of falling into poverty and will experience greater challenges in regaining their livelihoods during the recovery period." Automation helps governments at all levels handle the surge of applications and provide the assistance that will keep economies and communities afloat until many businesses reopen.
Claim handling times present a big challenge, especially in places where many people submit handwritten forms. This has created a massive backlog in processing applications, sending payments, and communicating unemployment status to impacted citizens. By automating these key workflows, governments can process applications 24 hours a day to alleviate the backlog at all three points.
Through optical character recognition (OCR) technology, software robots can read all but the trickiest handwriting. They can then translate handwritten forms into structured data that can be passed to other systems and speed up unemployment claim processing. O'Connor recounts how, in the case of Ireland's unemployment system, automation decreased average handling time from 45 minutes to five minutes.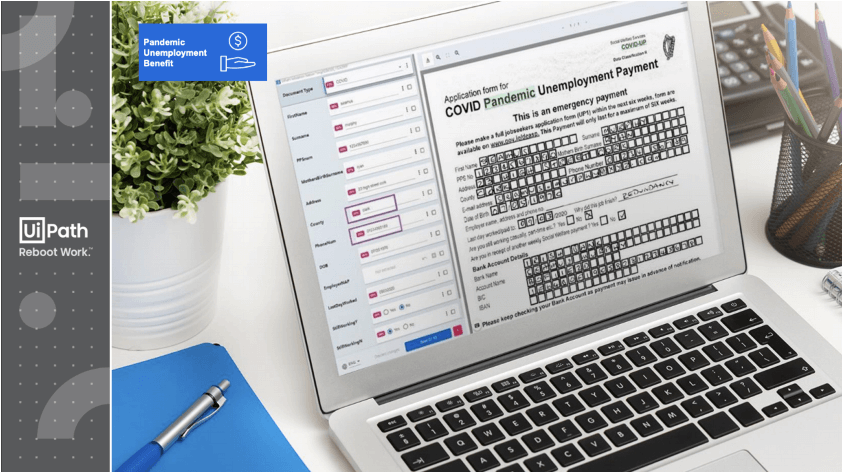 A screenshot of a pandemic unemployment form from Ireland; on the left-hand side is UiPath extracting all the handwritten information from the form.
The use case for automation doesn't end when forms have been successfully uploaded. Robots can also aid in the screening and delivery of payments to citizens by working within different financial platforms and transaction engines to process paperwork. Because of the low-code nature of RPA, governments can quickly build, implement, and integrate robots into existing legacy frameworks.
The final impact of the unemployment backlog is the stress caused by a lack of communication with citizens. Timely and transparent updates maintain trust between governments and their citizens in times of crisis, but it's not always easy to support that level of communication. Automation allows governments to send regular, tailored updates via email or text to citizens waiting on their unemployment benefits.
Across the board, automated processes free staff to provide better customer service and deal with complicated cases far more quickly. By embracing these technologies, governments ensure every citizen has the support they need to feed their families, pay their bills, and participate in the economy until the crisis is over.
These benefits will continue to pay dividends into the future. In the post-COVID-19 world, efficient governmental management will be key to nations and economies getting back on their feet. That efficiency begins with transforming traditionally slow, bureaucratic workflows with automated solutions.
Healthcare providers use automated systems to reschedule non-urgent appointments
Amid the anxiety over COVID-19 and its effects on the economy, many patients with non-urgent, chronic medical needs face additional uncertainty. Around the globe, medical facilities have postponed all but the most urgent visits and procedures. In Ireland alone, 25,000 hospital appointments are canceled every day.
The decision makes sense as medical providers attempt to limit exposure to COVID-19 in hospitals and doctors' offices. However, the need to communicate cancellations and reschedule appointments with patients creates a backlog for overworked healthcare providers—and spurs more anxiety for patients.
In Ireland, UiPath and healthcare platform Swiftqueue work together to curb this anxiety. Through the creation of online portals, patients can reschedule primary care and hospital appointments at their convenience. Software robots handle the backend of this request system, saving hospitals and primary care providers the hundreds of hours they'd otherwise spend scheduling follow ups and managing paperwork.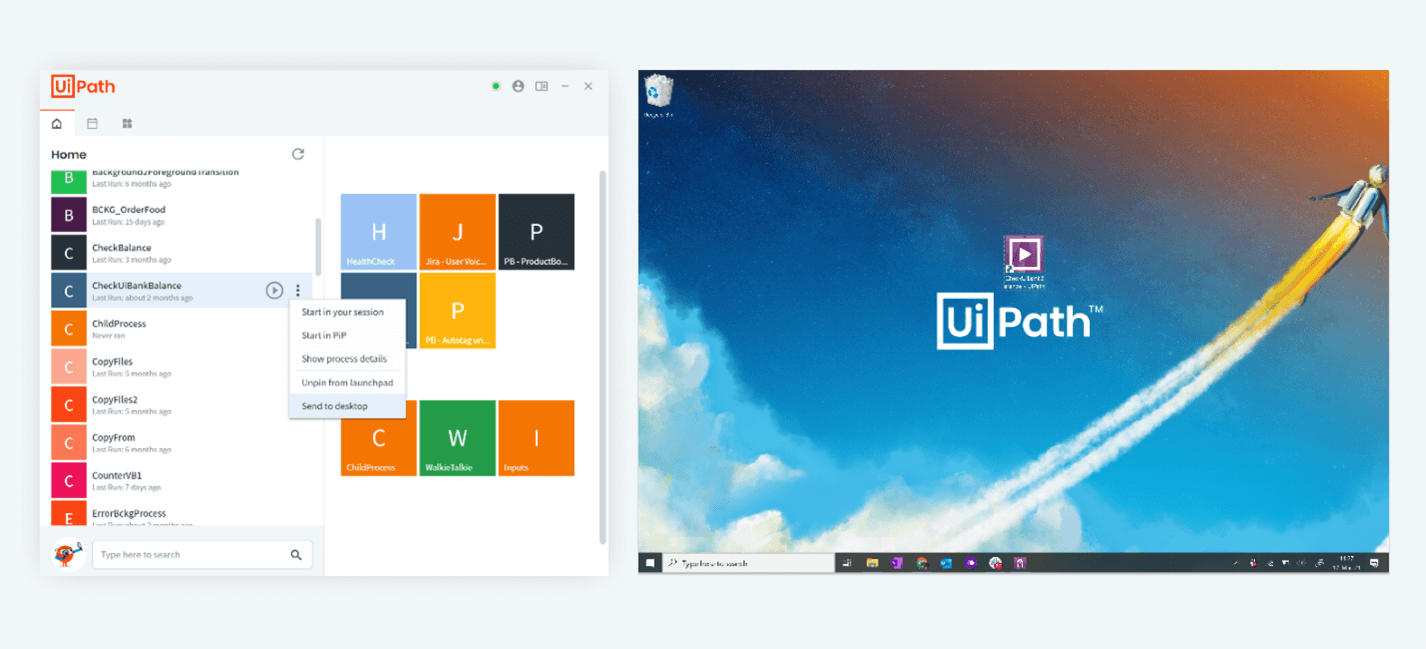 By automating the process of rescheduling appointments, healthcare providers can reassure patients while offsetting their backlog and reducing time spent on repetitive work.
The automation makes sure patients don't fall through the administrative cracks as healthcare systems and providers work to take care of the sick. As a bonus, the automation helping clear rescheduling backlogs during the COVID-19 crisis will also ensure a smooth transition back into regular operations post-COVID-19.
Why companies around the world are turning to automation
There is a lot of fear and uncertainty in the world right now. At the same time, we've also seen human ingenuity and compassion at work as people band together and leverage technology to fight COVID-19 as a global community. We're seeing firsthand how digital transformation can be used to not only improve business performance but to improve lives.
Automation provides us with excellent tools both to fight the COVID-19 pandemic and to redefine the new normal in a post-COVID world. We're beginning to see the foundational innovation that will power the future of work: governments exchanging slow, manual processes for workflows that are fast and scalable, and hospitals abandoning inefficient procedures to support their frontline caretakers. 
At UiPath, we believe that automation exists to empower humans to do the creative, strategic, and compassionate work they do best, all while making the world a better place. That's why we're partnering with and supporting organizations on the front lines who want to use automation.
Learn how you can quickly implement automation in your own business to deal with increased demand due to COVID-19.