Love them or hate them, mainframe systems have been around since the early 1950s, and they aren't going anywhere soon. According to BMC, mainframes "run 90% of all credit card transactions, and it's estimated that mainframes currently handle a staggering 30 billion business transactions every day."
But what about your organization's digital transformation strategy? Green screens aren't suited to the rapid pace of change and innovation required to embrace digital 2.0 and pivot your organization from a product-centric to a customer-centric approach. How do you unlock the valuable data and business rules trapped within your critical legacy systems to create modern, mobile, and digital services?
Thanks to UiPath mainframe automation capabilities, you can respond to these new demands while avoiding the risky, cumbersome, and expensive undertaking of modifying your mainframe code.
What is mainframe automation?
Mainframe automation is the concept of leveraging automation tools and software robots to automate interaction with mainframe systems. Interactions could include automating repetitive data capture and extraction tasks, and leveraging legacy system data for use within modern applications or user interfaces (UI). Automating these interactions can assist organizations in digitizing their mainframe processes.
The key to mainframe automation is software robots, specifically robotic process automation (RPA). RPA makes it easy to build, deploy, and manage the software that emulates humans interacting with digital systems and software.
For example, an organization could create a new web app to provide employees with the self-service option to capture their monthly expenses anywhere and anytime. Software robots working in the background can automate the normal manual mainframe entry process. Robots can capture the relevant details from the user-friendly web app into the legacy mainframe finance system. And because robots don't sleep, they can do this 24/7.
Why use mainframe automation?
Mainframes are prevalent across most large enterprise organizations, with 67% of the Fortune 100 still relying on their unmatched ability to consistently and reliably process thousands of transactions. But what makes mainframes consistent and reliable also makes them inflexible and unsuitable for the rapid development required to respond to new business challenges. That's where automation can help.
Mainframes are still used extensively in highly competitive verticals like retail, finance, insurance, and travel—in fact, global processing capacity has grown by "350% over the past 10 years." However, it's these same competitive verticals that need to embrace digital transformation to stay relevant. They need to pivot to a customer-centric business model to meet the demands of their existing and prospective customers. These customers demand new and innovative services they can access anytime, from anywhere, and on any device.
Mainframes aren't suited to serve the new digital economy directly, but migrating away from mainframes is too risky and costly. The volumes and data input/output (I/O) that a typical enterprise mainframe system supports are too large for a consumption-based IaaS or PaaS replacement. And besides, they are working well in the back office.
By leveraging RPA to automate mainframe processes, enterprises can run their existing mainframe systems side-by-side with modern cloud-based solutions. With mainframe automation, you can:
Build new apps for the digital economy, using data and business rules from the mainframe in real time, without building complex data integrations or investing in legacy infrastructure.

Streamline existing processes by automating the time-consuming keystrokes and tabbing across multiple host screens, presenting the user with a modern, user-friendly web service instead.

Interact with existing processes in a new way, presenting data and enabling self-service capabilities to customers online over browsers, phones, and tablets. The mainframe automation bots will interact with the green screens in the background so you don't have to risk touching the mainframe code.
How does UiPath mainframe automation work?
Mainframe automation from UiPath enables the bridging of your green screen through graphical user interface (GUI) automation. RPA holds all the capabilities you need to unlock the potential of your business' core functions. Without modifying the mainframe, RPA software robots act as translators between the old and new platforms and applications.
UiPath RPA mainframe automation allows you to orchestrate your workflows from a single interface. You can monitor, analyze, correlate, and respond to events in real time. And because you access the TN3270 bitstream directly, avoiding the green screen, superior RPA performance and ease of use are assured. RPA is the most cost-effective solution to mainframe integration.
In UiPath, you start building your mainframe automation by adding the terminal activities package to your project. Then, you use the terminal wizard to create your terminal connection session by dragging the terminal session activity into your workflow. After that, you're ready to automate the steps interacting with the mainframe using the recording wizard. Sounds simple, right?
Follow the detailed steps in our tutorial, Automating Terminals and Mainframes, to build your first mainframe automation workflow.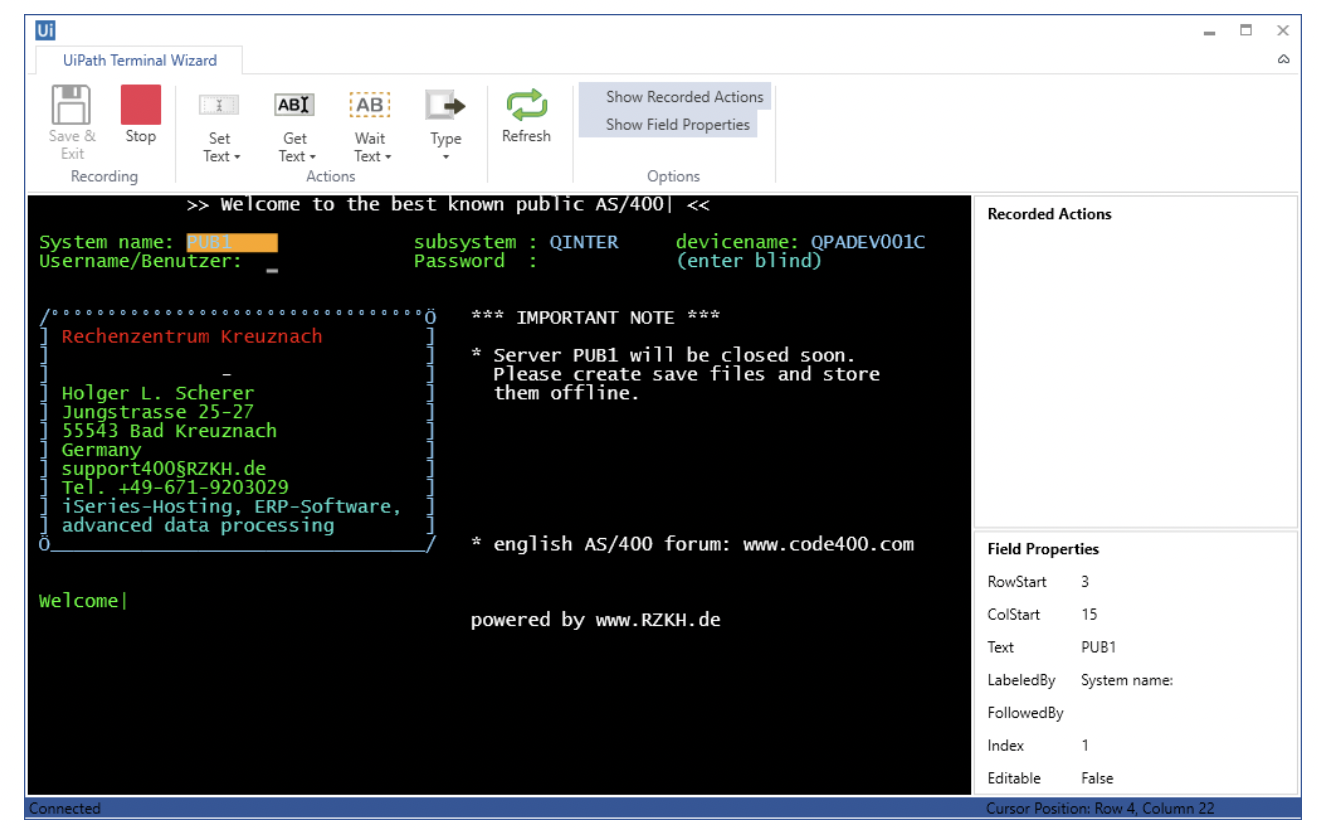 Source: UiPath mainframe recording wizard
Breathe new life into your mainframe with UiPath
There's a reason 45 of the top 50 banks and 7 of the top 10 retailers still rely on mainframe systems. These enterprises need to safely process thousands of transactions every day, and their mainframe systems do this consistently, at a very low cost-per-transaction.
These same enterprises also need to respond quickly to new business challenges and opportunities to remain relevant and competitive as digital continues to disrupt. Consumers are demanding always-on services and expect seamless, personalized experiences. With mainframe automation and RPA, you can bridge this gap between green screen and mobile app without modifying mainframe code and risking core business operations.
RPA provides the flexibility to address new challenges in a cost-effective and risk-free manner, allowing the mainframe and cloud to work side-by-side.
Need more info on leveraging UiPath mainframe automation to deliver digital 2.0? Contact sales or try UiPath for free—we're always here to help you on your RPA journey in any way we can.